Updated on April 29, 2020.
Microsoft is betting big time on Teams, their latest application for modern collaboration and communication. If you have been a Microsoft customer for a while you are used to the constant changes – from Exchange Instant Messaging to Office Communication Server, to Lync, to Skype for Business and now to Teams. Whether you are ready for it or not, Teams is the default meeting solution for Microsoft moving forward. You will still be able to use Skype for Business for some time, but Microsoft is using their muscles to push users towards Teams. At Storyals, we are currently using both Teams and Skype for Business for online meetings – which is not ideal. If you, like us, have started to use Teams for your online meetings you will benefit from knowing the following:
1. You can invite ANYONE to join a Teams meeting
You can send a Teams meeting invitation to anyone – all they need is an email address. They can join the online Teams meeting through any browser, or they can download the free Teams app and use that to attend the meeting. Attendees can use their Internet audio and video to engage in the online meeting. If you want attendees to call in using a regular telephone, your Teams infrastructure needs to be set up to support auto-conferencing.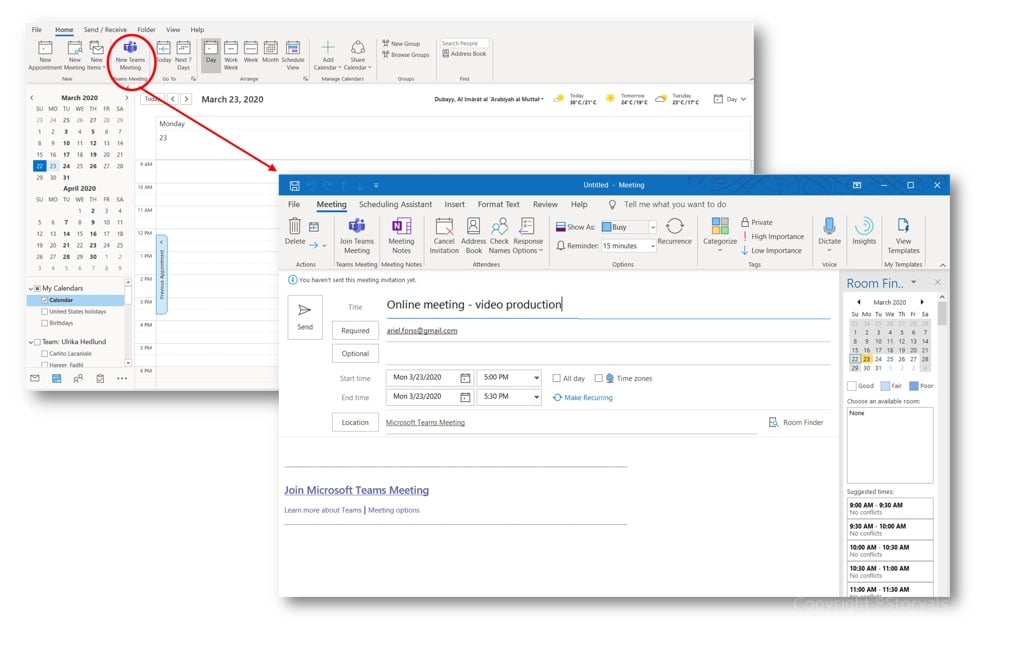 2. You can schedule Teams meetings in all the Teams apps
No matter if you are on your phone or laptop, you can always schedule Teams meetings via the Teams apps – the desktop app, Teams Online and the Teams mobile app. Just like in Skype for Business, you can invite anyone to join a Teams meeting (internal or external) – they don't have to be part of any team. Teams is available for free. However, in order to get the best functionality, you need to have an Office 365 or Microsoft 365 enterprise subscription. You can compare the various Teams plans here and download the Teams apps for various devices here.
If you schedule a meeting using the Teams app, you can "Select a channel to meet in". This means that the meeting will be visible in the channel conversations thread and anyone who is part of that team can join the meeting. A meeting invitation will go out via email to the Microsoft 365 group (previously called Office 365 group) email alias that is associated with the team. Please note that if the team members are not "following" that Microsoft 365 group in Outlook, they will not get the meeting invitation in their own inbox (and so they can easily miss it). If you want to make sure the required attendees receive a meeting invitation in their own inbox, you need to add them to "Invite people".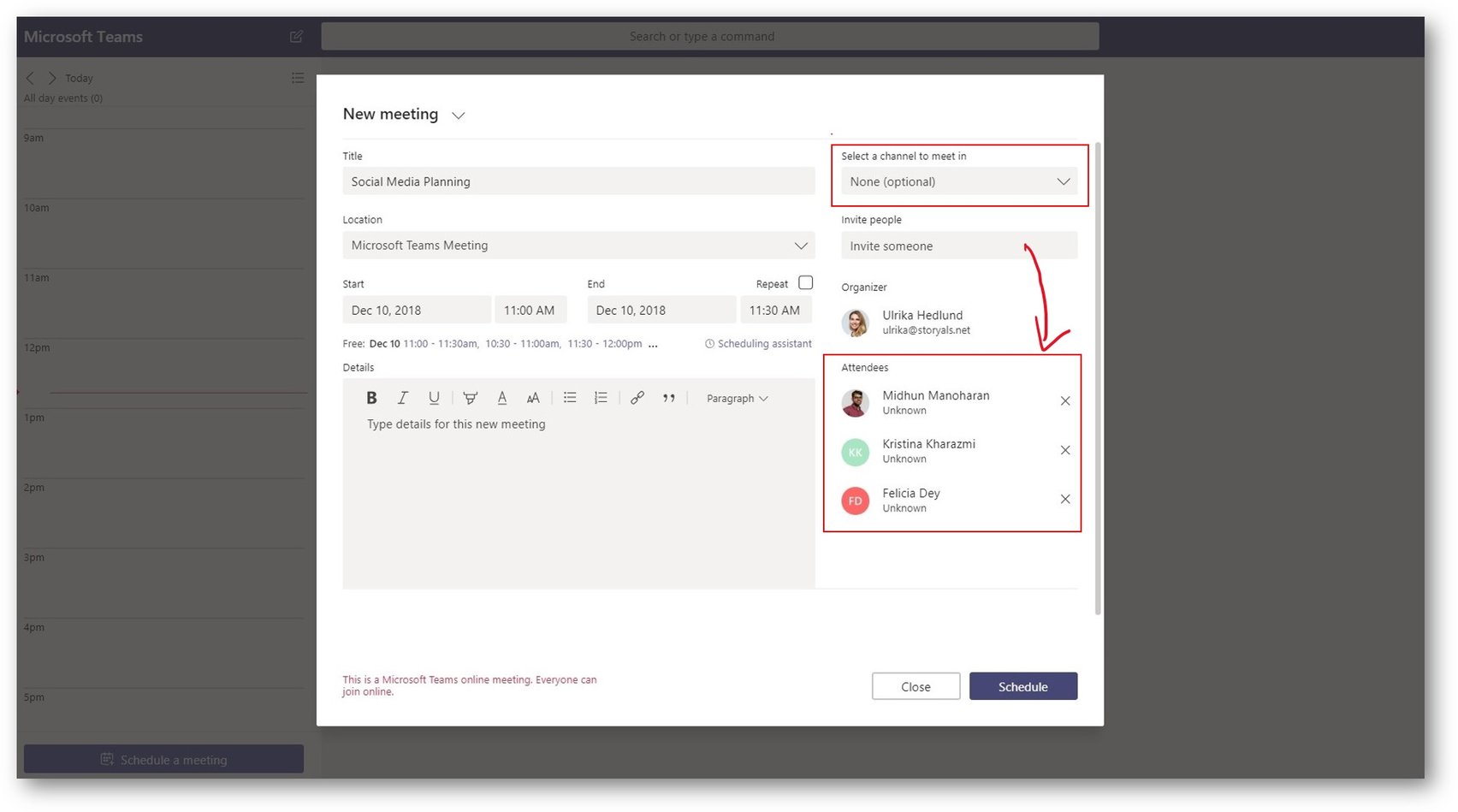 3. You can schedule Teams meetings from Outlook
Since many users use Outlook to schedule meetings and make appointments, it's convenient that you can send invitations to online Teams meetings directly from within Outlook. Just select "Teams Meeting" in the meeting menu bar. If you schedule a Teams meeting from here, you can't select a specific Teams channel for the meeting, which means the meeting will not be "visible" in the channel conversation thread.

The option to select a Teams meeting is available in both Outlook for Windows and for Mac. If you don't have the Office 365 subscription you can download a Teams add-in to Outlook.
4. You can schedule Teams meetings in Outlook Online
If you want to be able to schedule Teams meetings in Outlook Online, just toggle the switch to mark it as a "Teams meeting".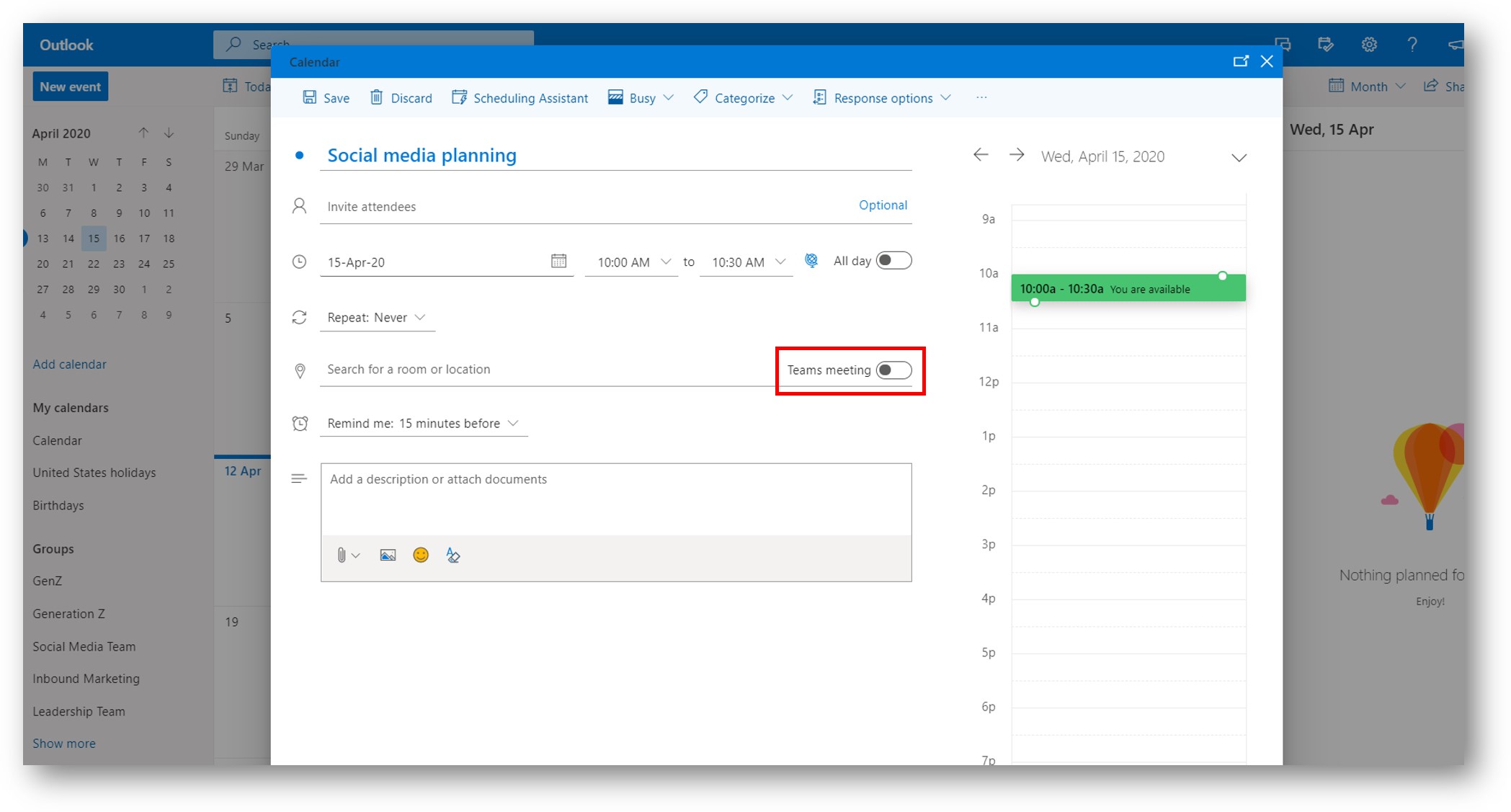 5. Schedule Teams meetings in Outlook Mobile
The Outlook mobile app enables you to book online meetings using either Skype for Business or Teams.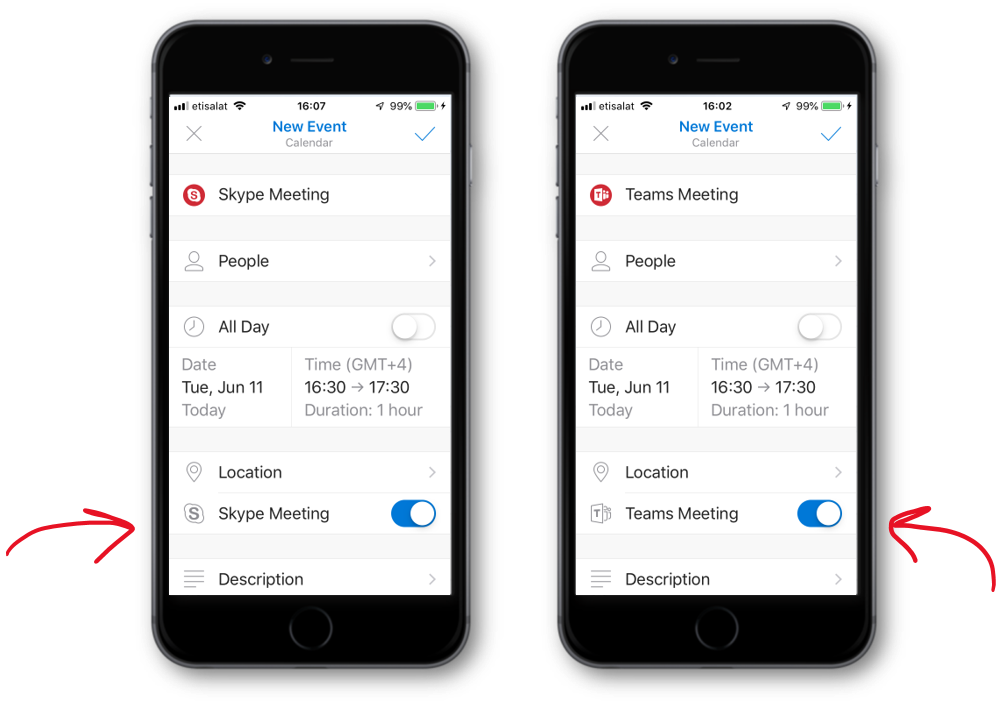 Which option you see when you create a new meeting request in the Outlook mobile app, depends on your organizations' settings for the coexistence of Skype for Business and Teams.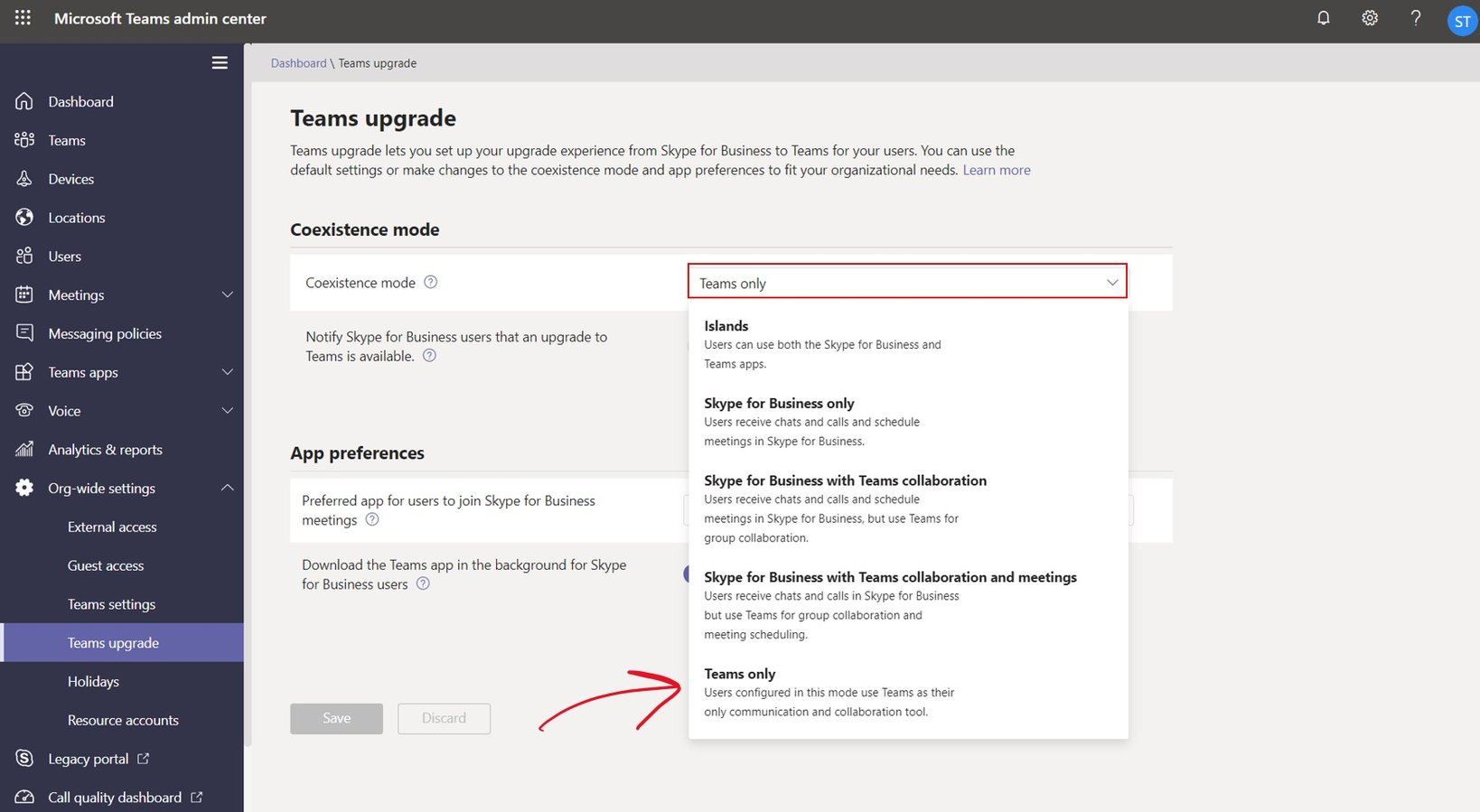 If your Org-wide settings for Teams/Skype for Business coexistence is set to "Teams only", you will see "Teams" in the Outlook mobile app when you schedule a meeting. For other co-existence settings, you will see Skype (for Business) as the option in Outlook mobile. Unfortunately, you don't have the ability to choose between both options.
Get your users ready for change
Having online meetings can be quite challenging for users. If there are uncertainties regarding the technology, this becomes an irritating nuisance that stands in the way of end-users' productivity. We can't emphasize enough how important it is to actively work with end-user engagement and information sharing. If you want to discuss how you can help your organization get ready for Teams, don't hesitate to reach out to us! Also, check out our blog on how to succeed with Microsoft Teams. "Book a demo" with us if you are interested to see Storyals in action!
Do you want to strengthen your digital muscles and work smarter using Microsoft 365? Our 14-day online M365 Mini Bootcamp, led by an experienced productivity expert via Microsoft Teams, will give you an intense digital "workout." It will take you through what you need to know to be successful in the digital workplace and make you a digital champion. Click the button below to learn more about our new service.