Note: Microsoft has announced that most of the Office 365 products will be using the Microsoft 365 branding from April 21, 2020 onward.
Even if Office 365 has been around for quite some time, many people still don't have a clue about the breadth of the offering. Many users think that it is just the "latest" version of the traditional Office suite that they have been using for decades. Those of us that work with Office 365 know that it is so much more – tools and services that can transform the way you work.
Money is being left on the table due to lack of end-user awareness
Organizations that have embraced the subscription-based model with Office 365 are paying monthly fees for every user (and more) in their organization. If users think that it's just a new version of Office – and continue to work the same way they always have – money is wasted! But you can't blame the users, they're seldom provided training, just left to figure it out themselves. Here it might be easy to blame the IT or HR department, but they often respond that they do provide training but that business users aren't interested. Clearly, there is a gap between the business users' need and desire to learn, and the resources available to provide end-user Office 365 training in a format that suits today's busy workforce.
This is where Storyals comes in. Storyals is an easy way for organizations to provide users with a new type of video-based storytelling on how to effectively use Office 365. You can see a full list of our content and see samples here, you can also learn more about our unique story-based tutorials here.
As a first step – provide your users with great training content
For some companies, providing the Office 365 end-user training videos through a Storyals Learning Portal in their Office 365 environment is a very good first step. Users can see how Office 365 can be used in real life to increase productivity right from within their own Office 365 portal. They get step-by-step guidance on how to start using various tools across various devices and can see the benefits of a modern digital work style.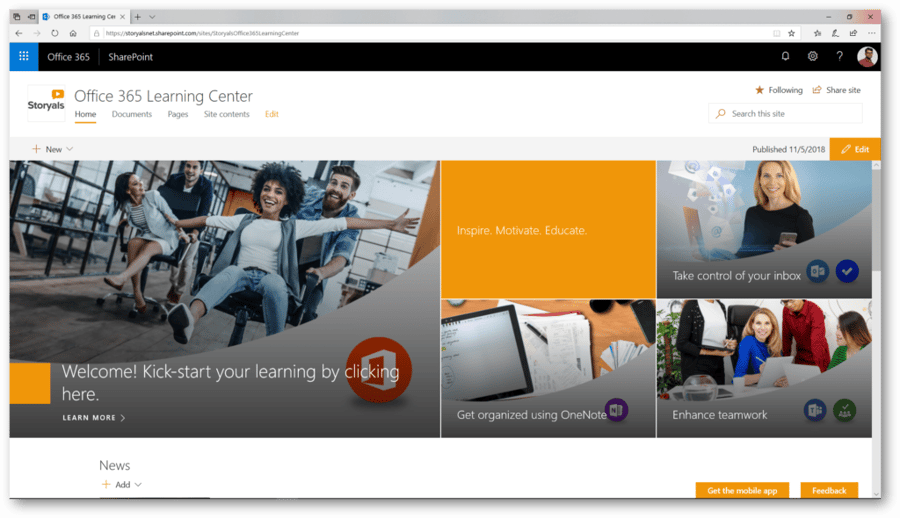 Use a "carrot and stick" methodology for driving Office 365 adoption
Providing users with great learning content is only part of the solution. I always recommend organizations leverage a "carrot and stick" methodology when it comes to driving end-user adoption of Office 365. People will always be "too busy" doing what they have always done, to take time to learn how to do learn new ways of working. Being able to assign mandatory training, provide users with reminders, due dates, quizzes and completion certificates to encourage learning becomes an invaluable tool in the digital workplace transformation. For that, I recommend leveraging a Learning Management System.
Learning Management Systems have been around for years and there are many different solutions from a wide range of providers. There are also new, modern, cloud-based systems that are fully integrated with Office 365. You want the learning experience to be as seamless as possible to encourage every day learning. For that, we use a system called LMS365 where users can access Storyals Office 365 training content from anywhere – a SharePoint site, within a Teams channel or from a mobile device. With LMS365, organizations can easily assign Storyals Office 365 end-user training to all employees or targeted groups of users.
Using LMS365 with Storyals
Say for example that the Marketing department has decided to start using Teams for all their communication and collaboration. The manager can have the Storyals "Enhance Teamwork" topic (where Teams is covered) assigned to everyone in the department.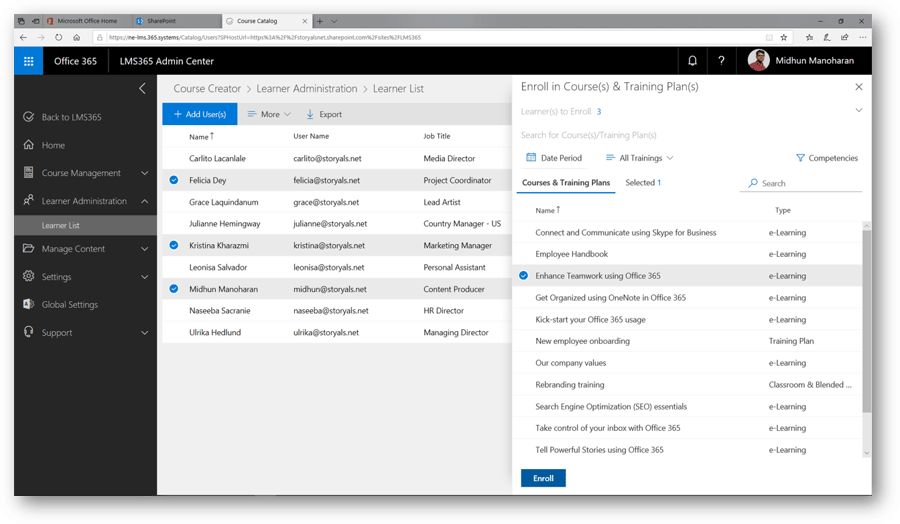 Users get an email notification with a link to the course.
The assigned users get an email notification with a link to the Storyals training. They can go through our high-quality videos on their computer, tablet or mobile.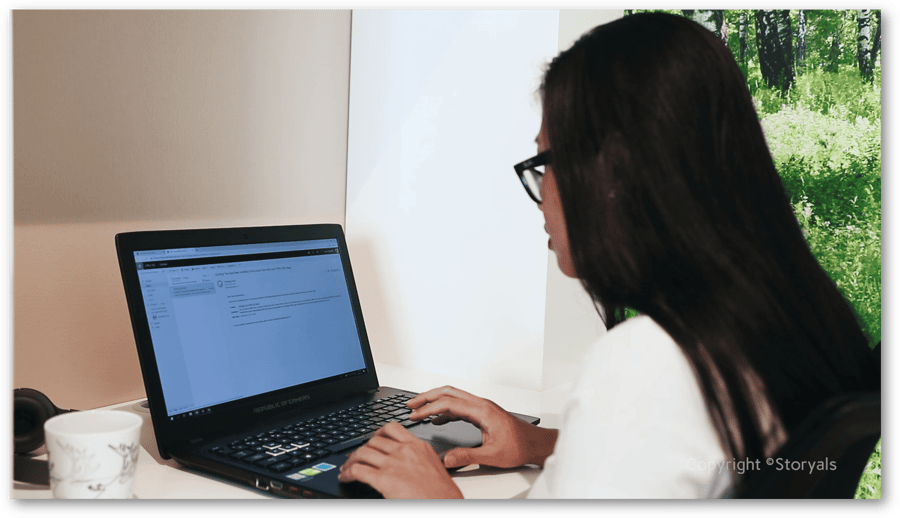 Users can also see the assigned training in their SharePoint training dashboard or directly from within Teams.
At any time, users can see their assigned Storyals Office 365 training in their personal dashboard in SharePoint or in Teams.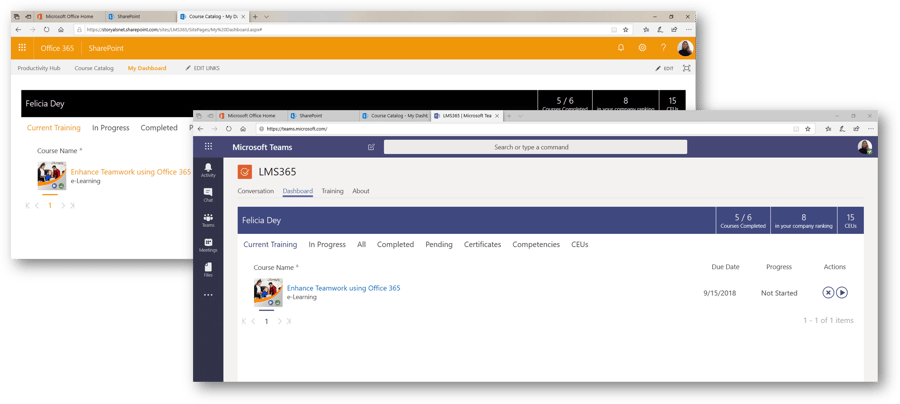 Users get to respond to questions to test their knowledge.
To check their knowledge, users get to respond to questions on the specific Office 365 Storyals topic.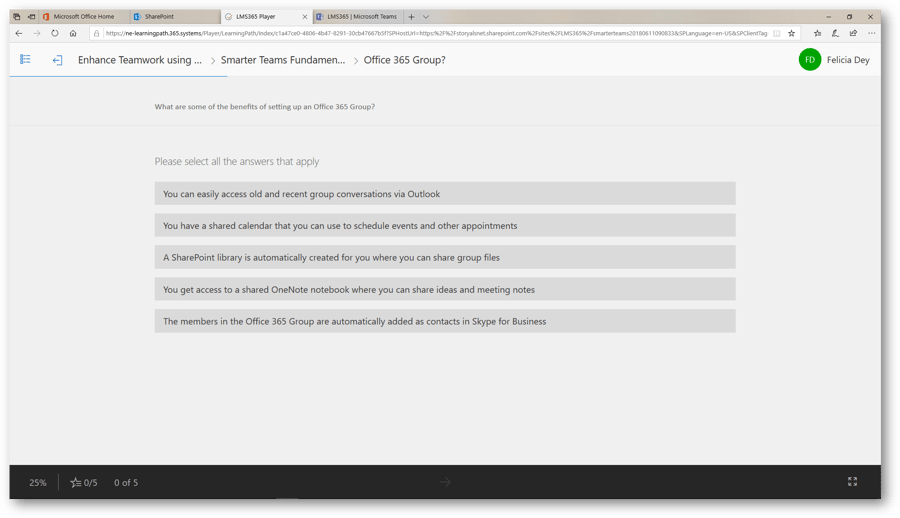 When the training has been completed the user is given a Storyals certificate.
To reward and encourage continuous learning, users are given a certificate once the Storyals Office 365 topic has been completed.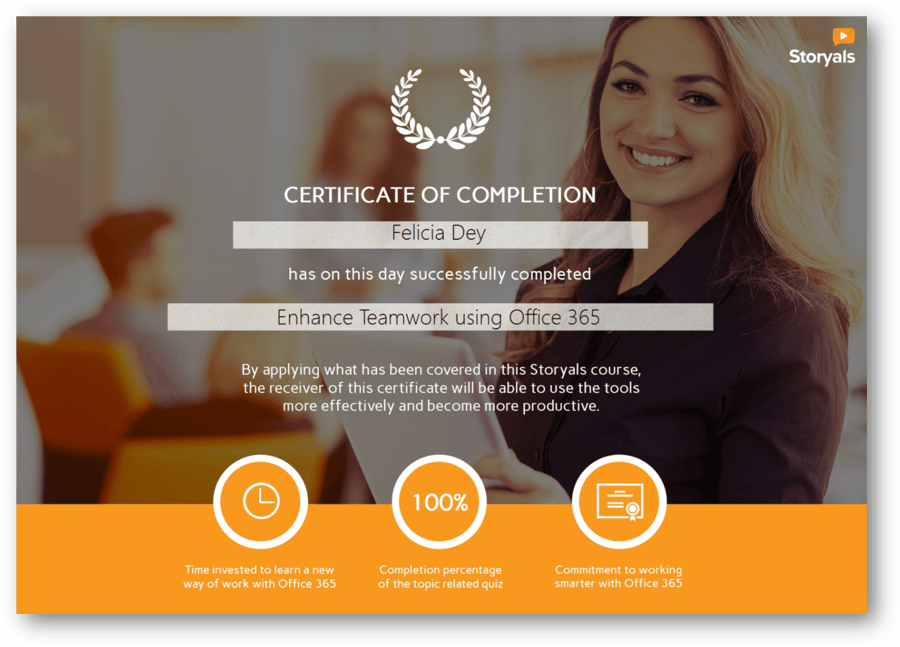 Managers can keep track of their direct reports learning progress.
Through the personalized dashboard, managers can keep track of their direct reports learning progress.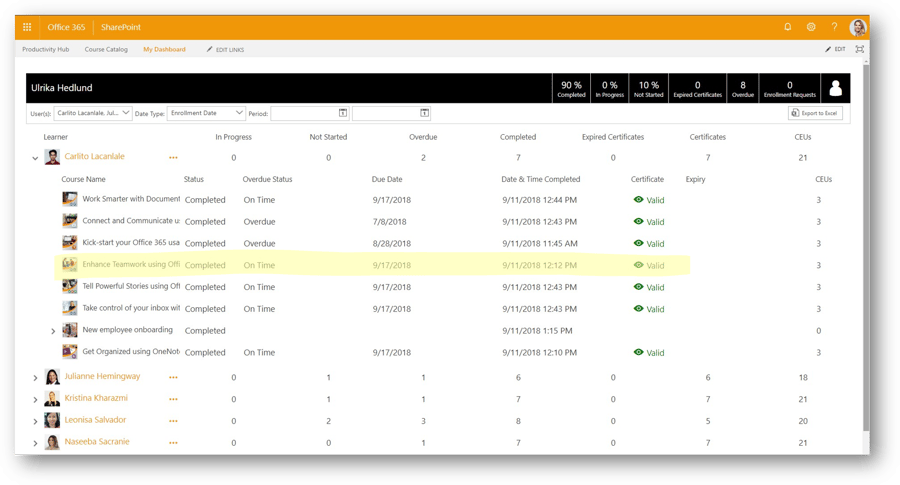 Summary
We strongly believe that paying for Office 365 subscriptions when your users don't use the tools is a waste. We can help you reduce that waste so you get more value for your money. Contact us today or book a demo with us to learn more.
You can see a quick overview of LMS365 and Storyals here:
– Ulrika Hedlund, Founder and Managing Director of Storyals