Update: Microsoft has announced that most of the Office 365 products will be using the Microsoft 365 branding from April 21, 2020 onward.
Have you ever wondered what the difference is between Office 365 and Office 2019? Aren't they both just the latest version of the Office applications you use every day? For many users, this can be very confusing – in this blog post you will learn the difference between the two and understand which suits you and/or your organization best.
What is Office 365?
Office 365 is a subscription-based service that provides you with Office applications and cloud-based services on a monthly or annual basis. There are many different subscription plans – for home users, small and medium-sized businesses, large enterprises, schools, and non-profit organizations. Some of these plans include the traditional Office applications (like Outlook, Word, Excel, PowerPoint, etc.) that you install on your computer – some don't! What is important to note is that Office 365 offers web-based access to the traditional Office applications (like Outlook, Word, Excel, PowerPoint, etc.), but also a wide range of other web-based apps and services like Teams, Yammer, Stream, Sway and so on.

All Office 365 plans include up to 1TB of cloud storage, Office Online (web-based versions of Outlook, Word, Excel, PowerPoint), the full functionality of Office mobile apps, continuous updates to new features, security fixes as well as ongoing tech support.
What is Office 2019?
Office 2019 is (currently) the latest version of the "traditional" Office suite, following Office 2016. It's sold as a one-time purchase with a single up-front payment for one PC or Mac and it is yours to keep forever. Office 2019 includes Word, Excel, PowerPoint and Outlook and it's valid for home or business use. There is no upgrade option when the next version comes out, you'll have to buy it at full price. While Office 2019 users will not receive any feature updates, they will receive frequent stability and security updates, as well as 5 years of mainstream support.
What is the difference between Office 365 and Office 2019?
1. The first difference is in the payment model, you buy Office 2019 and you subscribe to Office 365. A similar comparison would be buying vs renting a car. Individuals buy a car because they want to invest in it and use it for at best next 5 years, without the worry of having the latest in technology and safety improvements. Whereas renting a car provide consumers the choice to rent a new car almost every month, always with the most up-to-date technology in the automobile industry.
2. The second difference is in the products and services you get access to. Again, Office 365 includes so many more applications and services. Instead of just using Office on one PC or Mac, you can use Office on pretty much any device you want.
3. The third is in the update frequency and functionality. With Office 365, you are getting monthly updates to Office – whether you like to or not! With the Office 365 version of Excel, PowerPoint, Word and Outlook, you also have additional functionality available. For example, in PowerPoint in Office 365, you get a tool called "PowerPoint Designer" that uses artificial intelligence to analyze the content on your slide and based on that, suggest alternative layouts that look much more professional.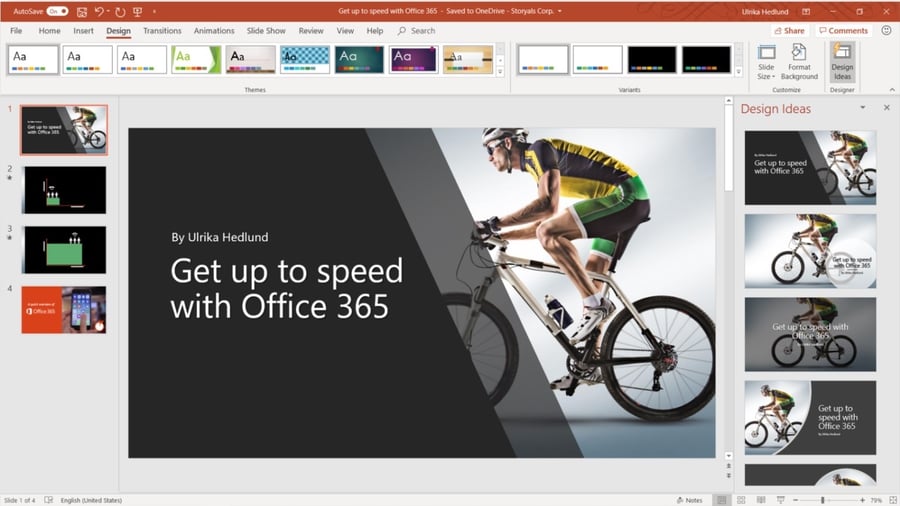 Design Ideas in PowerPoint Designer
The Twins Challenge
It's clear that Microsoft's focus is Office 365 and they want to transition the large bulk of existing customers that are still on Office 2010, 2013 and 2016 to Office 365 – not Office 2019. Last month, Microsoft released three videos that challenged three pairs of twins to compete against each other using Word, Excel, and PowerPoint. One of the twins used the Office 365 version of the application and the other twin the Office 2019 version of the application. Of course, the twin using the Office 365 version won hands down.
A mixed reaction was received when these ads were released, with confused comments on the respective YouTube videos. Many have asked why Microsoft creates an ad that bogs down on their own product? Many question that if the Office 2019 is a heavily cut-down version of Office 365, why does it exist in the first place? Why not at least incorporate the Office 365 features of these applications to the 2019 version as well?
Which one should you choose?
It's clear that Microsoft wants you to pick Office 365. We are also quite biased since we truly believe that you will have a better business outcome if your users are provided with modern, productivity tools, and Storyals is all about transitioning people to a modern workplace on Office 365. But like any purchasing decision you make, you need to look at your own situation – how you intend to use the tools and what budget you have. Below you can see the benefits of each.
Benefits of Office 2019:
1. You only pay once and it's yours to keep forever. If all you need is Outlook, Excel, PowerPoint and Word, it will be much cheaper in the long run to own the license rather than to subscribe. For example, currently the Office Home & Business 2019 costs 249.99 USD (one-time purchase). If you compare this to Microsoft Family (previously known as Office 365 Home – which is one of the cheaper Office 365 subscription plans) it costs 10 USD/month (if you want to only commit a month at a time). This means that after two years, you have covered the cost of Office 2019 – and it's yours to keep forever.
2. If you are not using Microsoft's services for email, collaboration and communication, cloud storage, etc. and all you want is the "traditional" Office applications on your PCs or Macs, Office 2019 is a better option since it's not so tightly integrated with the rest of Microsoft's collaboration tools.
3. You don't have to worry about continuously training your employees on new functionality since no feature updates are provided
Benefits of Office 365:
1. You don't have to pay "upfront"; you can spread out the cost.
2. You can align the cost of Office to the actual number of employees you have at any point in time. If you have people joining, leaving or working temporarily, you can provide them with Office as they need it.
3. Each user can install Office on 5 PCs or Macs, 5 tablets and 5 mobile devices
4. You have a much richer offering with numerous cloud-based tools that enable a new way of working, online and mobile Office apps and continuous updates with new innovative functionality.
Summary
The world we live in today is constantly changing. Cloud-based, subscription-based offerings have become mainstream and the new norm. This business model puts new challenges on vendors. Since users can easily switch from one service to another if they are not content, vendors have to keep innovating and make sure that their users know how to use the tools so that they can benefit from using them. If you have invested in Microsoft 365 (previously known as Office 365) and want to make sure that your users benefit, contact us today to learn more.