Are you constantly switching between Outlook, Skype for Business, WhatsApp, and other messaging apps when you communicate with your team members? Do you wish there was a single app you could use for all your team communication? Perhaps then Microsoft Teams is an alternative.
Microsoft Teams is a modern productivity tool developed by Microsoft from scratch, designed to streamline communication and enhance collaboration within the workplace. In this blog post, you'll find some of our findings from our switch to Microsoft Teams for all internal communication within our organization.
8 benefits of Microsoft Teams
There are many benefits with a new, modern application like Microsoft Teams that is built from the ground up to support a digital workforce. Here are the top advantages we found.
Microsoft Teams enables you to:
1. Streamline your communication
Have all your team related communication in one place without the need for using several messaging apps like Outlook, Instant Messaging and WhatsApp.

2. Increase visibility and transparency
Get up-to-date with what's going on without being cc'd on email. See ongoing meetings in your channel and easily join if you have time.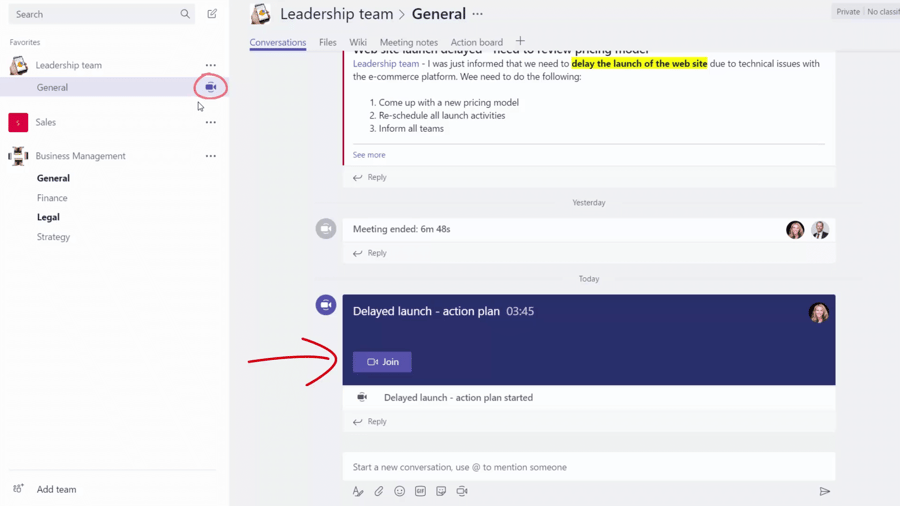 3. Separate internal and external communication
Using a separate app for your team communication helps you differentiate and prioritize between internal and external communication.
4. Quickly set up a collaborative space for your teamwork
With just a few clicks a user can set up a collaborative space within Teams.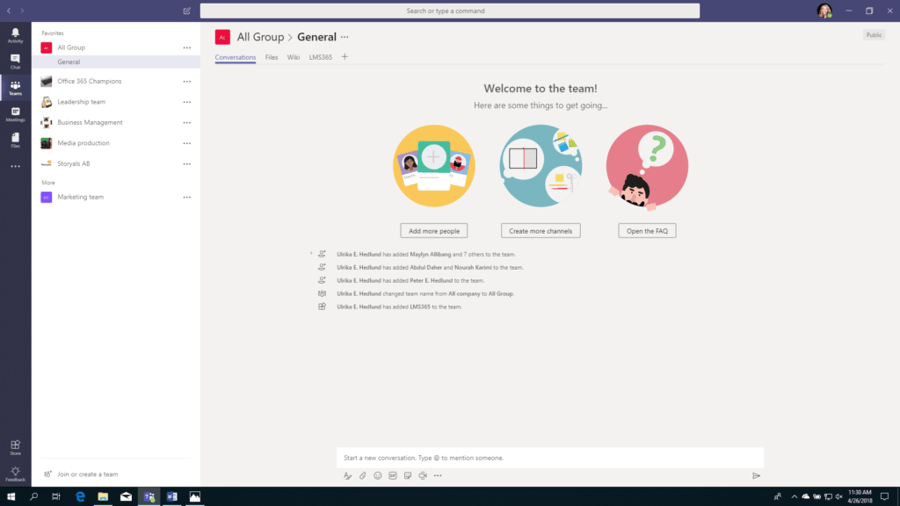 5. Communicate more freely
The overflow of email messages makes people reluctant to send continuous updates. With Teams you don't have to worry about overflowing with people's inboxes, information can be found on a need-to-know basis, therefore, people are more inclined to share information.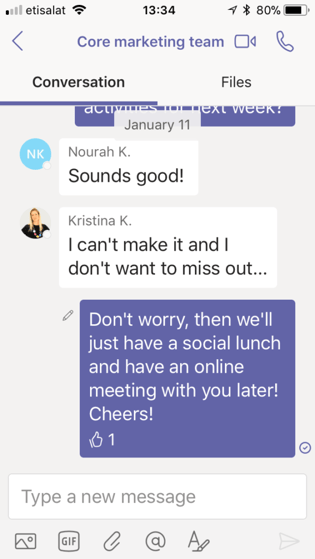 6. Quickly acknowledge chats and posts with "Likes"
Reduce email ping-pong by quickly acknowledging messages with a "Like".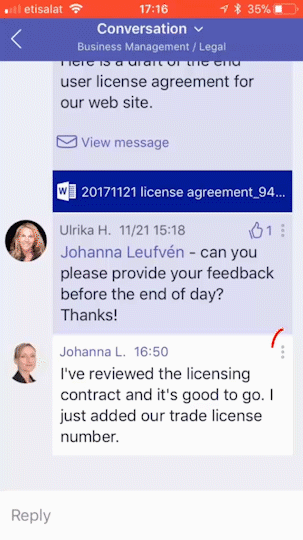 7. Easily access group chats and chat history
When using Skype for Business, you have to switch between Outlook and Skype for Business to access your chat history. Using Teams, you have your group chats and chat history all in one place.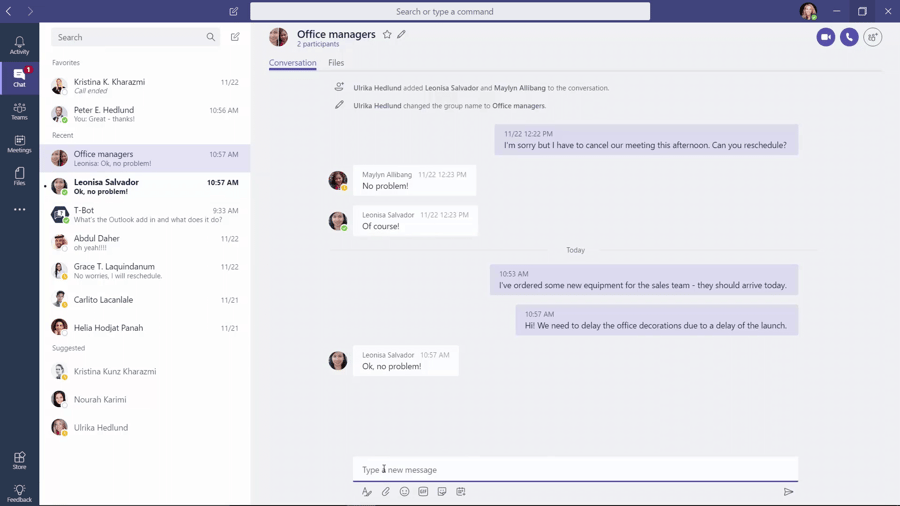 8. Focus your attention
Using connectors, you can access external apps through the Teams interface. This way you can eliminate the need to switch between various external apps.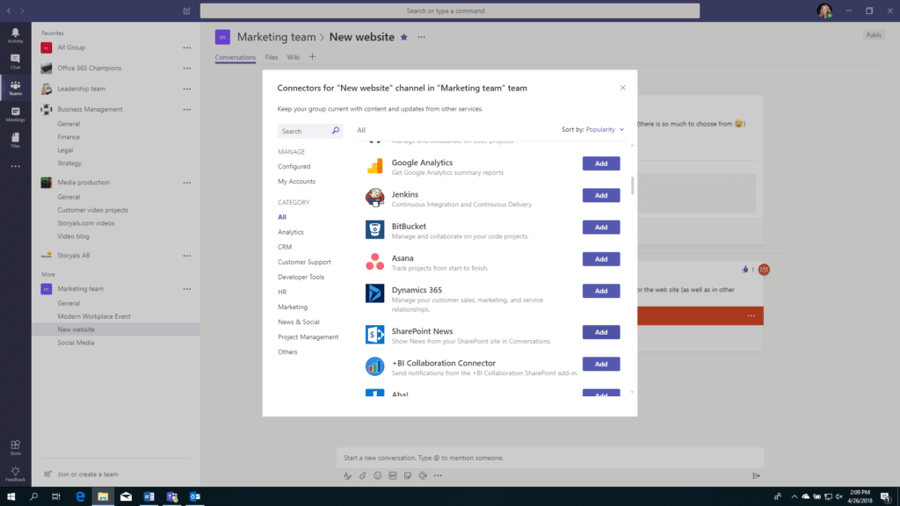 4 disadvantages of Microsoft Teams
Like every tool, even Teams has its fair share of downsides, here are some of the disadvantages we found.
1. Teams is reliant on constant Internet connectivity
Unlike Outlook which caches information, Teams requires a constant Internet connection to even start. This might not be a problem for most people, but it is a problem for those who frequently travel or live in a place with limited connectivity.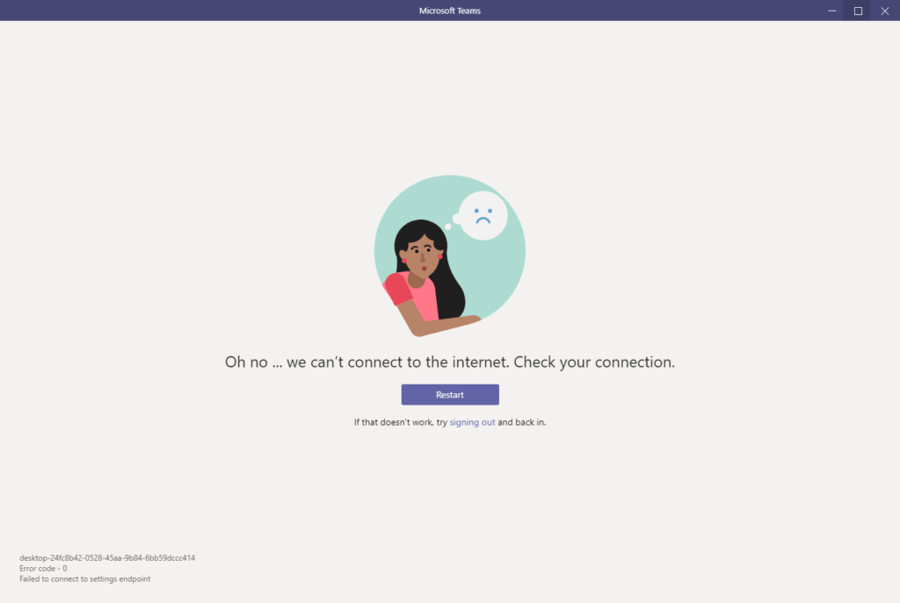 2. Long loading times
Teams is an app that is heavy on computer resources and takes time to start-up and operate.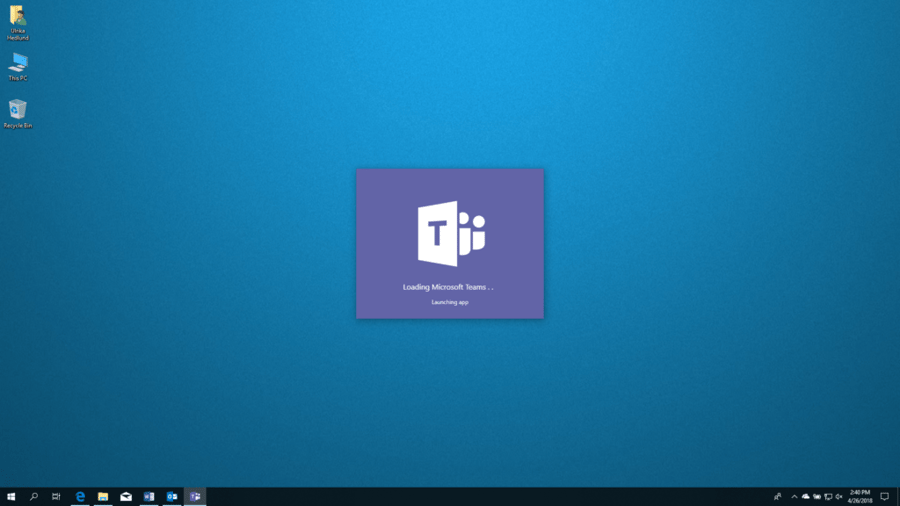 3. High battery usage
The desktop version of the Teams app takes a toll on your laptop's battery life in just a few hours of use.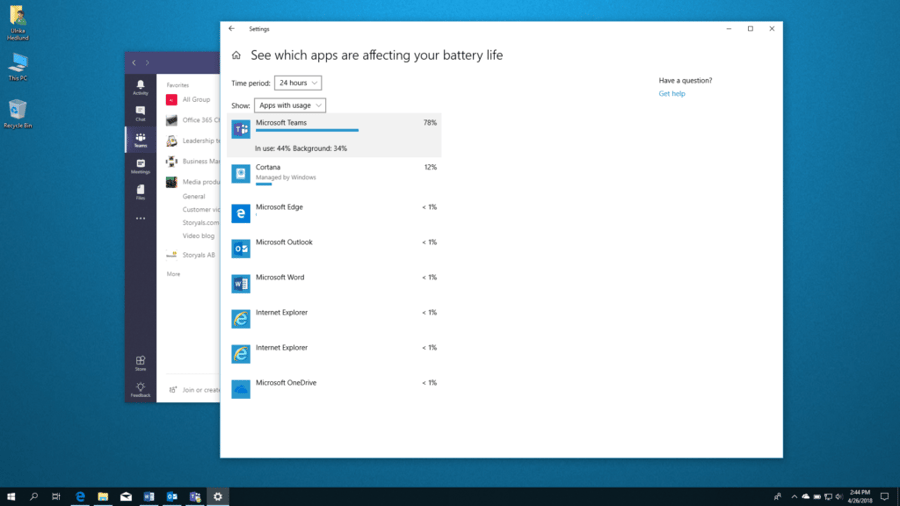 4. Incomplete online meeting functionality
Moving forward Teams will be the default application for online meetings, however, at this point of time Teams does not have all the capabilities that exist in Skype for Business, such as uploading PowerPoint presentations and sharing meeting notes. Microsoft has confirmed that most of the features in Skype for Business will eventually make its way to Teams and more are to come. You can keep track of the Skype for Business to Teams integration roadmap here.
Note: Since Teams does not yet support guests to "Request Control" in meetings, we at Storyals still have to use Skype for Business for some meetings. If you are in the same situation, you can change the Org-wide settings for coexistence of Skype for Business and Teams. To learn more, see our blog post 5 things you should know about scheduling Teams meetings.
Conclusion
At Storyals we believe in working transparently, and using Microsoft Teams helps us create an open environment that makes work visible across teams. Albeit its limitations, the switch to Teams for all internal communication has been a positive change.
Microsoft is continuously improving Teams, adding new features and fixing some of the identified shortcomings for a better user experience. If there is a specific feature you are waiting for, you can keep track of frequently requested features on the Microsoft Teams Feedback portal forum.
If your organization is using Skype for Business today, you will need to switch to Microsoft Teams sooner or later, so it's probably a good idea to start piloting it today. For best results, select new projects and with young employees that aren't so dependent on email.
When you do make the switch, make sure your employees get a proper introduction of the tool. We have created a Storyals topic specifically for this, called Enhance Teamwork. Here end-users will get a quick overview of the benefits of Microsoft Teams, a step-by-step introduction on how to get started, and in our story-based tutorial, users will see how Microsoft Teams can be used in real life to accelerate results. Please contact us if you have any questions or if you would like to discuss using Storyals to drive adoption of Microsoft 365 (Office 365). You can click on the "Book a demo" below to see Storyals in action. Also, don't forget to check out our blog on how to succeed with Microsoft Teams.