Updated on November 22, 2023 to reflect the renaming of Bing Chat Enterprise to Copilot and new Copilot screenshots.
In July 2023, Microsoft announced Bing Chat Enterprise, an AI-based chat tool, built on a similar technology as ChatGPT but designed for business users for them to safely use in day-to-day work. On November 15th, Microsoft announced a renaming of Bing Chat Enterprise to Copilot. Since Microsoft has announced a number of different Copilot technologies the former Bing Chat Enterprise is more specifically referred to as Copilot with Commercial Data Protection.
With so many Copilots around, it can be quite difficult for end users to understand what is what! Copilot (former Bing Chat Enterprise) is generally available from December 1st 2023, and is included as part of your existing Microsoft 365 subscription. This is an amazing and safe way for your organization to start (or continue) your AI journey. The Copilot that is integrated in the Microsoft 365 apps, and that has access to your internal data, is referred to as Microsoft 365 Copilot. You can read more about it in blog 5 Essential Rules for Using Microsoft 365 Copilot. If your organization is enabling Copilot (former Bing Chat Enterprise), we recommend you share this 5-step User Guide with your employees to give them a good experience in getting started.
1.

What is Copilot (Bing Chat Enterprise)?

Copilot (Bing Chat Enterprise) is an AI-powered chat tool by Microsoft designed for you to use as a supportive tool for your work. Copilot is built on a similar technology as OpenAI's ChatGPT, but unlike ChatGPT, Bing Chat Enterprise doesn't save any of the information that you feed into the chat, to ensure your data is kept safe. In addition, unlike ChatGPT, which is only trained on data up until 2021, Copilot (both the consumer version and the enterprise version) uses up-to-date information from the Internet to respond to questions, meaning that you can ask it about current events. It also gives you references to data being used in the responses, which facilitates fact-checking and source reliability.

2. How do I access Copilot (Bing Chat Enterprise)?
Open a browser window and type in the web address: copilot.microsoft.com. If Copilot with Commercial Data Protection has been enabled in your organization, you can log in with your company Microsoft 365 account credentials. Once logged in, you will see a green badge at the top saying "Protected", and above the chat prompt you will see the sentence, "Your personal and company data are protected in this chat". Please note that if you don't see this badge or text – you are not using the Enterprise version of Copilot, but rather the consumer version. If you do, the data that you feed into the prompt is used to enhance the product.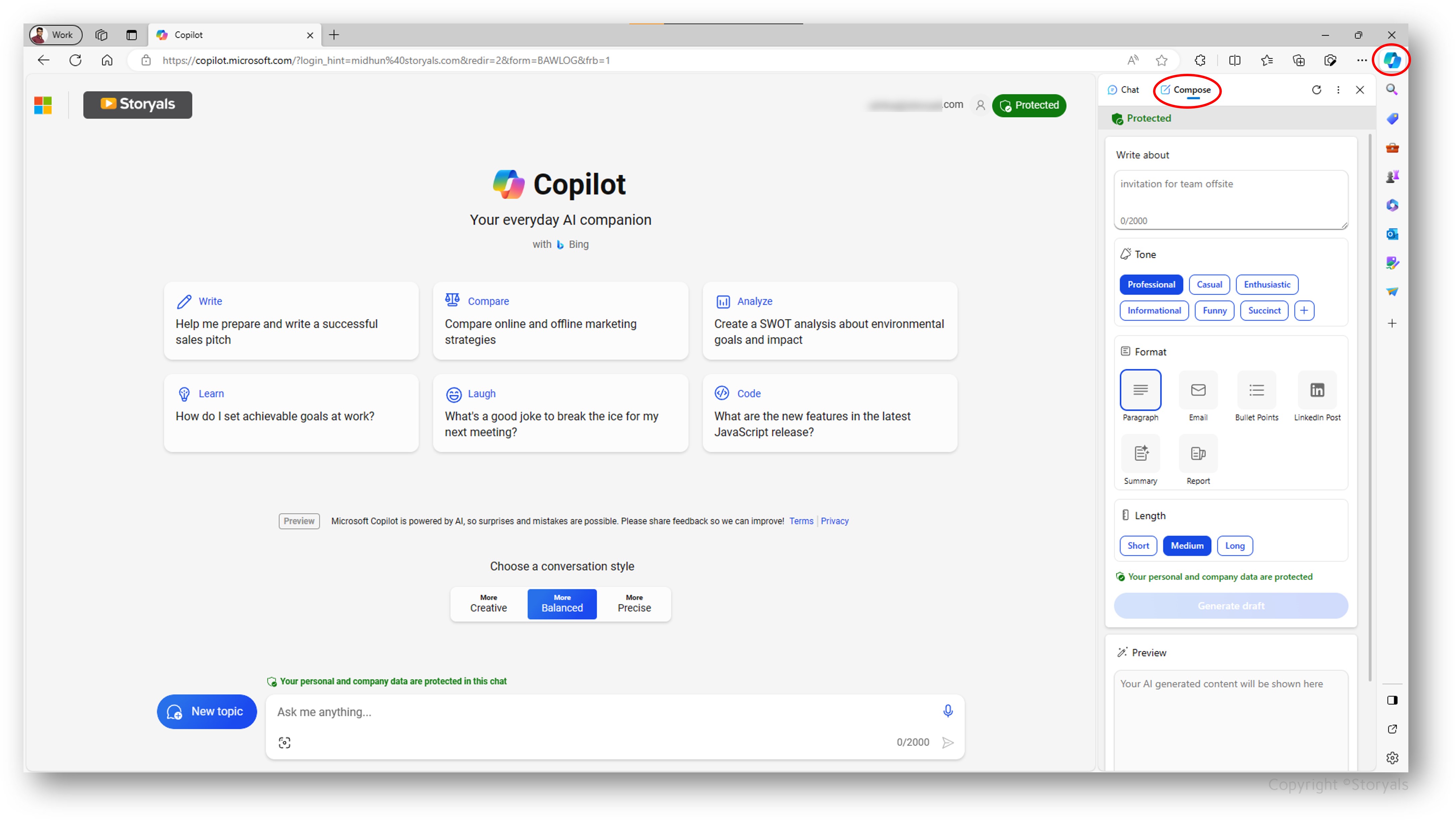 If you use Microsoft Edge as your browser, you can also open the side panel by clicking the "Copilot" icon in the right-hand menu bar. As long as you are logged in with your work account you will see the "Protected" badge in the panel.
3. What can I do with Copilot (Bing Chat Enterprise)?
Copilot is a generative AI tool, meaning it can find things for you and generate things for you to help you save time in your work - like your own digital assistant! You can use it to ask questions to get better insights into various topics. For example, "What are the top trends within XXX?" or "What were the key highlights announced at YYY?" You can also ask Copilot to summarize a website for you or explain something to you as if you were a 7-year-old (this is useful if you are researching something complex). Unlike traditional web search that just lists links for you with relevant websites, Copilot provides a summarized response from various data sources in an easy-to-understand language.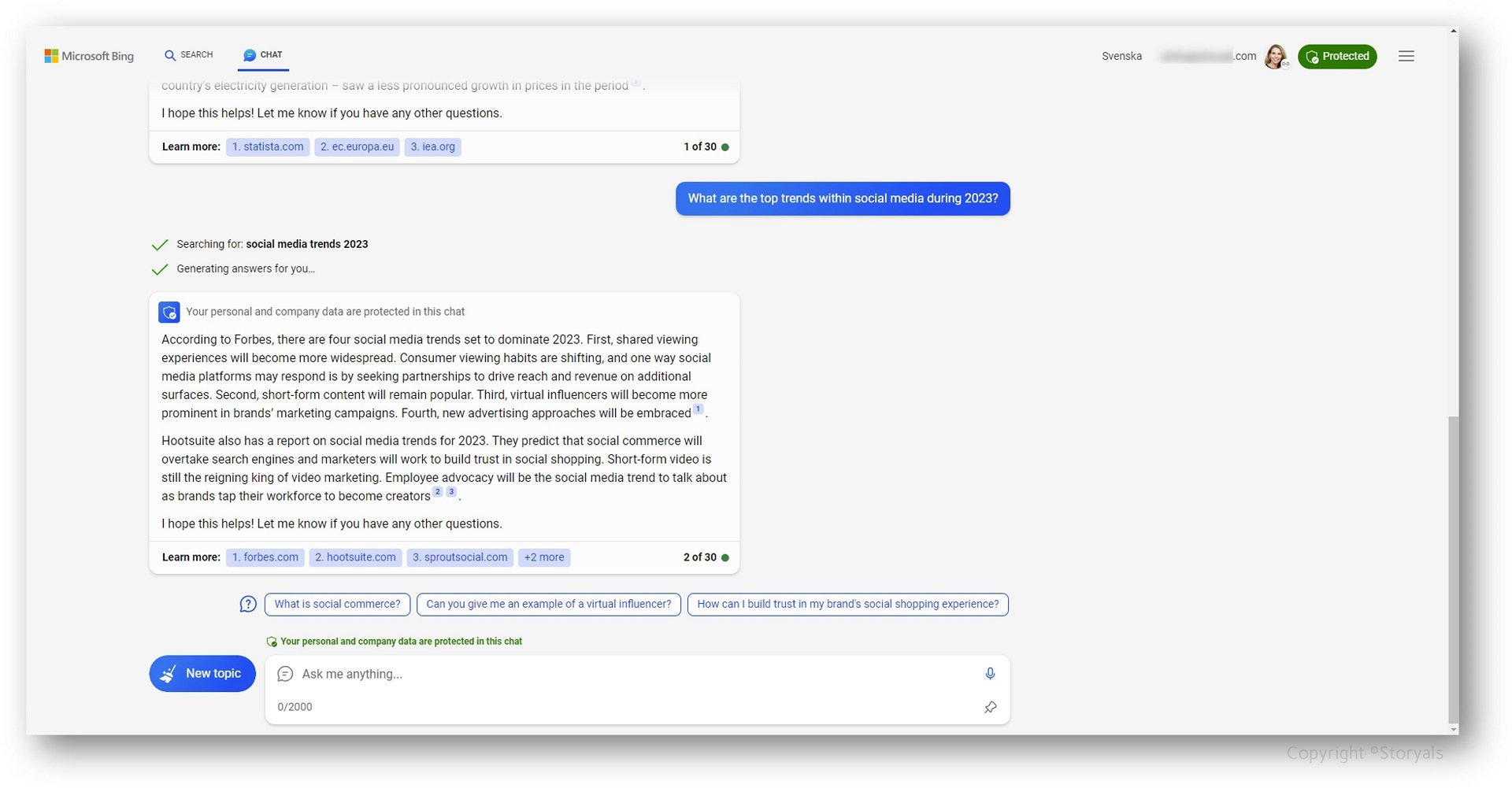 In addition to providing you with better insights, Copilot can create draft texts for you. This is where the real superpowers of the tool kick in. Whether you need to write a job description, a news announcement, a product description, or an official correspondence letter, you can have Copilot draft it for you.
4. What do I need to be aware of when I use Copilot (Bing Chat Enterprise)?
As with all AI-based chat tools, it's important that you don't blindly trust the responses you get, even if the response sounds very accurate and the tool persuasive. The answers being generated are built on a language model that uses probability to provide the best possible answer. It is essential to always check sources and to be aware the response might not be factual.
5. What are some power tips for using Copilot (Bing Chat Enterprise)?
Use natural language and think of Copilot as your very own human Personal Assistant that has read and understood everything on the Internet - all manuals, all articles, all blog posts, all research reports, etc. The more detailed information you feed into the prompt, the better responses you will get. For instance, if you want it to compose a text for you - provide input as to who the text should be for, what it should be about, how long it should be, etc. Another good tip is to go to the "Settings" and, "Notification and App settings" and enable "Allow Microsoft to access page content".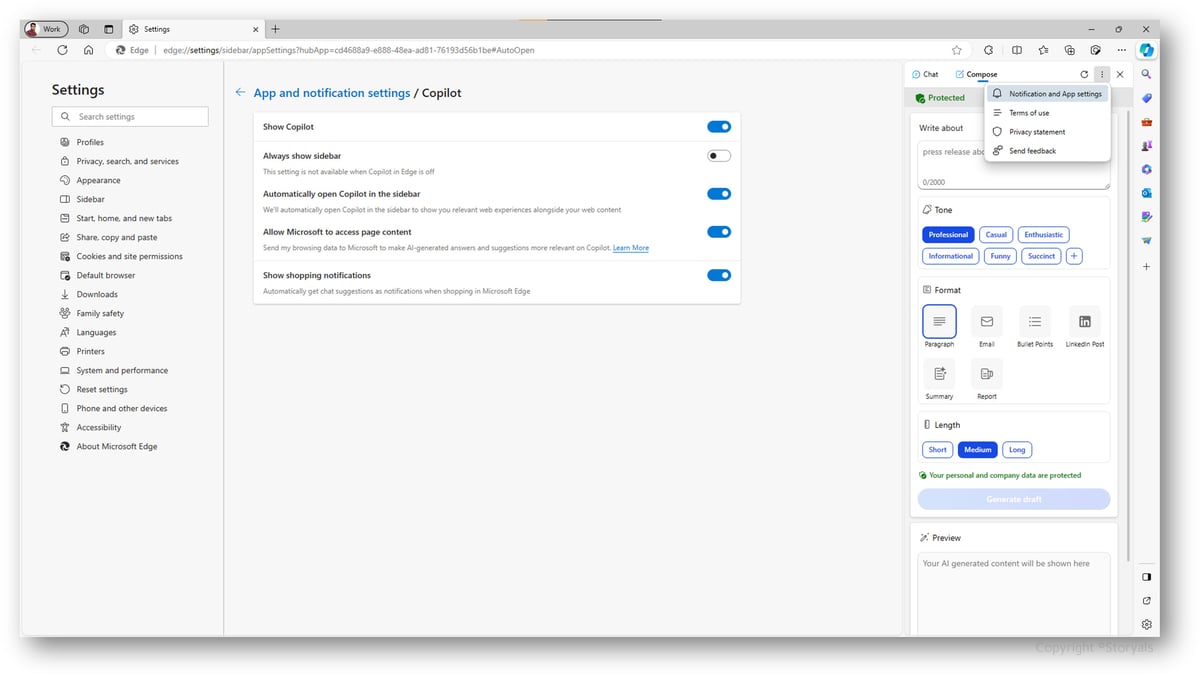 When this is enabled, Copilot can access information on the current web page or PDF you are on. This makes for more relevant and useful information gathering and text generation. Again, with Copilot, you don't have to worry about any information being shared, leaked, or used to feed the AI model.
As with all relationships, the more time and effort you invest, the more you will get out of it – same with Copilot. Make it a habit of asking questions every day – about everything and anything. Ask it to help you compose text – even if you don't need it. The more you use Copilot, the more valuable you will find it! 😊
The general availability of Copilot has been announced to be on December 1, 2023. Bing Chat Enterprise was announced in Preview in July 2023, available for organizations' IT Administrators to enable as an option. It is provided to all organizations that have a Microsoft 365 subscription (E3, E5, Business Standard and Business Premium) at no additional cost. In August 2023, it will be enabled by default for all organizations that have Microsoft 365 unless it is actively disabled. IT Administrators can learn more about enabling/disabling Bing Chat Enterprise for your organization in the Microsoft Learn Documentation on Bing Chat Enterprise.
November 15th 2023, Microsoft announced a renaming of Bing Chat Enterprise to Copilot