The COVID pandemic has forced us all to become more creative and innovative in finding ways to bridge the gap between the physical and the digital world. In our office, we have a large wall with writeable paint that we use as a whiteboard. We use the wall for all types of brainstorming and planning, and to visualize our targets. In our organization, many of us work remotely so we need to find new ways of visualizing our whiteboard even for the ones who are not in the office. This is where Microsoft Whiteboard comes in to play! If used effectively it can really help support those creative brainstorming sessions and take your meetings to the next level.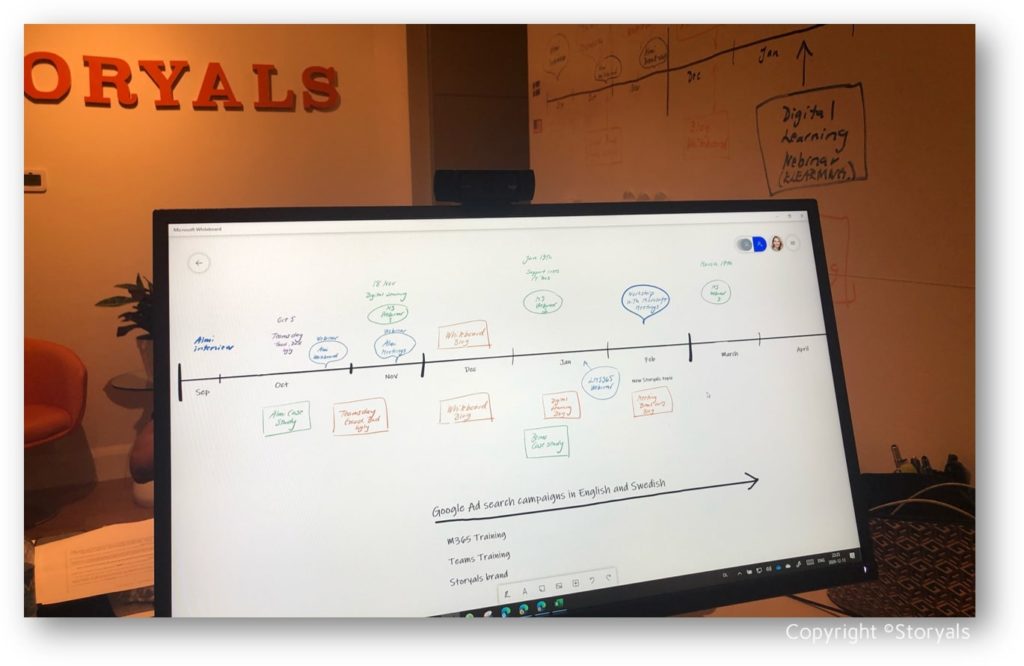 Let me share some of my recommendations for how to use Microsoft Whiteboard like a pro! (Please feel free to reach out to us for more in-depth sessions on this topic.)
1. Understand how Microsoft Whiteboard works
I often hear users complain about the limited functionality of Microsoft Whiteboard. Like with any application, if you don't fully grasp it, it's easy to focus on the flaws. First, you need to know some of the basics, like for instance how to access it. Microsoft Whiteboard is available as a web app (supported by most up-to-date browsers), as a Windows 10 app (which also works on Surface Hub devices) and an IOS app. In other words, at the moment there is no dedicated Whiteboard app for Mac Books or Android devices. Things change rapidly though, so make sure to check the list of supported devices. The Whiteboard web app is rather limited, so I never use that for actively working on whiteboards (only for displaying them). I use the Whiteboard Windows 10 app on my computer along with the Whiteboard iOS app on my iPad.
Using Microsoft Whiteboard, you are not limited to the space on the wall. Each whiteboard has an infinite canvas to write and draw on. You can use a combination of images, text, post-its, hand-written notes and pre-defined lists to really make a visually appealing experience.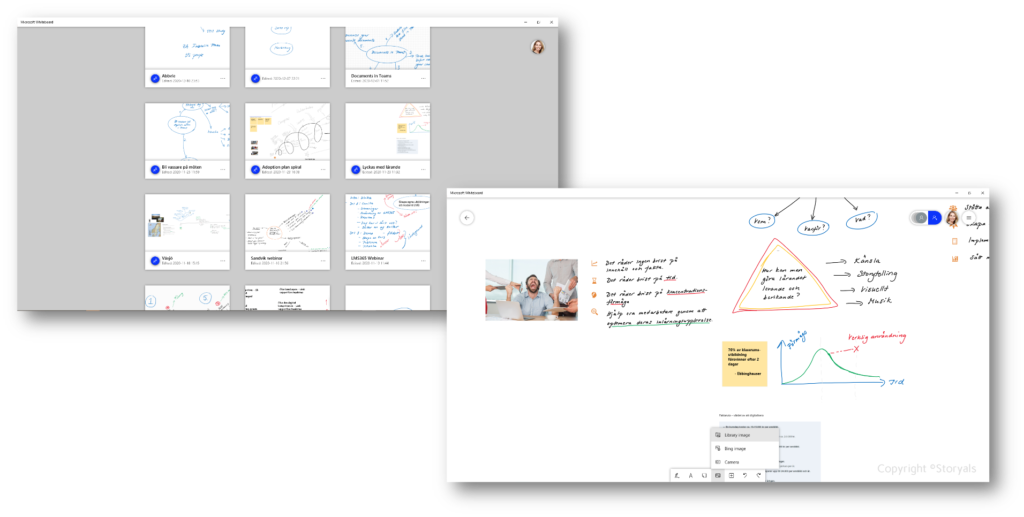 2. Practice on your own before using Microsoft Whiteboard in meetings with others
Don't you miss the time when we were all huddled up close together in front of a whiteboard and "drew things out"? Even though analog whiteboards have their charm, digital whiteboards have a lot of other benefits. You never run out of space, you never have to erase, you can share them with as many people as you like, you can keep working on them forever, you can easily combine images with text and handwriting. The list goes on…
However, if you want to use Microsoft Whiteboard to spice up your meetings you need to be comfortable using it, otherwise it will fall flat! I've seen people open the Whiteboard app for the very first time in an ongoing Teams meeting. They start with an empty board; they try something that doesn't work and then they dismiss the tool altogether.
With a bit of guidance – that can be avoided. You need to dedicate some time to play around with Microsoft Whiteboard. Open it on your computer and use it with your keyboard and mouse – add text, add images, add post-its. To really get the most of Microsoft Whiteboard invest in a device with a digital stylus. Use the pen, draw circles and arrows – write things. I typically open the Whiteboard Windows app on my computer and use my mouse and keyboard to navigate and type things – and then I open the same whiteboard on my iPad and use my pen to take handwritten notes simultaneously.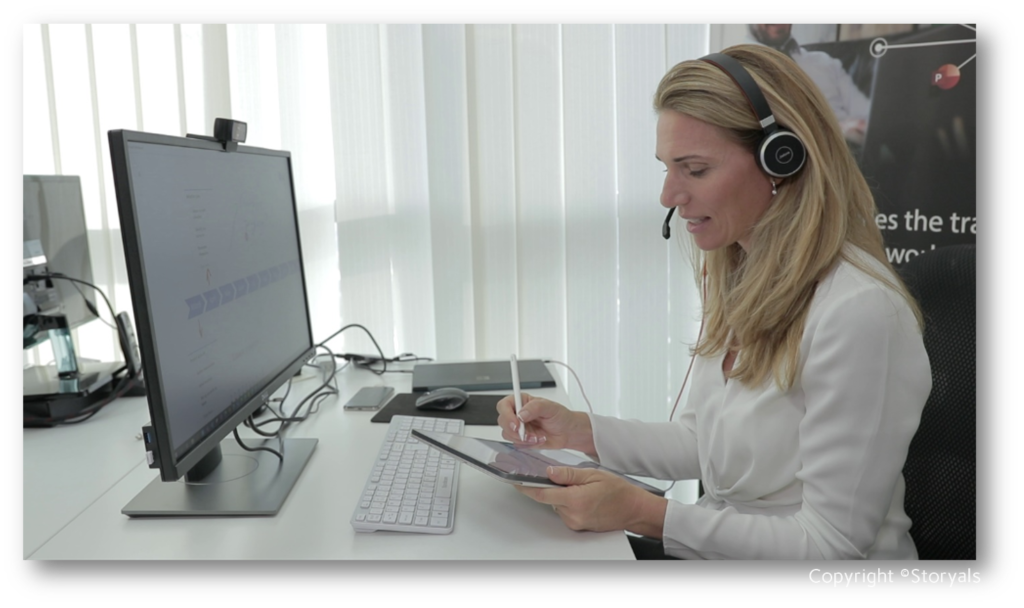 Think through how you want to use the whiteboard in your meeting. Do you want to use it as an outline for your meeting and use the whiteboard to navigate through agenda items? Do you want to use it as a mind mapping tool to guide a brainstorming session? Think it through in advance and then practice!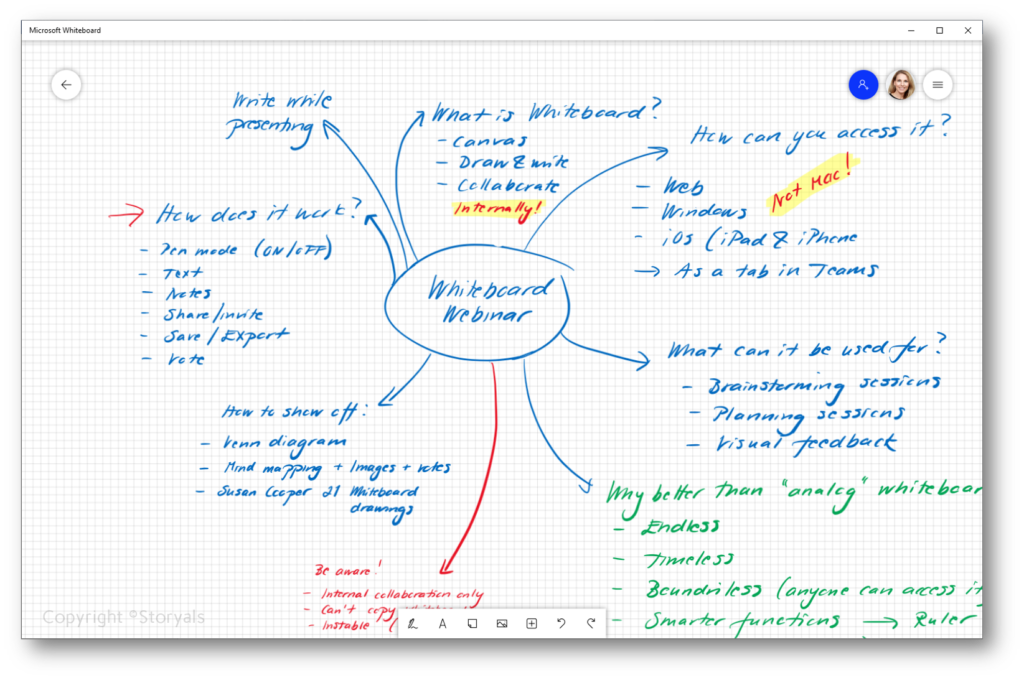 3. Create your own templates and re-use
The great thing with a digital app for whiteboarding is that you never have to erase your boards! You can re-use what you have done and apply it again and again. Ideally, it would be great if you could just copy/paste an entire whiteboard, but at the moment you can't. (Please vote for that feature in Microsoft Whiteboard UserVoice here.) With that said though, there is an easy work-around. Open the whiteboard you have prepared, select everything by pressing CTRL + A on your keyboard, then press CTRL + C to copy everything. Open a new blank whiteboard and then press CTRL + V to paste everything in. Viola! You now have a copy!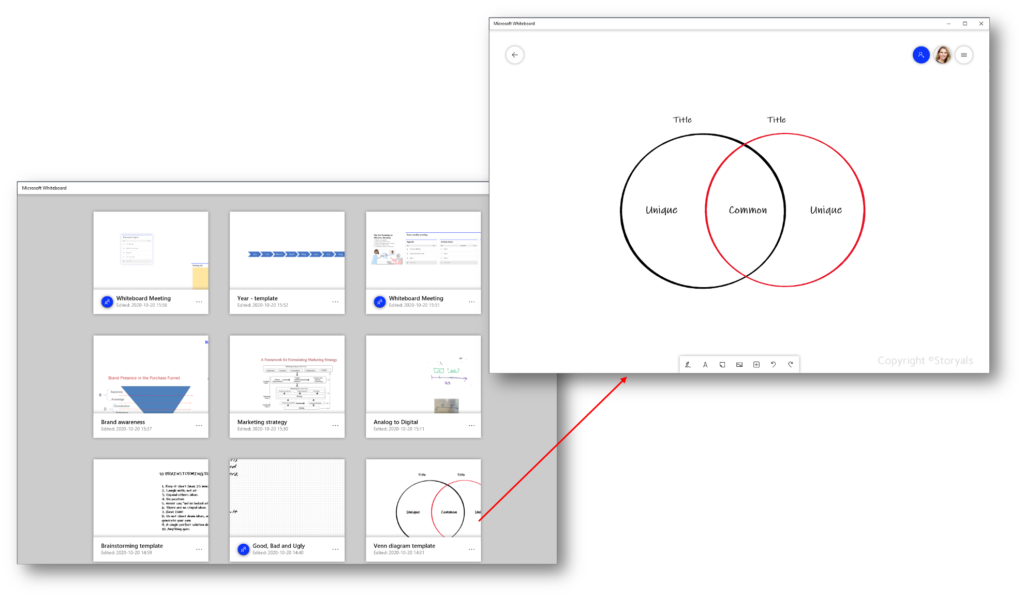 You can name your whiteboards by clicking the three dots below the whiteboard.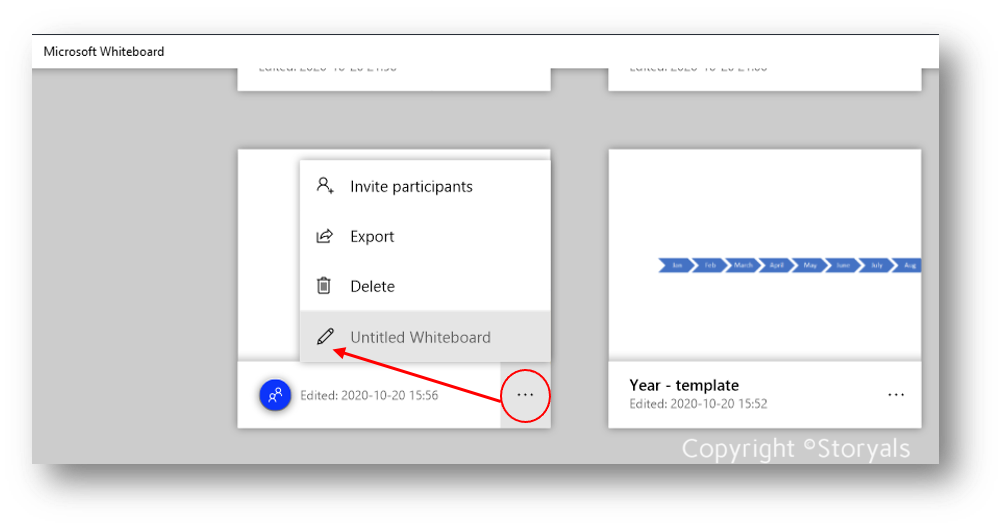 I have templates for brainstorming meetings, various types of diagrams and workshop sessions we hold.
4. Use Microsoft Whiteboard in your Teams meetings
Now that you have practiced how to use Whiteboard and you have prepared so you know what to do with the canvas – it's showtime! But wait… How do you get the whiteboard you want into the Teams meeting?
First of all, you need to understand how Microsoft Whiteboard and Microsoft Teams are linked. If you have a Microsoft Teams meeting, and you open up your sharing tray and pick Microsoft Whiteboard under the "Whiteboard" heading, a new whiteboard is created by default – linked to that specific meeting (if your organization has enabled Microsoft Whiteboard that is).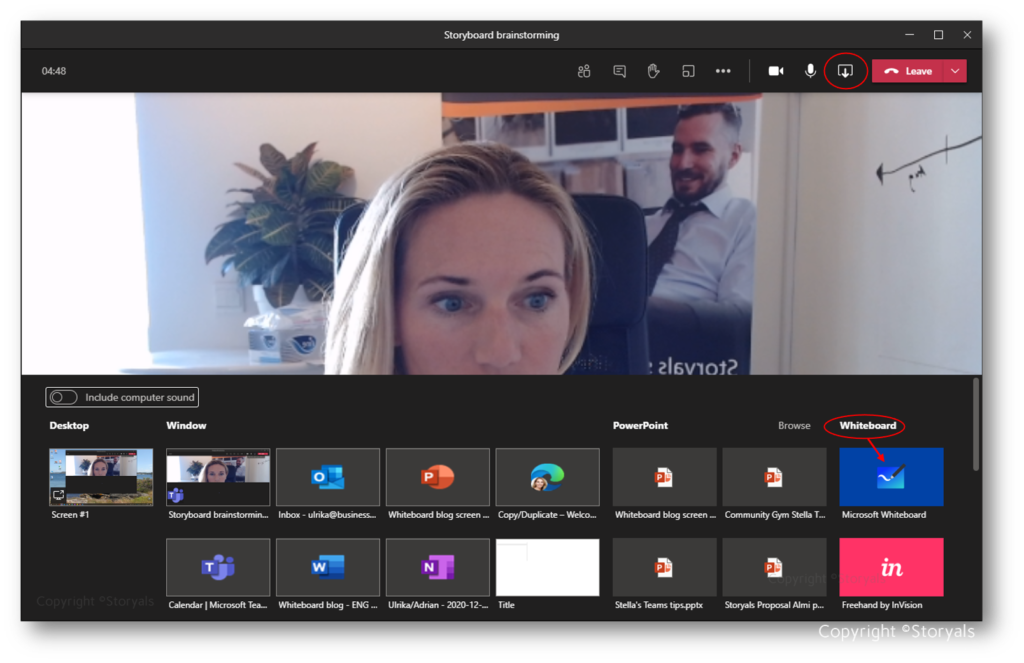 The beauty is that everyone in your organization gets access to the whiteboard and it's linked to the meeting as a tab in the meeting chat.
Unfortunately, due to security permission, this currently only works with people within your own organization. Users outside your organization won't even see the whiteboard if you share it this way…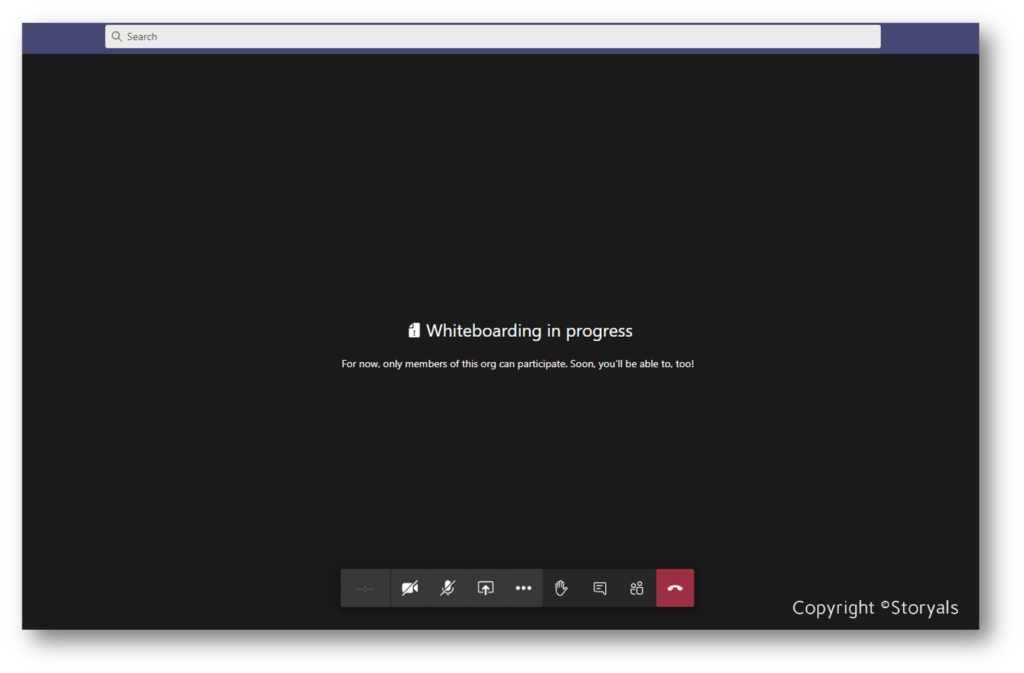 This will change though – keep an eye on the roadmap here.
But don't worry – you can use Microsoft Whiteboard in meetings – even with external meeting participants as long as you (or your colleagues) do the writing. I do this all the time in my meetings. The trick is to use the Windows 10 Microsoft Whiteboard app on your computer and share that instead! So, if you have the Microsoft Whiteboard app installed you can just search for it and open it up.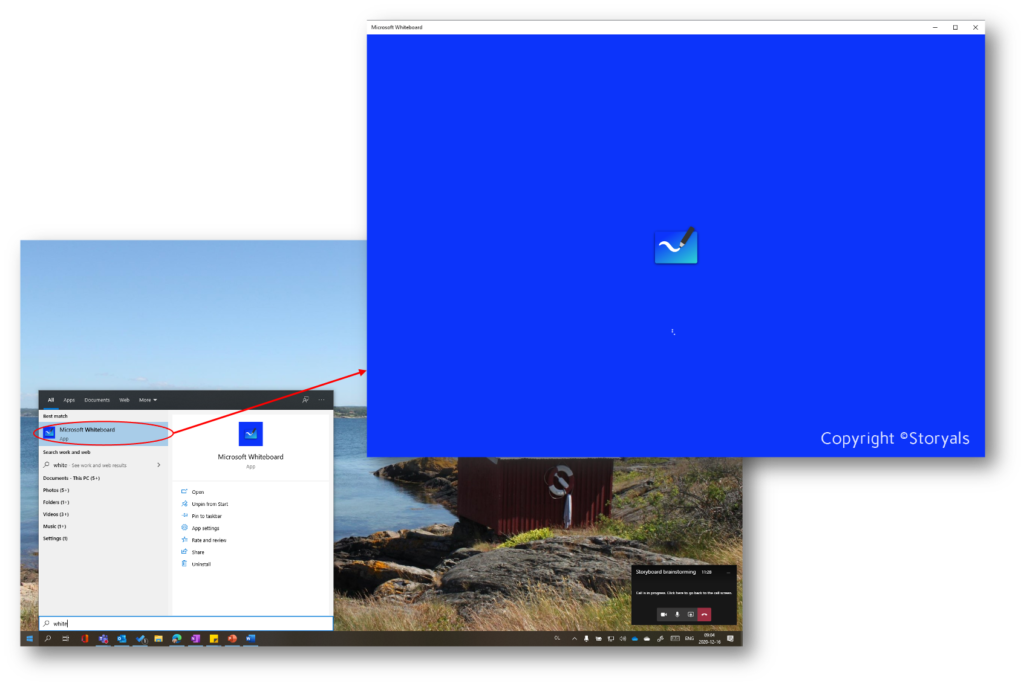 If you want to use the whiteboard that has been linked to the meeting, you should be able to see it as the most recent whiteboard. Prepare what you want to write, or copy and paste something in from another whiteboard.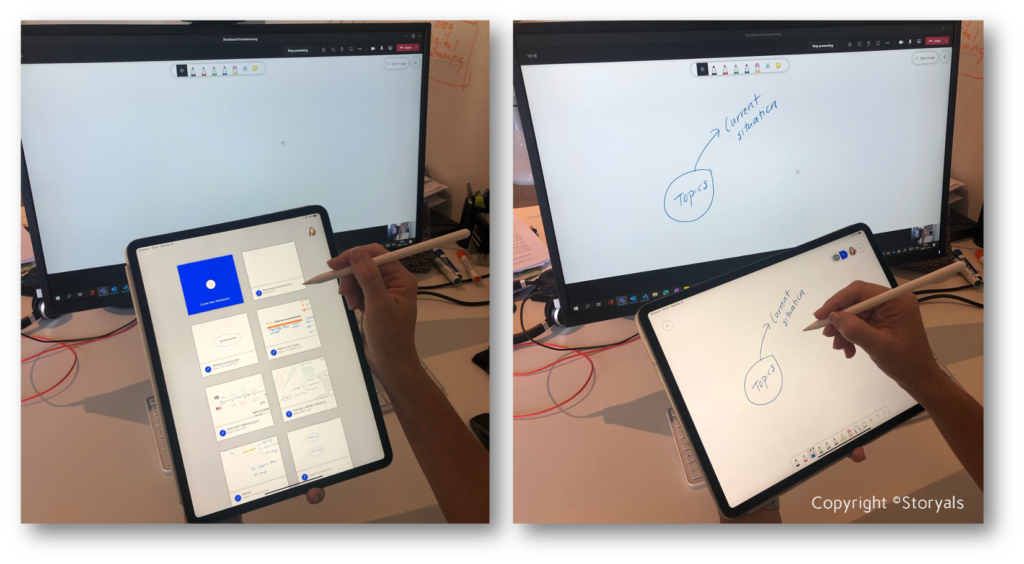 To share your whiteboard in the Teams meeting so that everyone can see it, click share and then under the "Window" heading, select Microsoft Whiteboard.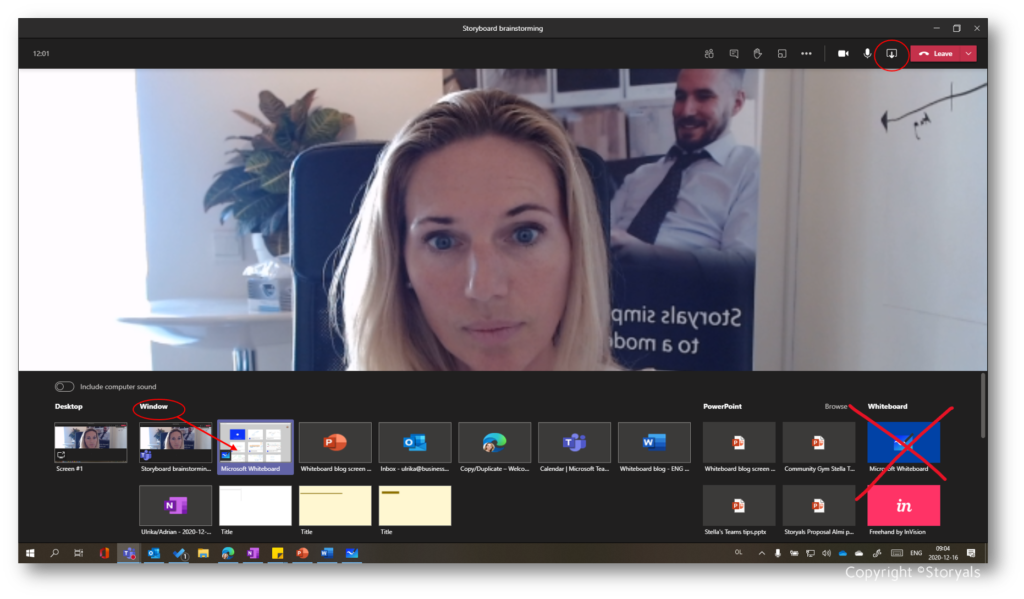 Now, everyone can see it – internal and external meeting attendees.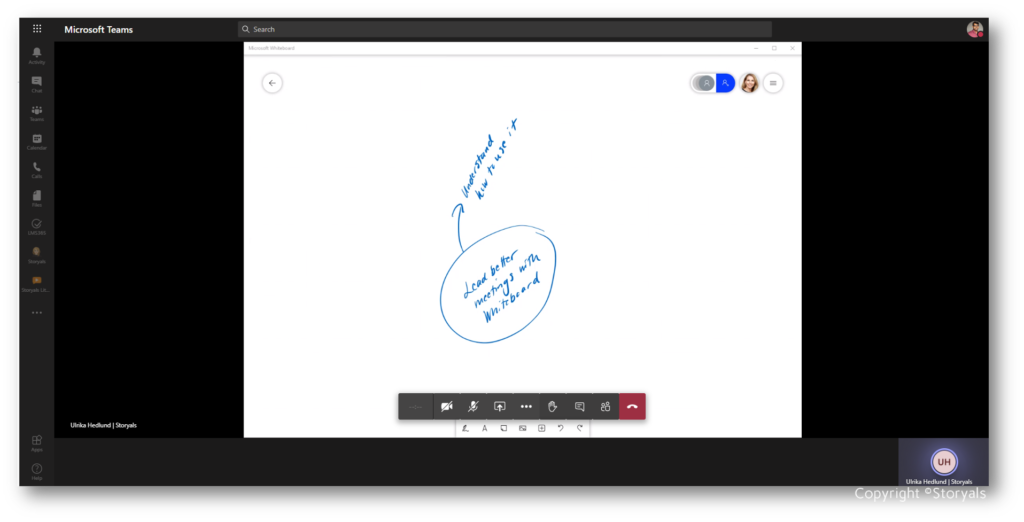 5. Be creative and have fun!
Once you feel comfortable using Microsoft Whiteboard you can really be creative and have more fun in your meetings! Even though it doesn't compare to meeting face to face – it does make digital meetings more fun when they are more visual.
Here are some real examples that can give you some inspiration. This first whiteboard is a session we did on corporate values. I asked everyone to call out ideas, or to type them in the chat, and then I added them as post-its.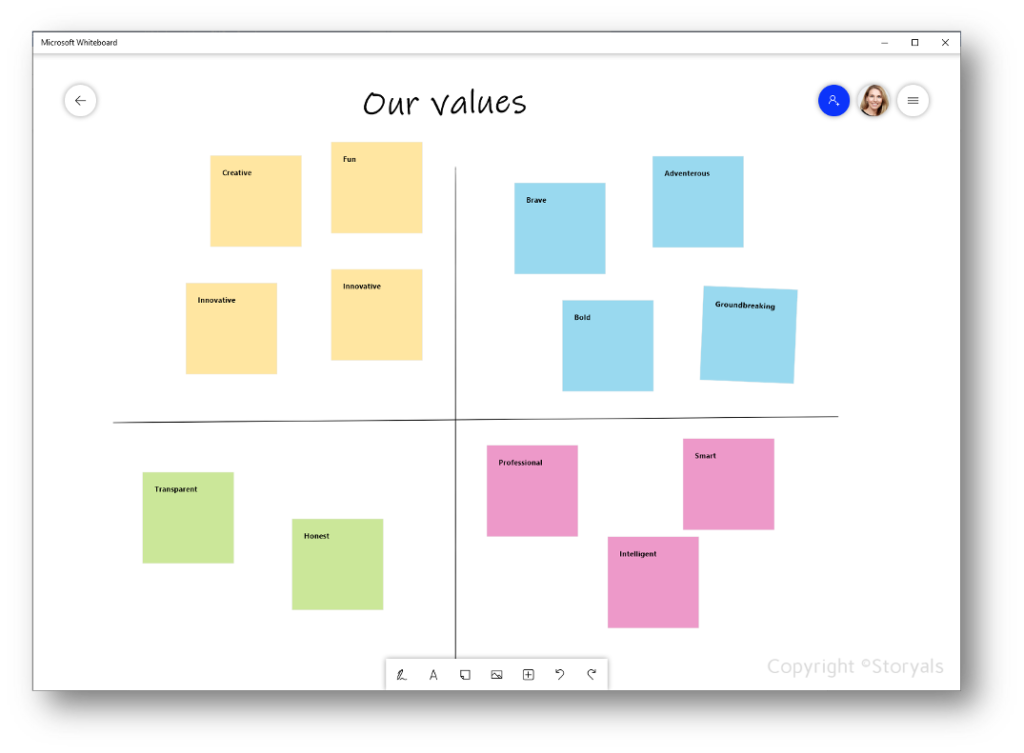 Here is another example where we used images to brainstorm around brand identity: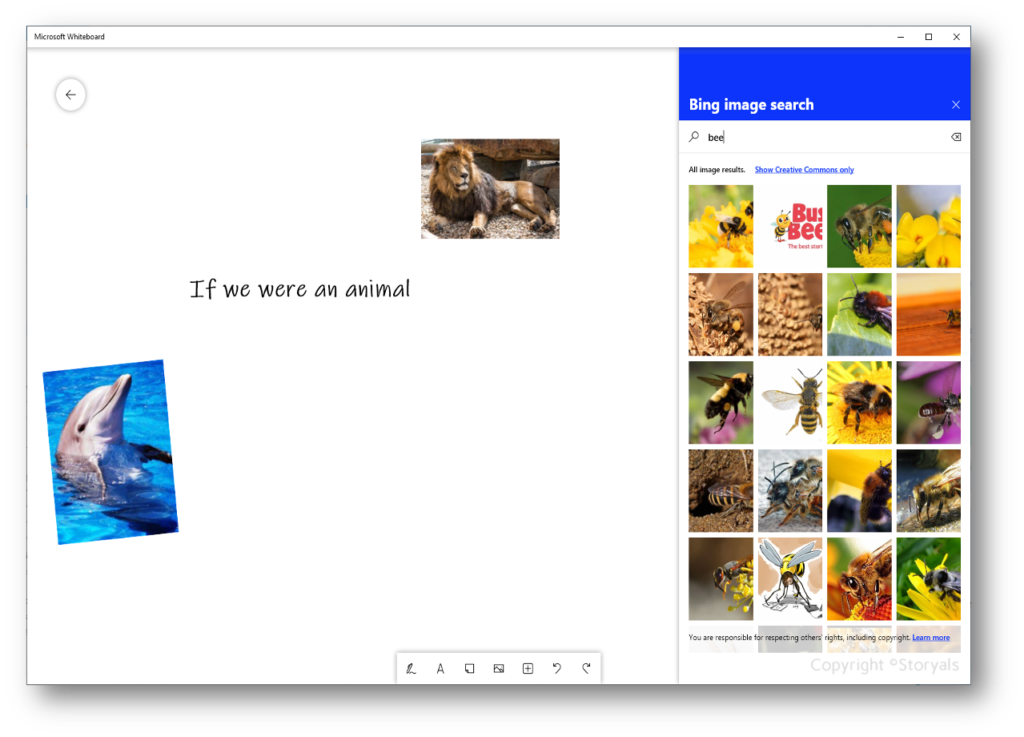 These days, I use Whiteboard to plan the outline of webinars, workshops, and training sessions. I navigate through the whiteboard as we go through the session and I can add things on the fly. Making the sessions much more interactive.
If you want to share your whiteboard afterwards you can just click the "Settings" menu in the top right corner and then select to "Export" your whiteboard. You can choose a .png file, or a high definition .svg file which is a better option if you have a lot of details and you want to enable people to zoom in.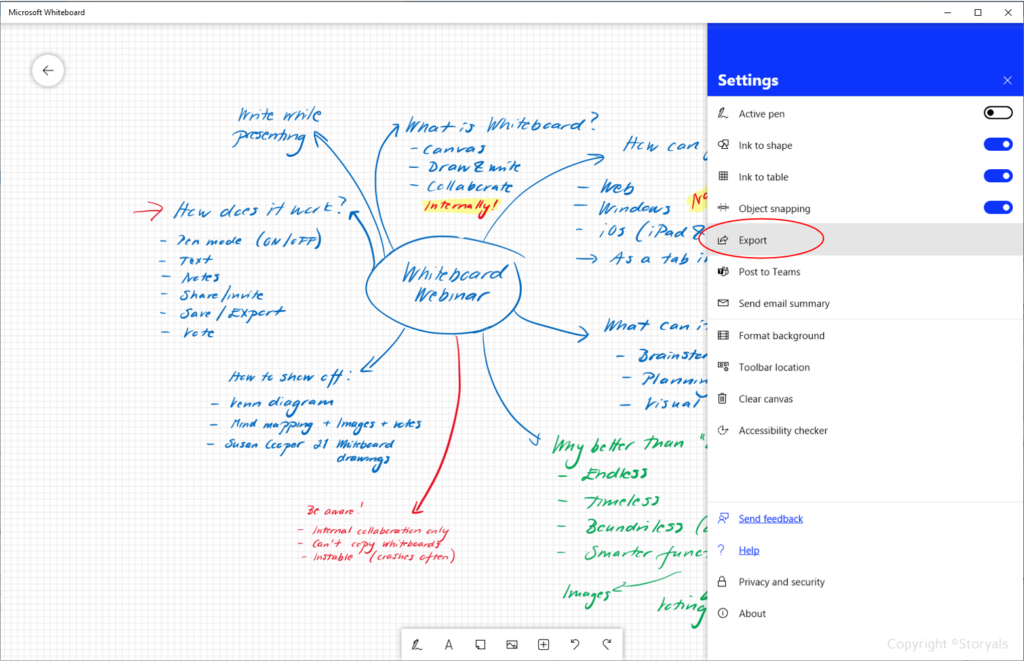 I warmly encourage everyone to try Microsoft Whiteboard. Just follow the guidance I have given here, and you will for sure take your meetings to a whole new level. Good luck!