March 18th, we conducted a webinar with the title, "Quickly mobilize your workforce for remote work using Microsoft Teams". During the webinar we got lots of questions. It is evident that a lot of people have been "thrown into the deep end" when it comes to Teams and are now trying to make some sense of it.
It comforts me that most of these questions are addressed in our story-based tutorials and introduction videos in our Storyals subscriptions. With that said, I know a lot of you are not in a position to sign up for Storyals to help guide your users, so I wanted to do my best to respond to some of the questions that came in during the webinar.
Teams and Skype/Skype for Business
1. When is Microsoft Teams replacing Skype for Business?
Microsoft has announced that they will "retire" Skype for Business online July 31st, 2021. Since September 2019, all customers signing up for Office 365 are automatically set up to use Microsoft Teams only. I warmly recommend that you start planning your transition, if you haven't already done so. Using both applications can be quite confusing for users. There are of course things you need to consider. Are your meeting rooms set up to use Teams? Do you have licenses to support audio conferencing? How will you communicate the transition and train your users on how to use Teams? Please contact us to learn more about our ready offer to help organizations get their users up to speed with Microsoft Teams via video-based storytelling.
2. What is the difference between Skype for Business and Teams?
Microsoft Teams is the primary client for meetings and calling in Office 365. All capabilities that were available in Skype for Business are available in Microsoft Teams. But in addition to the functionality you had in Skype for Business, Microsoft Teams offers so much more and is a modern "hub" for all communication and collaboration. For a deeper explanation of what Microsoft Teams is, please refer to our blog post, "What is Microsoft Teams?"
3. My company just implemented Teams, is there any way to integrate the normal Skype with Teams?
Yes, well – soon at least. Microsoft has announced the roll-out of Teams and Skype interoperability. You can find a good article by Tom Arbuthnot about it here, and more technical information about the Teams/Skype interoperability from Microsoft here. With that said, you will get a much richer communication if all parties use Microsoft Teams, so you might consider promoting the free Microsoft Teams client to your counterparties. You can see the various licensing plans of Microsoft Teams here.
General questions about using Teams
1. How do we communicate across different organizations using Teams – i.e. how does Teams allow us to engage or communicate together?
There are different ways in which you can use Microsoft Teams to communicate with people in other organizations. You can communicate with others using meetings, chat and collaborate in teams. Let's walk through each of them below:
Meetings: You can invite anyone, no matter who they are, to a Teams meeting. All they need is an email address. You can do this by adding their email addresses to a meeting invitation in the Calendar in Teams, or, you can invite to a Teams meeting via Outlook (provided that this has been enabled by your IT organization).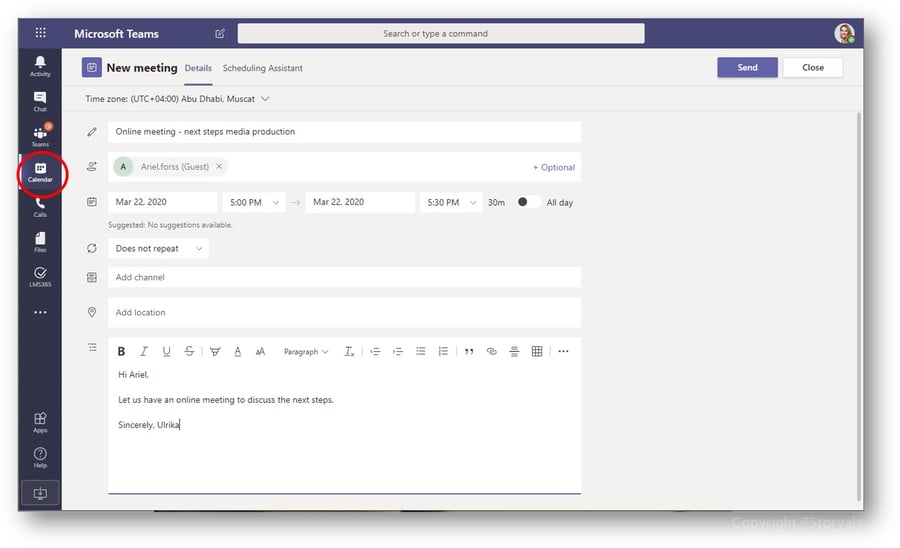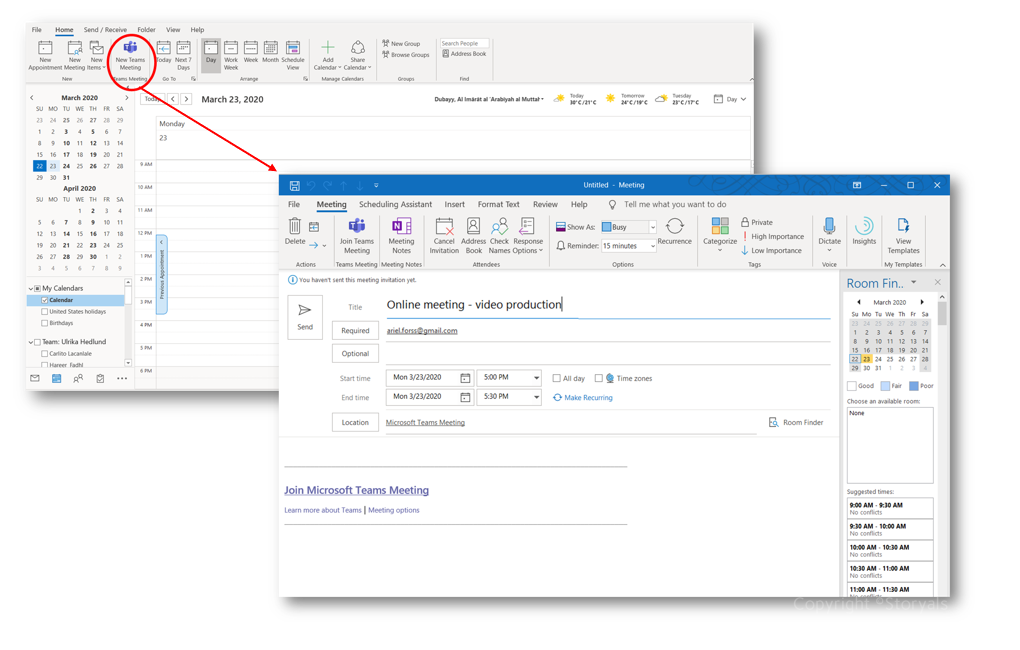 To attend the meeting, you can use the Teams web app, or download the full Teams app to your computer.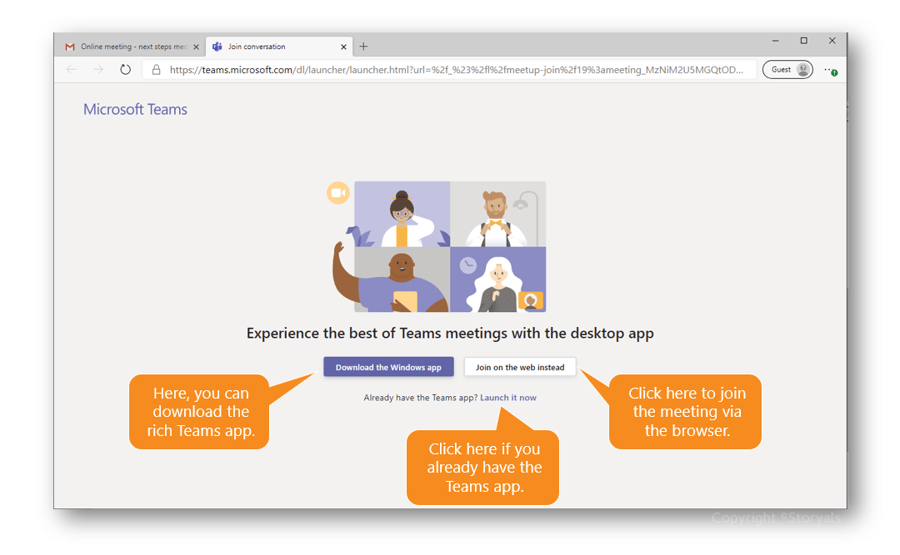 Chat: If your organization has enabled external communication, you can add people from other organizations using Microsoft Teams to your chat contacts. You will also be able to communicate with users that are using the consumer version of Skype and chat with them. (See more information in the next set of questions).
Teams: Again, if your organization allows it, you can invite external users to a team in Microsoft Teams so that you can more easily collaborate and have threaded conversations and share files, etc.
2. Can I use Teams also with Office Professional 2019?
Microsoft Teams is a stand-alone app that can be used by anyone – no matter what version of Office you have. There are multiple versions of Teams available, a free version as well as a richer version which is included in the Office 365 subscriptions. See the differences between the various plans here.
Meetings in Teams
1. How do we get around video calls for more than 4 people?
You can be up to 250 attendees in a "normal" Teams meeting. However, you can only see 4 people's large video feed at a time, other than your own video (the videos at the top rotate to show the ones that are currently speaking). This is a huge limitation – especially for teachers that want to be able to see their entire class. Microsoft is working on this and will share an update soon.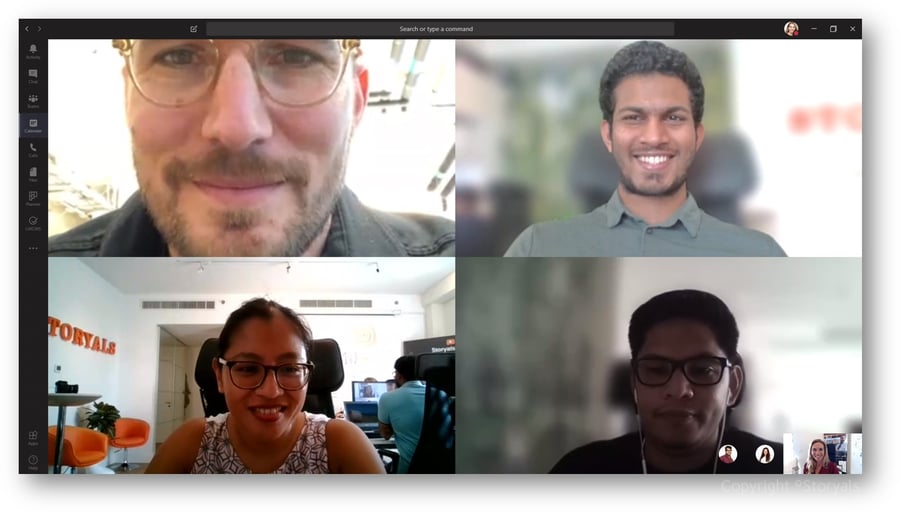 2. How do we include external parties in our Teams call? Is this a license check and if yes how do we go about this?
You can invite anyone to a Teams meeting, internal or external. But in order to enable audio-conferencing (calling into a fixed telephone number to join the meeting from a normal phone) you need to have an additional license. You can find more information regarding the Teams add-on licenses for calling here.
3. As an Executive Assistant we manage others' diaries but in Teams I can only see and arrange Teams meetings from my diary – is there a wider function as we have in Outlook?
The calendar in Teams is not as "rich" as the one in Outlook. You can continue to use Outlook to manage diaries and Teams meetings invitations, given again, that this has been enabled by your Office 365 Administrator.
4. If you set up a Teams meeting, do you need to 'attend' the meeting too, or can everyone else join the meeting without you?
The default setting is that external meeting participants will be placed in a virtual "lobby" until they are let in. As long as someone from within your organization joins the meeting and lets external participants into the meeting, you don't have to attend as the meeting organizer. Even if you as an organizer leave the meeting, the meeting can still go on without you.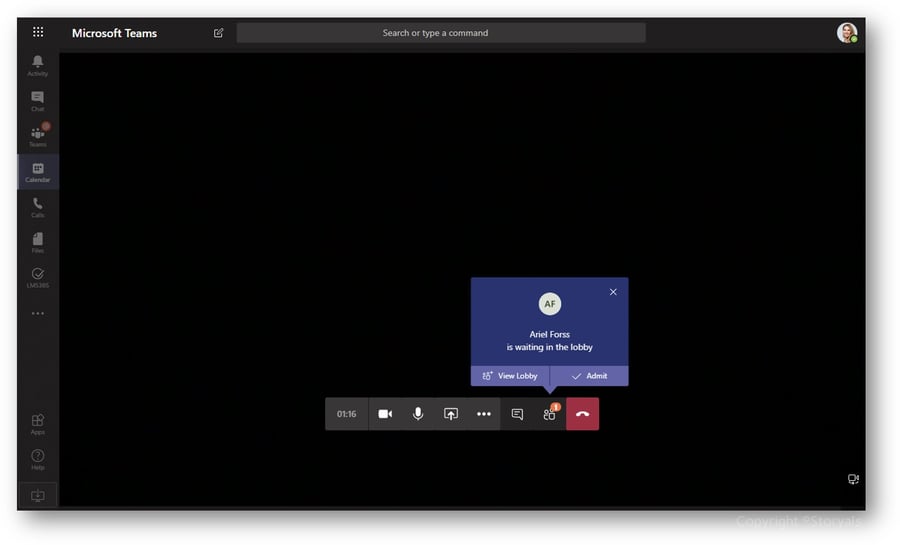 Depending on how meetings are conducted in your organization, your Teams Administrator might want to change the meeting settings: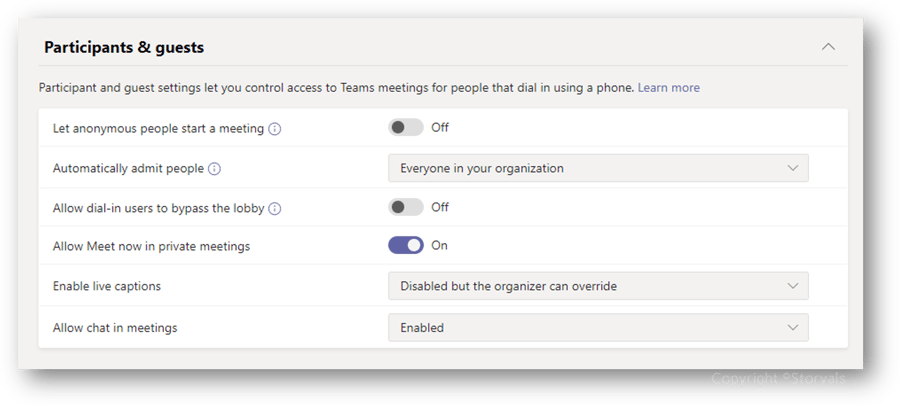 Usability questions
1. Is there a way to track productivity on Microsoft Teams – For example: are employees able to clock in / clock out?
There are a number of usage reports you can get as an administrator of Office 365. You can see at a glance whether people are mostly communicating via Teams, Yammer, email, or Skype calls. However, tracking productivity is a bit trickier, because this relates to the actual business outcome. If you want to have the ability for users to clock in and clock out, I would recommend that you have a look at Shifts in Teams. Here you can turn on the ability for users to clock in and out and pause for breaks – directly from within Teams using Time Clock. You can learn more about how so-called "first-line workers" (those who don't sit in front of a computer to do their work) can use Teams here.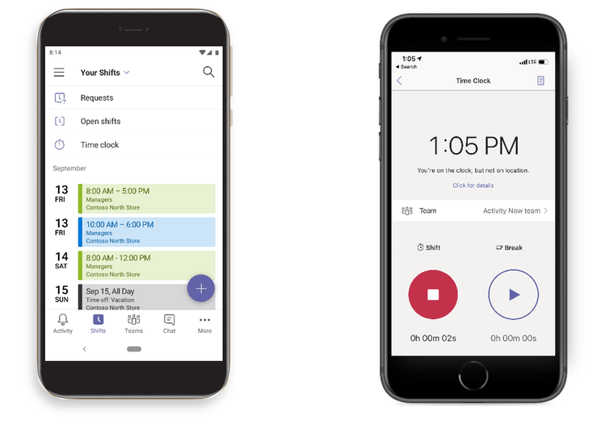 2. When using Microsoft Forms: Can you make answers in questionnaires anonymous?
Yes, you can. When you share a form, you can either select that only people within your organization can respond, if so, their user account is tracked, or you can select that anyone can respond. If you select that anyone can respond, it is by default anonymous and you would have to ask the respondent for their name. You need to be aware when you share the link that it is in fact the correct link. You don't want to send an "Edit" link to responders. A good best practice (that we are for sure implementing now
) is to use a link shortener for all links shared externally. Using a link shortener, you can replace the link behind the scenes if you need to change the link after it has been shared.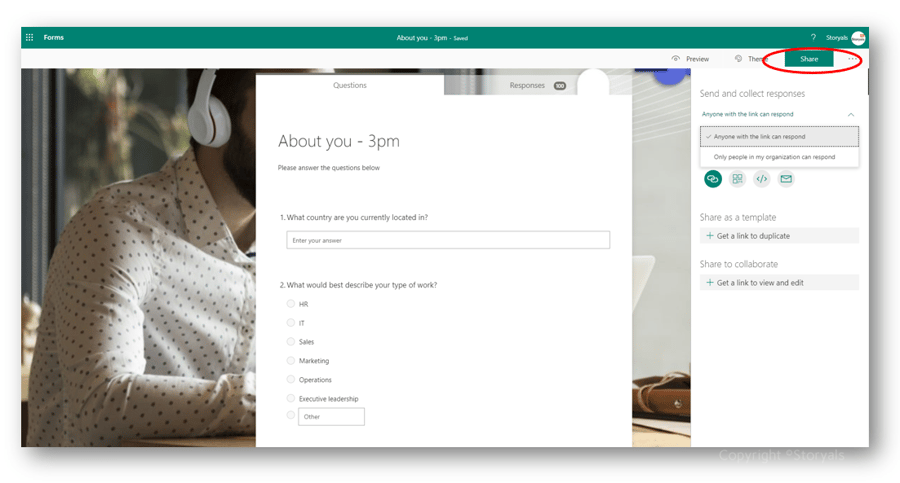 3. We have been using Microsoft Teams since last summer – we share news and important instructions and documents there. And now we encounter a problem, that after several months of using, it started difficult to find a concrete document in lots of messages. Is there any labeling tool in Microsoft Teams? Or what you can advise us about searching?
Ah, this is a great question! All this information at your fingertips – and still, users can't find anything. Teams in itself doesn't introduce anything new in terms of document storage. Teams uses SharePoint document libraries for sharing documents in teams, and it uses OneDrive for Business for documents shared in chats. However, Teams does accelerate the usage of these cloud-based document services, while at the same time "hiding" a lot of the complexity that you ought to put in place to ensure a good information structure – such as metadata (information about your documents).
Microsoft is working on "unveiling" more of this rich file sharing experience to users via Teams, but this hasn't been rolled out yet.
My tip would be to first off look through what type of information should go where – what should go as news in SharePoint? What should go in a team in Teams (and what type of team – org-wide team or a standard team)? What should go in Yammer (if any, depending on the size of your company and your scenario)? Educate your users properly on working with cloud-based documents in OneDrive for Business and SharePoint so that they understand how it works. Sometimes it is a lot easier going outside of Teams to find what you are looking for. For instance, if I know my colleague Kristina is working on a document I can just search for Kristina in the Office 365 start page and then see all the shared documents she is working on.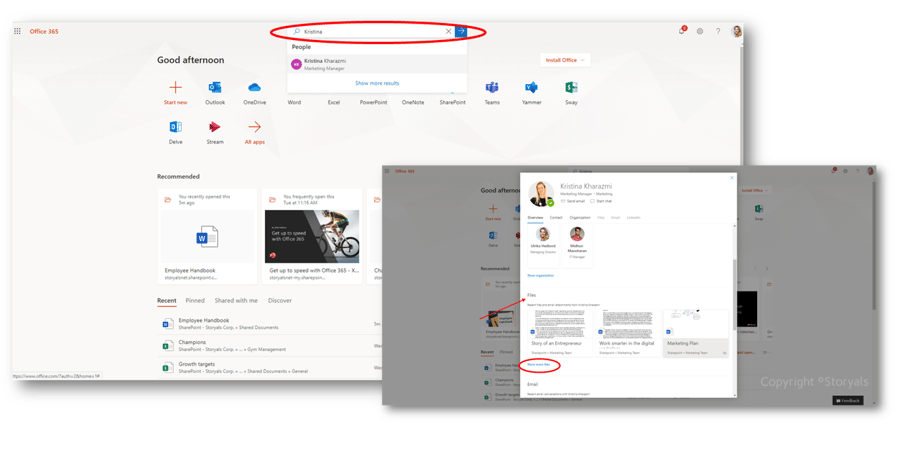 Another hidden gem for finding information is Delve. Here you can see documents that people are working on in your organization.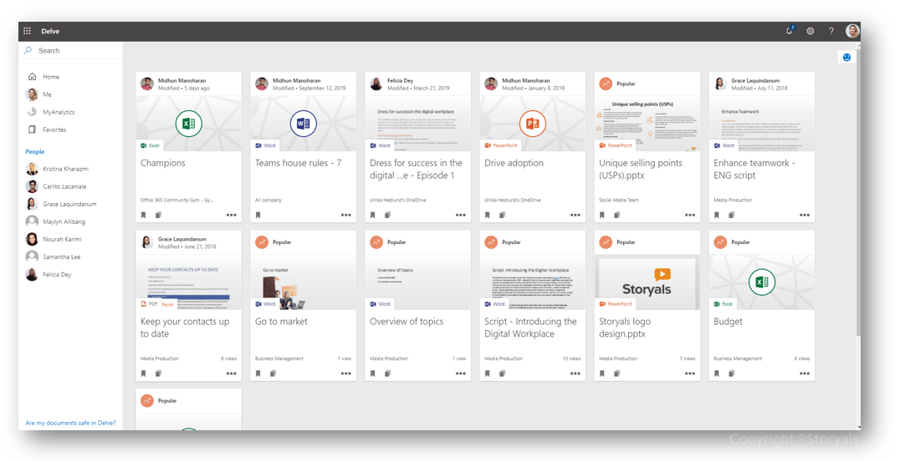 Phew! That took a while…I hope these questions and answers have given you some more guidance. Please have a look at our other blog posts where you will find a lot of useful information about using Teams and Office 365. Again, please feel free to reach out to us to learn how we can help your employees get a great start using Microsoft Teams. With that, I hope that you and everyone you love are safe!
-Ulrika Hedlund