The ultimate guide to communicating effectively using Microsoft Teams
Updated July 27, 2021
One of the many benefits of using Microsoft Teams is that you can create a more open and transparent dialog where employees feel more engaged – especially team members that work remotely. With Teams, employees stay informed about what is going on – resulting in fewer politics, faster results and higher-performing teams. On the flip side, if you don't know how to use Teams to communicate effectively, you risk excluding people from important information, drain each other with unnecessary notifications and ultimately reduce productivity and team effectiveness. In this blog, I will share my experiences to help you communicate like a pro using Microsoft Teams.
Part 1 – Understand what type of messaging to use when
First, you need to understand the many different ways in which you can submit messages – and when to use what.
Chat – In Microsoft Teams you can send a message to one or more people using chat. The message can contain text, images, GIFs, a recorded voice message, a video clip – pretty much any type of media. The chat message is exclusive to the people in that chat.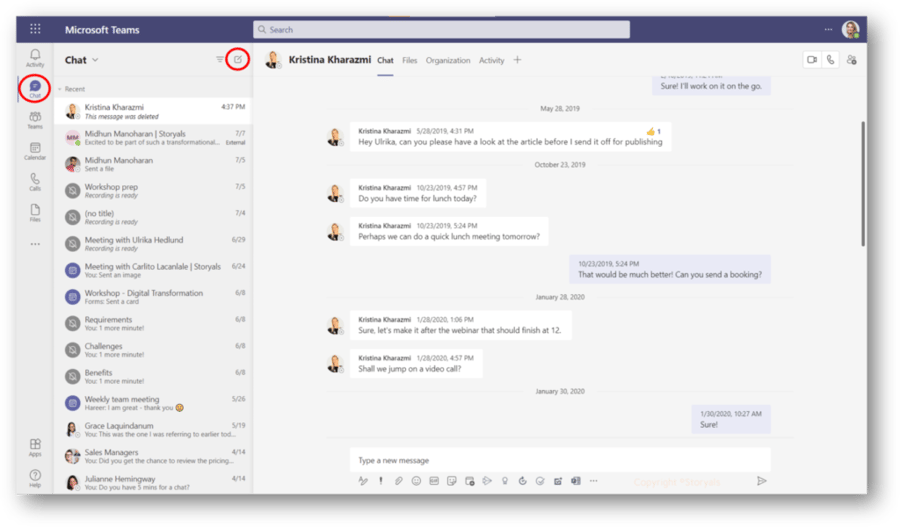 Any files you share in the chat are uploaded to your OneDrive for Business folder giving automatic editing permissions to everyone in the chat.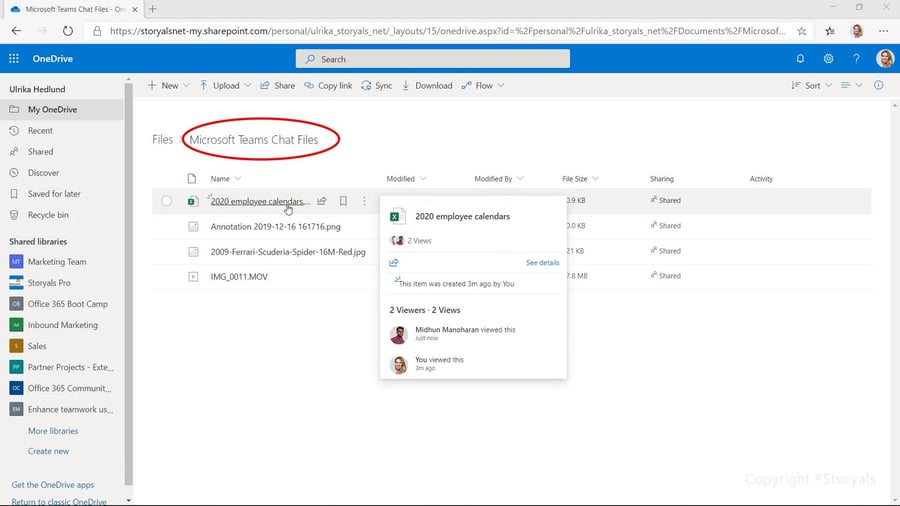 Using chat, you can @mention anyone in your organization, or anyone in an external organization using Microsoft Teams that you have added to your contact list. (Provided your organization permits external communication).
Channel posts – The other way to send a message is to write it in a channel post.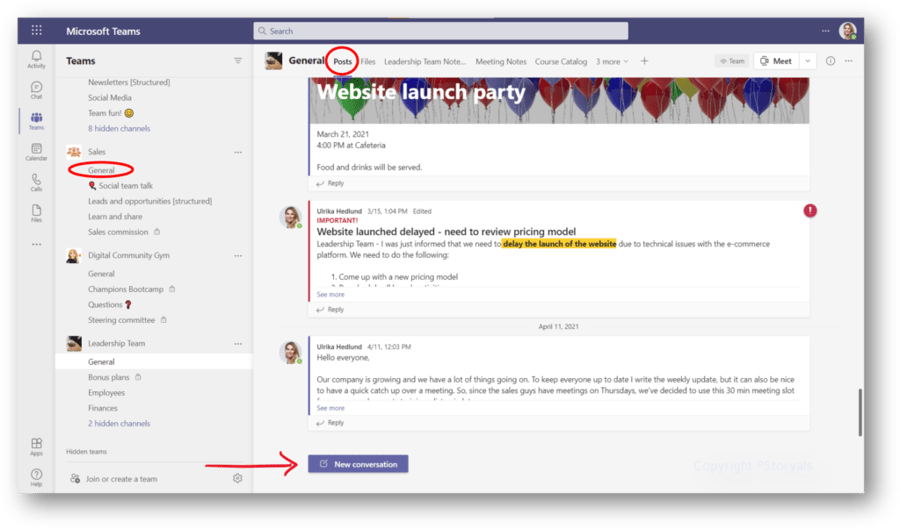 You can post a quick message or reply to a conversation by just writing the message in the text box and hitting Enter. Or you can open up the formatting box to access richer editing tools. With the text box expanded you can also select what type of message you want to send, an "Announcement" that's more like a broadcast of a newsworthy message, or a "Conversation" which is more informal and more suitable for initiating a dialog. When you have expanded the text box you can also add a subject to your message, something I personally do in all my conversations to facilitate readability in conversation threads.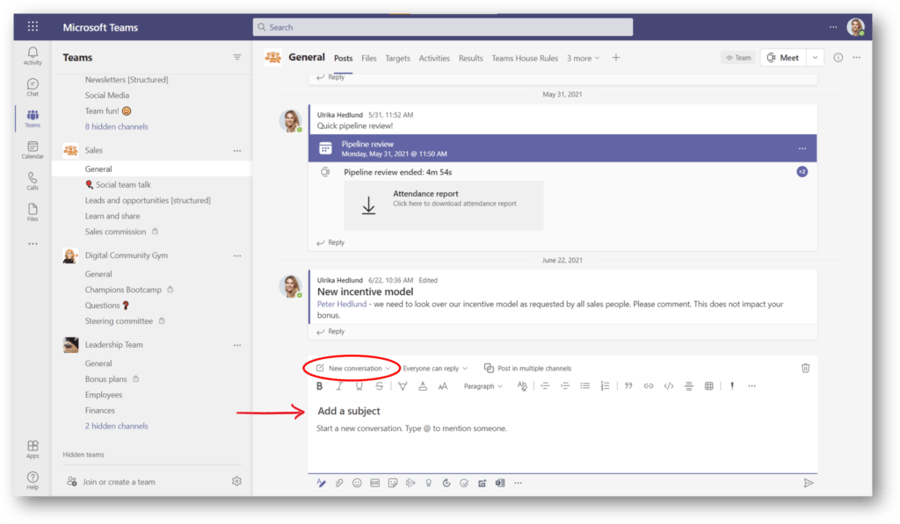 Calls & Meetings – you can also communicate using calls and meetings, but more on that in another blog
When to use what
In order to create an open work environment, where work-related discussions are not held behind "closed doors", I recommend that you as a general rule of thumb, use channel conversations for most of your messages. Unlike email, where you might want to be considerate about not "clogging up someone's inbox", you don't have to worry about that in Teams since there is no inbox to clean up! Instead, people decide for themselves how much information they want to digest.
Chats are great for quick confirmations from individuals, non-work-related discussions, or infrequent conversations with varying people containing sensitive information. If you often have discussions with the same group of people, it is better to set up a private channel in an existing team where you are all members.
In our house analogy, you can think of a chat message as walking over to someone and tapping them on the shoulder to tell them something or get a response right away. Similarly, a channel post would be comparable to leaving them a note that they and everyone else who is a member of the team can see at their convenience.
Part 2 – Leverage @mentions to get people's attention
The @mention is the universal way to get someone's attention in Teams. You should use an @mention in a channel post every time you want to make sure the receiver is made aware that there is a message for them.
Even if you don't write the "@" sign before a person's name, Teams will "assume" you want to mention them and automatically add it for you. If you don't want to call on their attention, just remove the "@" sign. Note that in channel conversations you can only @mention individuals that are part of the team. You can also @mention an entire Team or a specific channel. You can easily see who is a member of a team by going to the team settings and expanding the members' list. But channel mentions are a bit trickier…As a submitter of a message, you can't actually see who is "listening" to channel mentions, and as a team owner, you can't force people to turn on channel notifications – what you can do then is leverage the newly introduced "tags" – more on that in Part 4.
You should always use @mentions when you want to make sure that the one(s) mentioned, are made aware of the message. If you have a message where no one has any specific action item, you are not asking for a reply or input, you can post the message without any mentions. It will still be there for everyone in the channel to see when they scroll through the channel posts.
Part 3 – Finetune your notification settings to optimize your focus
Now that we have looked at the ways in which you can submit messages. Now let's have a look at how you receive notifications about messages. In Teams, you can be notified of messages in the following ways:
Banner – This is the little pop-up window that appears on the screen of your computer. This is the most noticeable (and disruptive) way to be notified.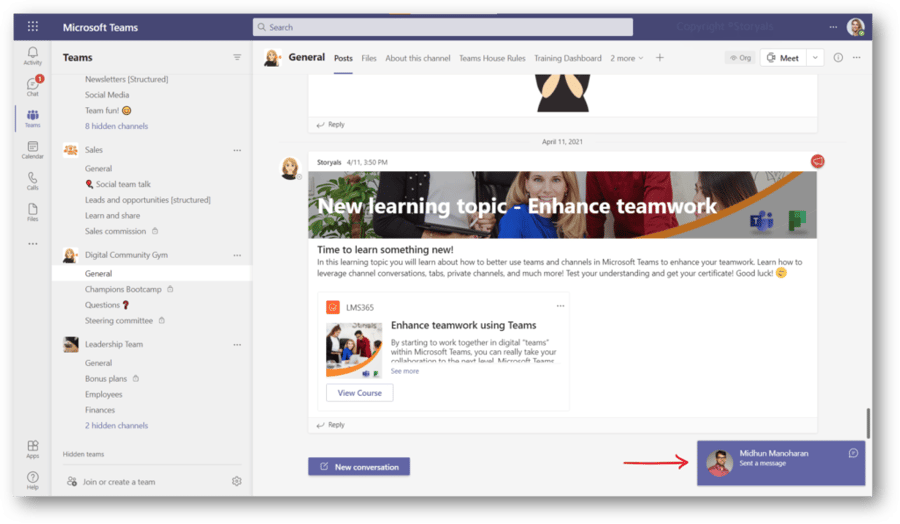 Feed – This is the list of activities that you can see by clicking "Activity" in the top left corner in Teams.

Email – This is an email sent by Teams to your inbox informing you about the activity in Teams.
The default notification settings in Teams is to notify you of everything – everywhere. So, it's crucial that you change the notification settings in Teams if you want to use it effectively. Click your profile picture, "Settings" and then "Notifications". If you are actively using Teams for collaborating, there is absolutely no need to get notifications of activities in Teams also sent to your email inbox. I recommend you only leave this option enabled if you are an infrequent Teams user and you want to make sure not to miss anything.
If you don't like to be interrupted, you should limit the number of "Banner" notifications you receive. For that, you can change it to "Only show in feed". That way, you can follow up on messages when you have time to do so by just going to your activity feed. Below is a sample of my notification settings, but I should also point out, that I am heavily engaged in all the teams I am a part of, so I want to get banners about teams/channel mentions.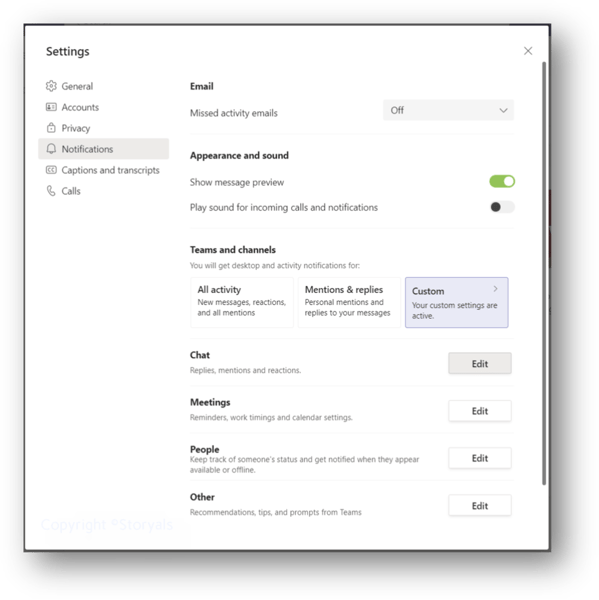 For many just seeing them in the activity feed would be more advisable to minimize distractions. Fine-tune the settings so that they work for you.
The notification settings on the mobile are quite similar. Something you have here which is very useful is the ability to turn on "Quiet hours". I can warmly recommend enabling this on weekends and evenings if you want some quiet time off work.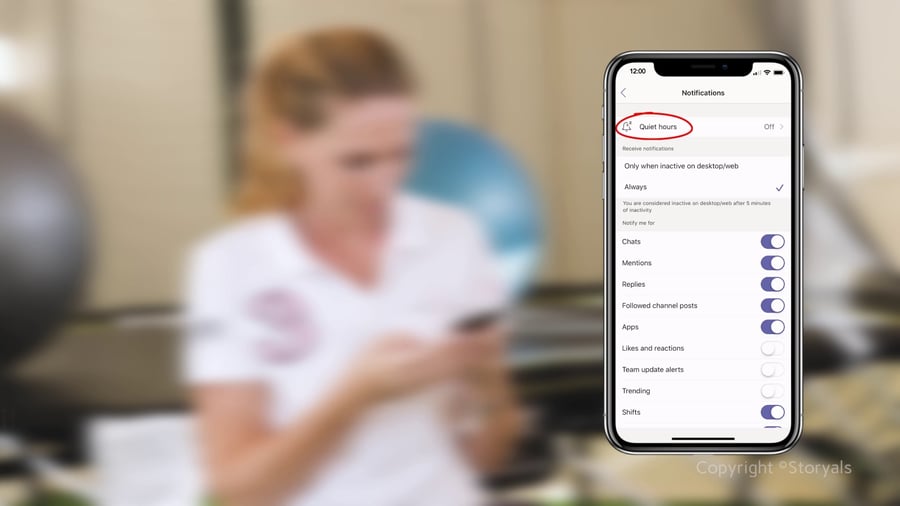 Part 4 – Select which channels you want to engage in
By default, Teams will show the three channels with the most activity in any team that you are a member of. For these channels, you will be notified if someone @mentions the channel. For hidden channels, you won't get any notification for channel mentions. You can decide which channels you want to show and hide. Click "More options" next to the channel and select "Show/Hide".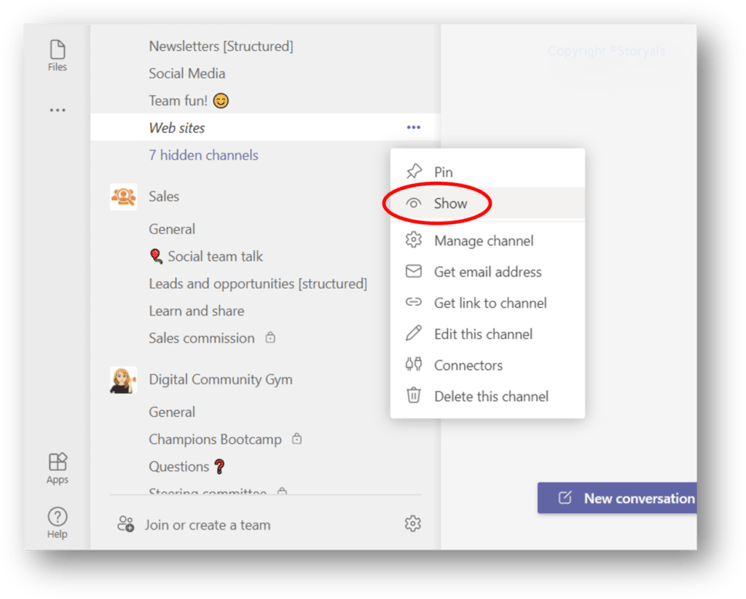 If you also want to get notifications in your activity feed of all new activities in the channels (even those without mentions) you can select to turn on Channel notifications. Click "More options", "Channel notifications" and then select your notification settings for channel mentions and new posts. The settings here, "override" the generic channel mention settings you set for your account.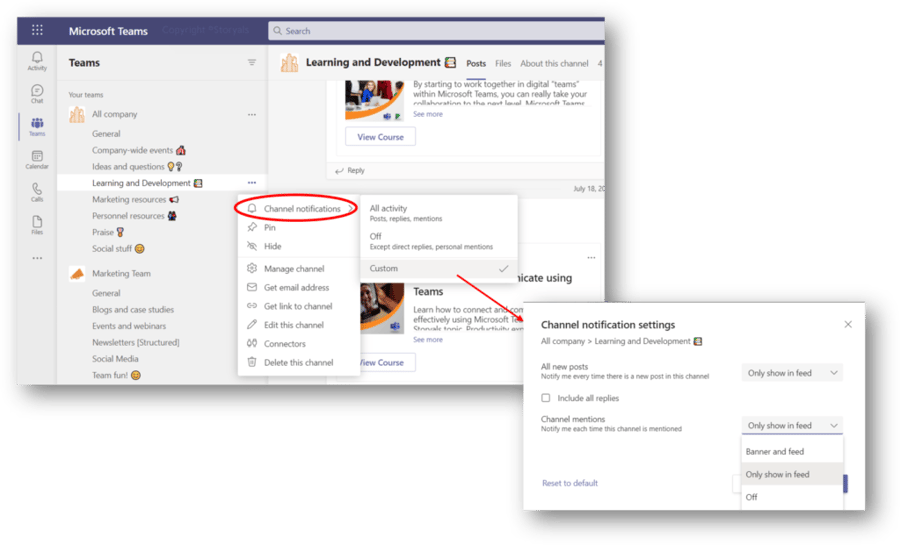 The benefit of channel mentions is that you can easily mention just the channel (and not the entire team). The downside is that as a sender you don't know for sure who is getting that channel notification…
My recommendation here would be to post a message in the channel where you @mention the individuals you want to be involved in the channel and tell them to turn on channel notifications. Next time, you can just @mention the channel.
March 6th 2020, Microsoft introduced "tags" in Teams. Using tags, you can tag people in a team that you want to be able to mention. For example, say that you have a team and you want to tag a selected number of users as "Champions". You can tag them, and then @mention the tag name. This way, you as a sender can be certain that the ones mentioned will be notified.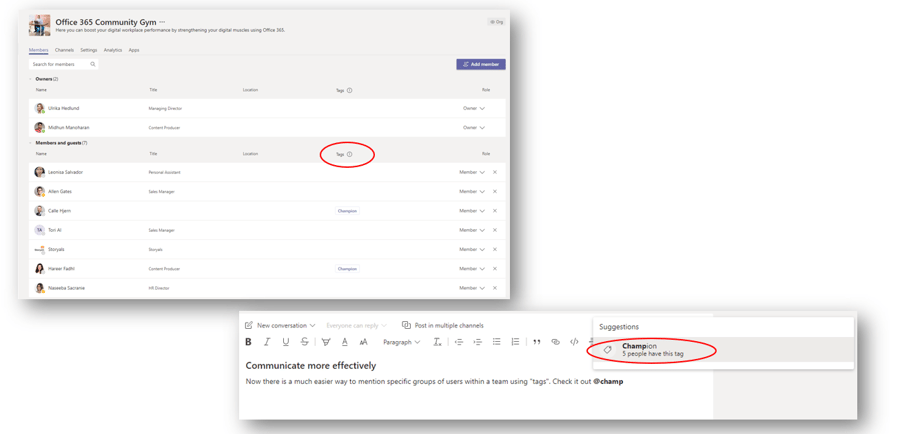 Part 5 – Actively use your presence to show your availability
You can show your availability to others and get important focus time without notifications using your presence status. There are 5 different ways in which your status is shown in Teams.
Available – This is your green status, where you show others that you are online and available for calls, chats and so on.
Busy – This is your red status which indicates to others that you are busy with something – either you have something booked in your calendar, or you are in a meeting or call. Even when your presence is set to Busy, you will receive pop-up notifications or so-called banners on your screen. You don't have to change the presence status to busy yourself, Teams will automatically do it for you if you have something scheduled in your calendar, or if you are in a meeting or a call.
Do not disturb – This is your "Do not enter" status, which indicates that you don't want to be interrupted. When your status is set to "Do not disturb" you don't get pop-up notifications at all – instead they are reverted to your activity feed. You should use this status when you want to focus and not be interrupted, or if you are presenting your screen and you don't want others to see pop-ups on your screen.
Be right back – This is your orange status which shows to others that you are not available at the moment but that you will be soon. This status is only set by you manually.
Away /Appear away – This is another version of orange status which just shows you are away (without communicating that you will be right back). This status is set automatically by Teams if you haven't used your computer for ten minutes or more. You can also set this manually by selecting the "Appear away" status. This might be useful if you don't want to show others that you can't respond right away but you still want to get pop-up notifications.
You can also set a status message that others will see by just hovering over your profile picture in Teams. This is a great way to communicate things to others without having to send them messages. Like for instance, I am working from home, I am available between 10 am and 2 pm.
Closing
Learning how to use Teams to communicate effectively takes not only theory – but requires practice. As a manager or a team member, it's important to lead by example, to provide feedback to team members on how to efficiently communicate. Through our subscription-based offerings Storyals Lite and Storyals Pro we provide our customers with video-based guidance, story-based tutorials, quizzes, and certificates. With our newly launched training programs we also take a more active role in helping our customers succeed with their Teams adoption through moderated forums and 1-1 coaching. Please feel free to reach out to us to learn more.
– Ulrika Hedlund