Catharina Jogården at NCC takes a holistic approach to learning, collaboration and productivity – incorporating social, cultural, physical and technological aspects in her work to create a stimulating environment where our human needs are at the center.
Currently, Catharina Jogården is Business Transformation Manager at NCC AB, one of Scandinavia's largest construction companies – with nearly 20,000 employees and close to 6 billion USD in annual revenue. She has a degree in Civil Engineering from the Royal Institute of Technology in Stockholm. But perhaps it would be much more appropriate to describe Catharina Jogården as an evangelist at her company. Throughout her career, which now spans 24 years with the Swedish construction giant, Catharina Jogården has held many roles.
"At NCC, I've worked with development in many different ways. The greatest task, and also perhaps the biggest challenge, was in 2013, when I was appointed to lead the team which shaped the design of our new work environment and work processes at our new headquarters in Stockholm."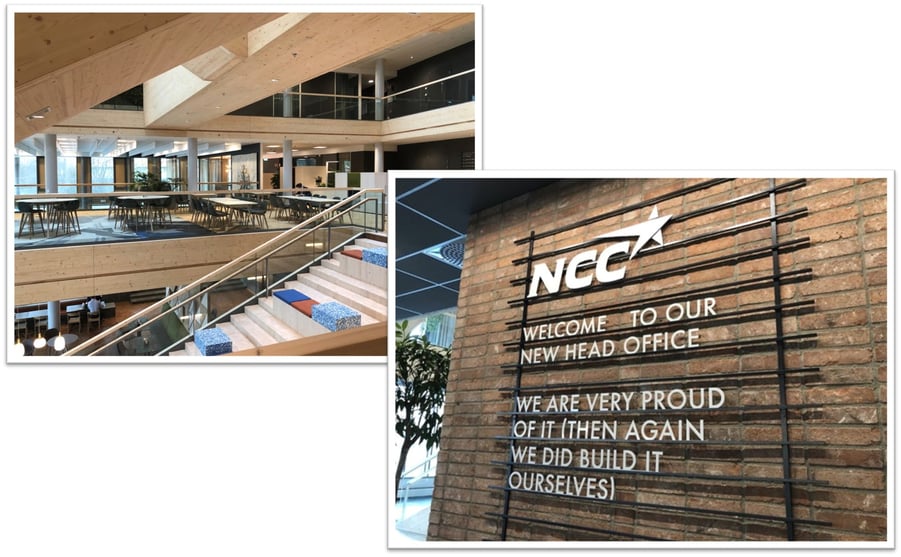 A holistic perspective
Catharina approached this task from a holistic point of view – taking into account the connections between technology, culture, architecture, work environment and of course – the integration of digital services into the new workplace and its occupants.
"I worked on this project until March of 2017, when the big effort to shape our physical environment was completed. I then chose to specialize in the digital aspects of how we work together. In that field, there's a great potential to help people — as well as the company as a whole – to work smarter." When she started her next assignment, as Digital Development Manager, she quickly identified a disconnect between IT and the workforce. This was a gap where Catharina came to be the conduit between the technical and the human, perhaps, in a sense, the bridge between man and machine. Instead of developing governance and processes from a theory-driven top-down perspective, Catharina and her team decided to identify the needs of the employees first – and then let those needs inform the shaping of tools and procedures.
To work smarter
"The journey towards the digital environment is interconnected with so many other aspects of our working environment. We need to take into account our cultural, physical and social environment when we talk about digital. And we need to put the human being at the center if we want to feel good and be successful. The art of working – rethinking and relearning how to do ordinary work-life tasks in a more efficient way that also reduces waste," says Catharina.
In this regard, the company slogan is quite telling: "We work smarter at NCC." Speaking with Catharina, it becomes evident that this is no empty catchphrase. Rather, it represents a mindful journey to create awareness and knowledge about how we function as human beings.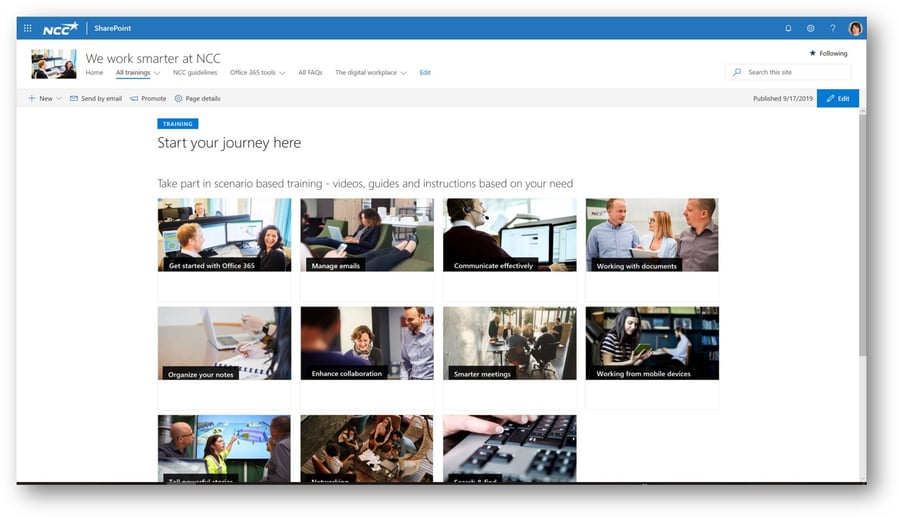 'You can come up with all the tools in the world, but they won't matter if we fail to understand the way to change and develop the way people actually work. To focus on the goal and then help them get there," Catharina explains.
What drives me is that I can help co-workers who really want NCC to succeed, but perhaps feel that they're stuck in inefficient working methods. Solving their problems gives me a lot of energy. And the fact that I have the privilege to help shape a better way of working together. It's the people that make our company great.
Catharina stresses that NCC is a good company that is guided by human-centered values. A company that genuinely cares about its employees as individuals. To work smarter, not harder, saving time and energy. But there are no rigid rules around it – and it seems that common sense still prevails.
"We keep working in the best interest for our company, at the same time as we ultimately serve the societies in which we live. We build and deliver roads, bridges, schools… things that are necessary and useful," says Catharina.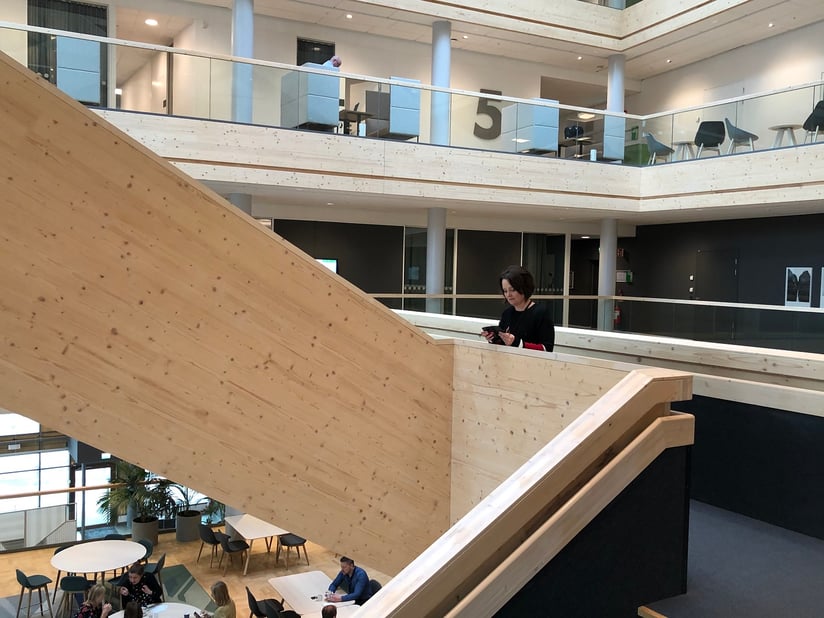 Choosing the right tools
Today, Catharina Jogården is responsible for the digital workplace in terms of the basic, useful skills and tools that help NCC's employees in their daily tasks.
"We've selected Office 365 as our platform and we are very happy with that choice. Our main focus has always been on three perspectives: the individual, the teams, and the company. and that they can all derive value from modern tools. Because we know that if it works on the individual level, it will ultimately benefit our work as a company. It's about reducing waste and saving time and energy – basically to make our people feel more committed and on top of things," she says.
NCC chose Storyals as a part of their training solution, and the videos have been customized and integrated into the company's own branded training portal.
The methodology that Storyals uses fits great with our company culture – the way we value collaboration and scenario-based training. It also helps us gain insight into how we work – to stimulate self-reflection. Is there a better, smarter and simpler way of doing things? A way that saves us energy and reduces waste? Employee engagement is key, but for that, we have to understand the world around us, and understand each other. Together to get there, says Catharina.
Catharina Jogården's top three tips to succeed
Start from the employees' working situations and solve their pains, with a focus on everyday learning.
Secure executive sponsorship – train the leaders first.
Make sure to have local champions and coaches.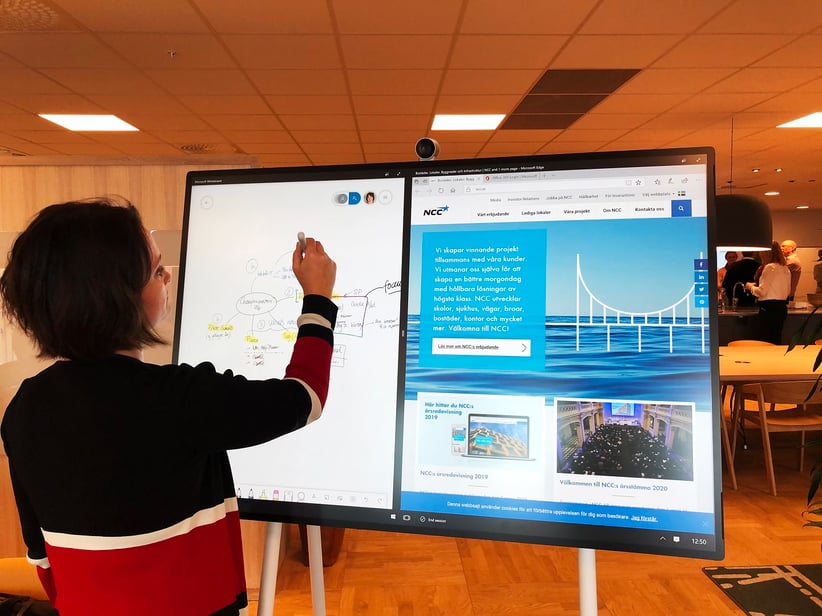 Storyals Product: