When we talk about productivity tools such as Microsoft 365, we typically think about it connected to information workers. Those who sit in an office and use a computer to get the job done. But that's just a fraction of the people making up the workforce of businesses and our collective society. There are millions of people working on the production floor, in the retail shops and hotels, and on the roads. Simply, those whose job is not performed in front of a desk and computer. We typically refer to them as Frontline workers, but you might also know them as blue collar, first line workers etc.

And it would be very ignorant to assume these groups are not working with digital tools at all. In many cases quite the opposite, and it just happens to be mobile instead of desktops. The untapped potential for organizations to digitally enable and upskill their frontline workforce is huge, and the possibilities it opens up for your business are endless.


As the first company in the world, Storyals now offers our unique story-based courses to digitally upskill frontline workers on Microsoft 365.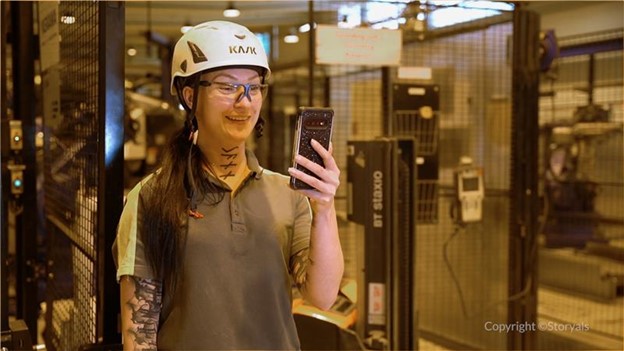 Improved communication is a key driver
For the past year, we have been engaging with organizations around the world to better understand the drivers and training requirements when it comes to digitizing frontline workers. We have had the great opportunity to meet with many of the individuals who are the catalysts behind these change programs. So, what is it that drives organizations to make the shift? For many, improving communication is listed as the top priority, followed by providing frontline workers access to information, and levelling up daily workflows to work more efficiently.
One example of an organization that has digitally enabled their frontline workers is Mowasalat, a public transportation company in Qatar, with over 15,000 drivers (and with the FIFA World Cup now probably a lot more). Mowasalat use Microsoft Teams to communicate with drivers, schedule shifts, and provide video-based training. The drivers use their mobile phones to receive schedule updates, submit requests, and instantly connect with peers and supervisors - without having to drive into the station. This of course saves the drivers an enormous amount of time, which can instead be spent with customers.
Another great example is IKEA which use Microsoft Teams to enhance communication, build culture and improve scheduling and planning of work shifts using the out-of-the box Teams app Shifts. Kjell & Company is another Swedish retailer where modernizing communication has revolutionized operations and customer service. They switched from traditional phone PBXs in all their stores, to fully using Microsoft Teams for telephony. Now they use chat, video calls and Teams Phone to provide better customer service. In 2021, the company received the Swedish Retail Award for their work on innovating retail and bridging the gap between online and in-store shopping.
The Microsoft 365 offering for Frontline Workers
Microsoft provides specific solution offerings for Frontline workers. In short, you can say the Microsoft F3 offering is the "full package", where users have rich experiences using the apps via a mobile device or the web. The Microsoft F1 offering is a more limited offering, with restricted "read-only" usage of the Office web and mobile apps, as well as other restrictions when it comes to email, etc. Whether you invest in F1 or F3 licenses for your frontline workforce, Microsoft Teams is the key app for most scenarios. This is also where Microsoft is investing heavily in apps such as Tasks, Updates, Shifts, Walkie-Talkie (to name a few). These all enable frontline workers to have easy access to all the tools they need from one single app.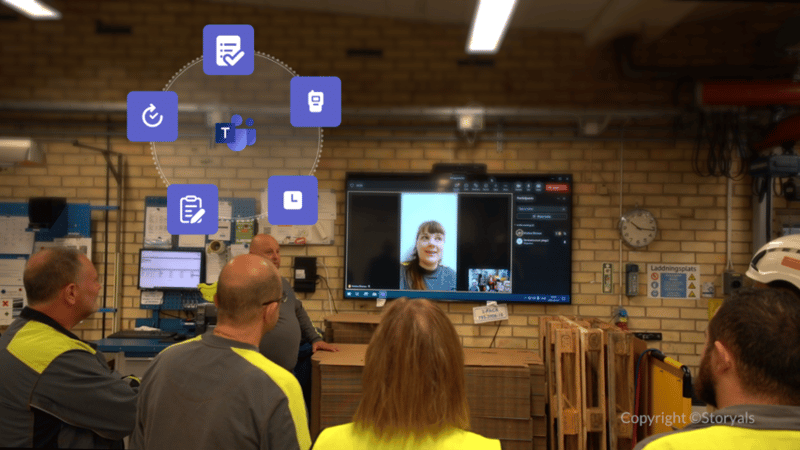 To learn more about the details of the various offerings, please refer to the full PDF comparison table.
Typical challenges to overcome
There are of course a lot of challenges organizations are faced with as they get on this transformation journey. Should the organization provide their frontline workers with devices, or encourage them to use their own? How do you manage security? How do you train your frontline workforce? What are the legal aspects and local regulations that need to be considered? Here it is important that your IT department/partner is proficient (and certified) in device and app management, as well as security technologies. That you have a Governance team in place to address information management and data protection policies, and that you work closely with your HR and Communications teams to address change management and training.
Training is mission critical
As with all initiatives where changing human behavior plays a part, change management is key. If training is important for your information or office workers, it is absolutely mission critical for your frontline workers. There is no way you can provide your frontline workers with devices and apps, and tell them to "figure it out". It won't happen. And even worse, if users are not adequately trained, it might be detrimental in many ways. The training needs to be carried out in a way that considers the unique circumstances for the frontline workers in your organization. In addition to teaching them how to safely use technology and how the apps work, it's important that there's a focus on "what's in it for me?". Understanding the benefits, not only from an organizational perspective, but from a personal perspective, is essential to drive change.
Storyals training for Frontline Workers
Up until now, organizations have had to develop their own training material specifically targeted for frontline workers. As the very first course provider in the world, Storyals now provides our story-based courses specifically produced for frontline workers! Whether your frontline workers are in retail, hospitality, transportation, or production, Storyals courses provide end-users with the guidance they need, leveraging storytelling and real-life scenarios to optimize learning.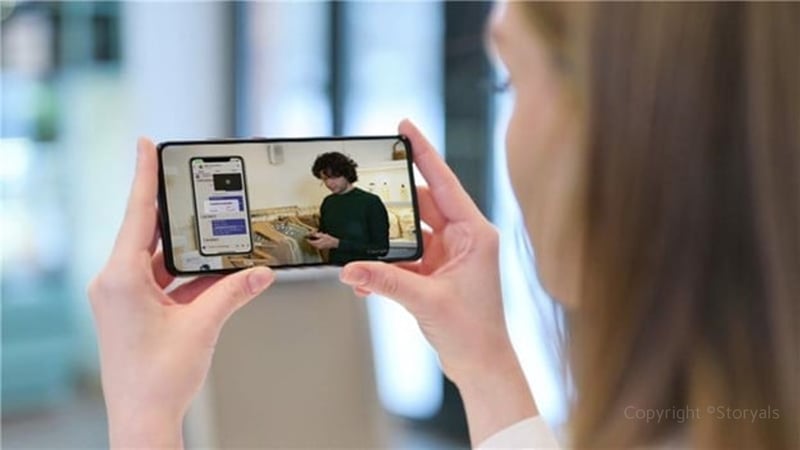 In these courses, frontline workers will learn how to get started with their account safely, how to enhance communication and work smarter together digitally using Microsoft Teams and other apps. Storyals courses can be customized to align with your branding and unique policies, and distributed to frontline workers using Microsoft Teams, Viva Learning, LMS365, via existing learning management systems, or played during in-person training sessions. As always, we recommend a blended learning approach, where the story-based learning is mixed with live coaching. If this is something your training department or current training partner does not offer, learn more about what we do in our Digital Upskill and Digital Leadership training programs.
Include everyone in the digital journey
The dynamics in the workplace is changing rapidly as new generations enter the workforce. To thrive as an organization, you need to include everyone in the digital journey – young, old, remote, present, information/office workers and frontline workers alike. And now is the time to get started! To build a business for the future, and to stay ahead of competition, now is the time to get everyone onboard the digital journey.
Click below to get a free trial of our Frontline Worker Course -