During the pandemic, people around the world were forced to adopt online meetings and somehow figured out how to get by. Now, as people are returning to their offices, more and more meetings are hybrid – meaning, some people are physically in the office, and some are remote. Succeeding with hybrid meetings is much harder than when everyone is attending remotely online.
Microsoft, and other industry vendors, are investing heavily into improving their meeting platforms to enhance the hybrid meeting experience – one feature cooler than the other. Even though I personally welcome many of these features – like being able to reply to a meeting invite and say if you are joining in person or online, or automatically lightening your video feed so people can see you more clearly, other additions can be a bit overwhelming.
If you get too tied up and only focus on the technology, you might lose focus on the most important aspect of a good meeting – getting people together to get stuff done! In this blog I will share some practical tips for how to succeed with hybrid meetings.
1. Sit together –
those of
you
who
can
If we've learned something during the pandemic it is that human connections, and face-to-face meet-ups, are invaluable. So, if some of the meeting participants can sit together in the same room, I think they should! Taking a break from your desk, walking to a meeting room, bumping into someone on the way, are all important activities for our daily well-being. With that said, you need to consider that not everyone wants to, or can join physically. A best practice is to always include an online link to all your meetings. If you don't want to confuse users with a physical meeting room location AND a meeting link, add to the meeting invitation that you encourage attendees to join in person, if possible, but that everyone is equally welcome to join online.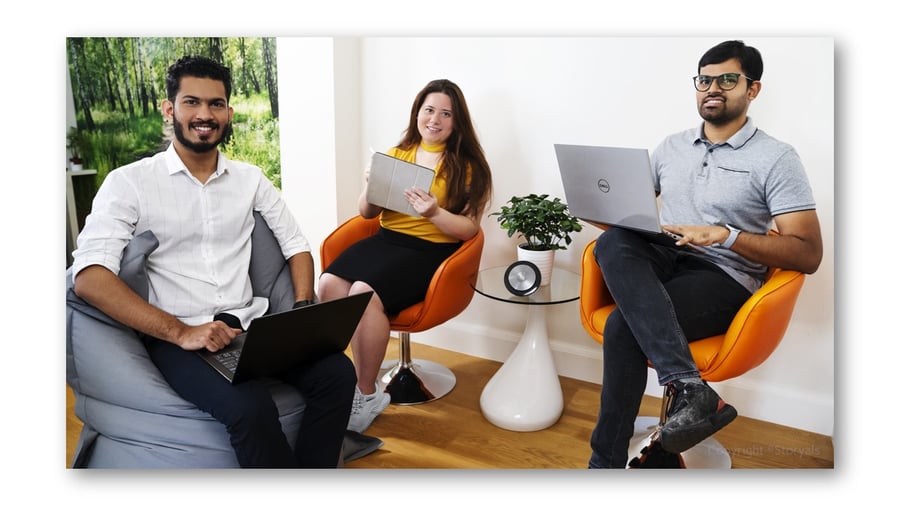 2. Make everyone log in to the meeting
Very few meeting rooms, only 7.8 % out of the nearly 90 million meeting rooms worldwide, are video-enabled according to research done by Frost & Sullivan. And even those that are video-enabled, probably aren't sophisticated enough to create an optimal meeting experience for everyone. Microsoft recently announced very cool enhancements coming to Microsoft Teams and Microsoft Teams Rooms, including cameras that use "AI-powered active speaker tracking" to understand who is speaking and zoom in on that person, multiple video streams so that each meeting participant is properly displayed in a separate window on screen, and people recognition to display people's names next to their video feed. But this cool technology isn't the reality, and probably won't be, for most organizations – at least not in the near future. The good news is that there are simple (and cheap!) steps to improve your hybrid meetings! First, encourage everyone to log in to the meeting – remote or not, using their own laptop with built-in cameras turned on. The ones physically in the same room need to mute their microphone and speakers, and make sure there is only one active audio feed in the room. This way, everyone can see the names of everyone attending, access collaborative meetings tools such as the meeting chat, and use expressions and polls.
3. Get proper audio devices
Being able to hear everyone properly is for a successful meeting. Attendees' voices cracking up, background noise, people speaking without a microphone turned on, or annoying echoes, are all ingredients that add up to a poor meeting experience. To all managers, you should provide your employees with proper audio devices. For meetings when people are physically in the same room, a speakerphone is a great investment. For people working remotely, a headset designed for online meetings is equally important. Spend a little bit extra to get Teams certified headsets and speakerphones! It's worth it!
4. Engage everyone
One of the biggest challenges for managers today, is to make everyone feel included, no matter where they are physically located. This not only impacts the performance but also the well-being of all employees. As a meeting organizer, do your best to actively include everyone. This can be done through simple things like asking people for input, asking specific individuals for feedback, spotlighting someone when they speak, or get someone else to share their screen. Engaging with others is so much easier if you can see them. Encourage everyone to have their camera turned on, and if possible, their microphone (depending on the size of the meeting). Even if some attendees, despite encouragement, are always muted and off-camera, make sure they are treated as "equal citizens". Engage them too and ask for their input. When you are in a digital meeting you have to exaggerate your expressions to get them across. Use digital expressions (love, like, laugh) during meetings to show other attendees more clearly what you are feeling.
5. Use a digital whiteboard
I am a big fan of the classic whiteboard! But using the traditional whiteboard becomes a problem if everyone is not physically in the room. It's hard for online attendees to see and engage remotely. I highly recommend you try out a digital whiteboard. Personally, I use Microsoft Whiteboard. Having a visual tool for gathering ideas and thoughts is invaluable when it comes to brainstorming. But try it out before bringing it into a meeting. Like with all tools, you need to feel confident using it in order to make it work well. Using a digital whiteboard, you can easily gather ideas on sticky notes, insert images, stickers, symbols, and draw by hand. You can use the same whiteboard over and over again (since the canvas is infinite) and easily share it with your team members.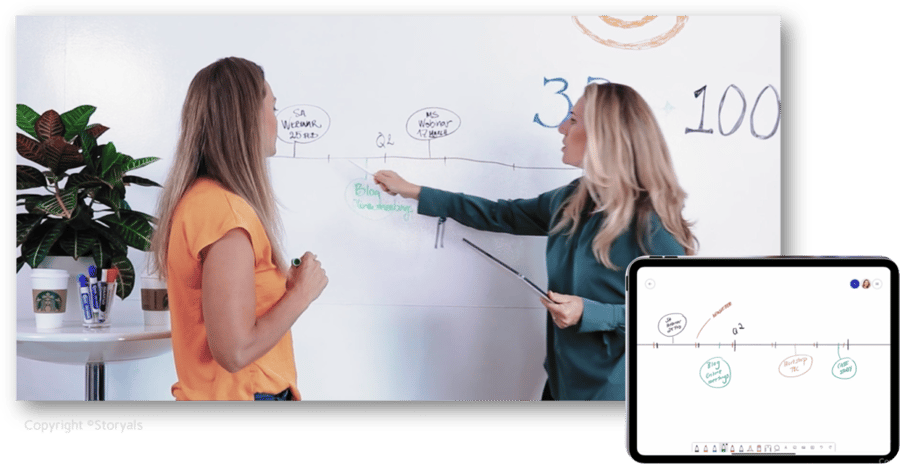 Even though there is so much more to be said about hybrid meetings, these steps are really a good start. As always, learning from others, practicing, and applying new work methods is the only way to improve.
If you want to learn more and refine your digital skills further, book the Storyals workshop about running effective hybrid meetings and get expert training from our productivity coaches. Get new insights, practical tips, and useful guidelines to improve digital leadership in the hybrid workplace.