With the recent events on the global health scene, organizations around the world are turning to technology to enable their employees to work remotely. Microsoft recently announced a free 6-month trial of their E1 Office 365 subscription which includes a more advanced version of Microsoft Teams than what you have in the free version.
With tools such as Microsoft Teams, businesses can continue to hold meetings, conduct events and communicate with one another – online. People can quickly gather information and conduct surveys using Forms, employees can access their information from anywhere using OneDrive for Business and SharePoint. In short, all the power of Office 365 which enables you to access your information from anywhere and collaborate with anyone, becomes a necessity.
Having the technology in place is a prerequisite, but as always, and perhaps in particular in a time of uncertainty, providing users with guidance, reassurance and support is of key importance. This is where Microsoft's Adoption and Change Management partners such as Storyals can help.
In this blog post, I wanted to share what we are doing to help our customers quickly mobilize their workforce. With the Storyals Office 365 Adoption Services, we help organizations get their employees up and running on Microsoft Teams (and the rest of Office 365), via guided, professional online services, designed to empower end-users with minimal disruption. I warmly recommend investing in getting professional help, but if you for some reason can't, you can always learn from how we have set up our services and execute on the below steps yourselves.
You can watch a recorded webinar on the same topic here and read frequently asked questions from the session here.
Gather your stakeholders
Nominate a group of key stakeholders to lead the initiative. This group needs to consist of key influencers from various departments – HR, Communications, IT and representatives from your various business units. An accelerated mobilization program like this requires that you all work together, that you can make quick decisions and that you are all aligned. Using Microsoft Teams to communicate openly and efficiently is ideal for this. Together with your IT department we set up a team in Microsoft Teams and add a private channel for your key stakeholders. Since it is all about building digital muscles, we at Storyals recommend calling the team "Office 365 Community Gym" and for the key stakeholders, we set up a private channel called "Gym management". You might mistakenly think of this as a temporary project – don't! It is better that you think of Office 365 and Teams competency building as something long-term and ongoing. People might come and go, but you should build a framework that holds over time.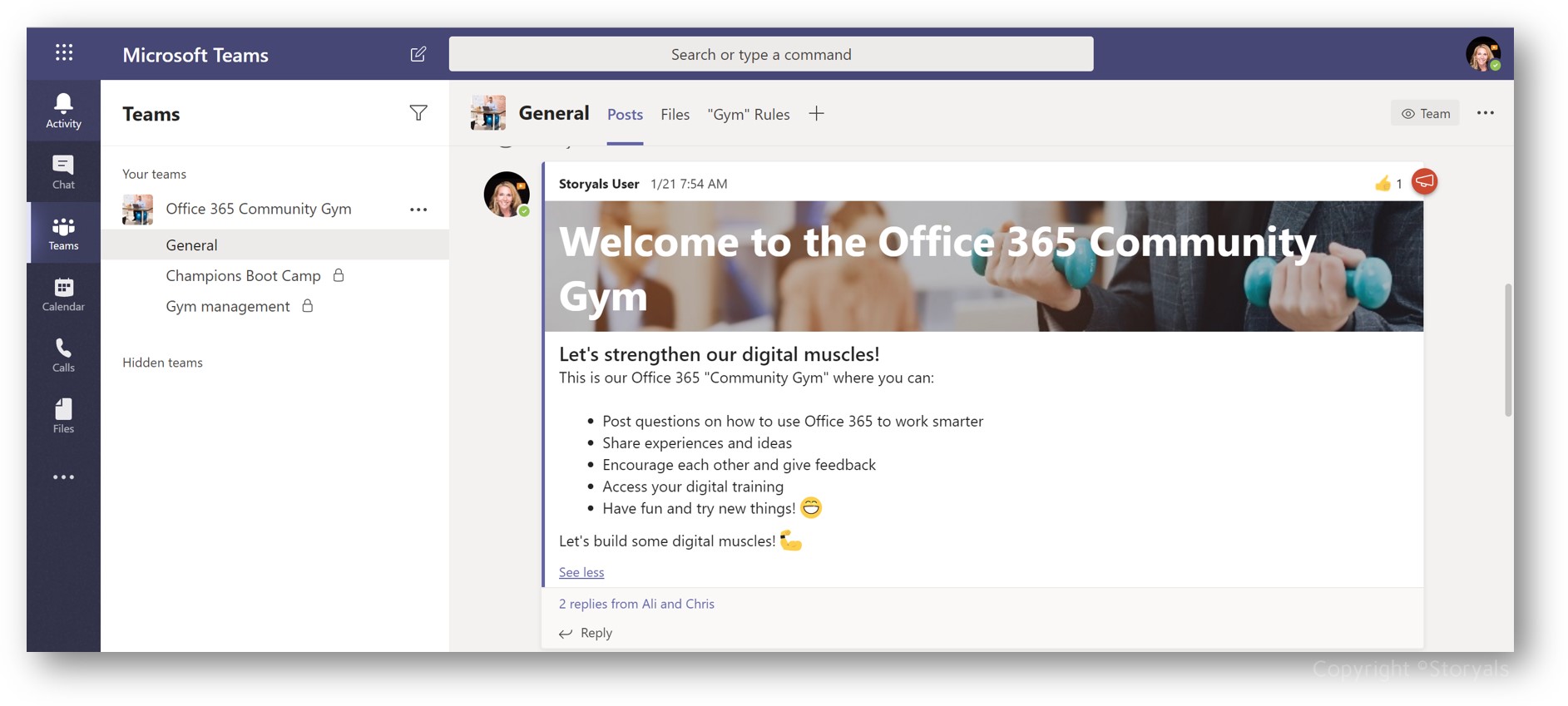 Once the team has been created, the key stakeholders are invited to an online meeting where they are given a proper introduction to the initiative and how to use Microsoft Teams. The meeting is recorded for anyone who can't attend the meeting. The recorded meeting is available in the customer's Office 365 video streaming service Stream for anyone to watch after the meeting.
Ensure funding
Unfortunately, many organizations don't have a budget for end-user adoption of Office 365. This is really short-sighted (I am tempted to use the word stupid, but I am refraining myself from using it). Why spend so much money on software and hardware if your users aren't given proper guidance on how to use the tools effectively? That might be one good thing that can come out of a global crisis like this one. Since events are being canceled, traveling is banned, money is being saved. Make sure you re-allocate that money and invest it to ensure your workforce is geared up and skilled up!
Enable your technical infrastructure and equip your workforce
In order to support a fully digital workplace, you need to ensure that your IT infrastructure can handle it. Do you have proper software licenses for everyone? Do your various remote sites have proper internet connectivity? Do you have meeting rooms with video conferencing equipment that needs to be upgraded or replaced? Make a list of everything that needs to be assessed and addressed. You can learn more about how to optimize your infrastructure here.
You also need to equip your workforce and provide them with good tools for them to do their job! Modern laptops with webcams, proper headsets (certified for Microsoft Teams) make a HUGE difference for the user experience. You might have been fine attending a one-hour meeting once a day with your normal mobile phone headset, but if you are going to spend the majority of your time in front of your computer attending meetings and collaborating online, you need devices that are designed for remote work. Personally, I am a big fan of devices where you can use a pen for handwriting – whether it is on a tablet, computer or large screen (like the Surface HUB that you can use as a digital whiteboard). It makes it easier to brainstorm or just sketch something out like you would in a room with a whiteboard.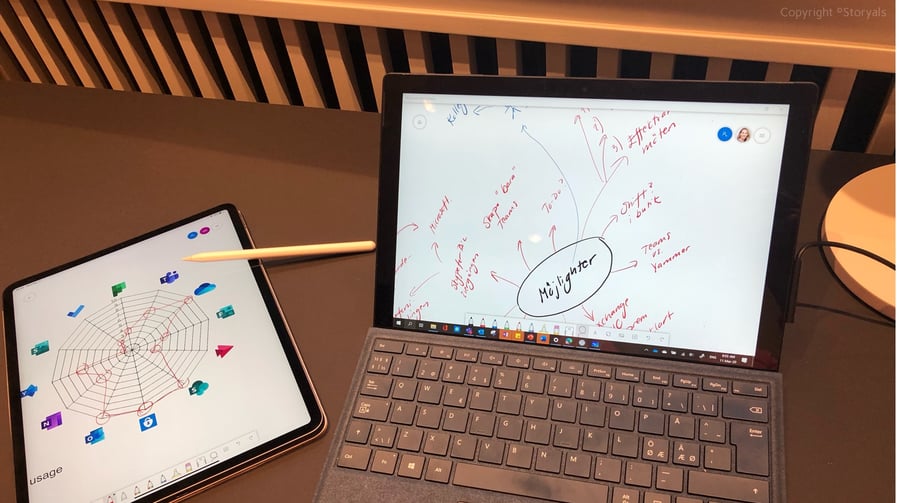 Don't forget governance and security!
Even if you are acting quickly to mobilize your work you need to think about governance and security. Who should be allowed to create a team? Will you enable external users to join teams? Will users be able to use their own devices? Are they allowed to download company information on personal devices? What is your password guidance, do you follow Microsoft recommendations, or do you have other requirements? The policies you put in place will depend on your line of business and your use cases. How should you communicate this to end-users? At this stage, we invite IT subject matter experts walk through all the videos and the quizzes in the Storyals Office 365 Adoption Kit. They write down the end-user messaging they want to include at a given point in time in the video, and our video production team adds a text pop up, following the customer's own branding guidelines (color and font), with the message that is to be shown to the end-user.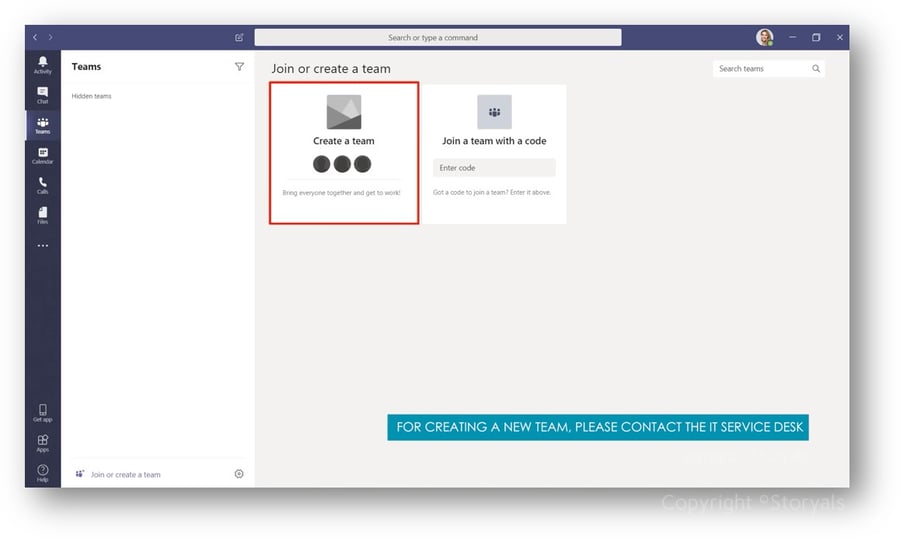 Identify your champions and put them through a "boot camp"
As with any change program, it is always good to first build a team of champions. These people will be your change agents and help others in the organization. In the "Gym management" channel we set up a tab with an Excel spreadsheet where the team members get to nominate people in their respective departments that would be good champions. These people should be influencers in their workgroup or department. People that others naturally turn to for advice. This shouldn't be the most tech-savvy people you know, since sometimes (not always), they might not be able to properly articulate the business value to end-users.
Once the champions have been identified, another private channel is set up in the Office 365 Community Gym team called "Champions boot camp". We start the boot camp with an online meeting (that again is recorded and saved to the channel) and after that, champions are assigned learning topics from the Storyals Office 365 adoption Kit. Any questions that are posted in the "Champions boot camp" channel are answered by the remote Storyals team of experts. The total time required for the boot camp is approximately 8 hours. It is up to you as an organization, how you want to split this up. If it should be approx. 2 hours a day for a week, or if you want your champions to really do an intense Office 365 boot camp and "sweat it out" during one or two days. Once the champions have gone through the program, we recommend that you recognize and reward them. This could for example be treating them to a make-over and a professional photo session for them to take a great looking headshot. You can also create a logo for your champions that you add to the champions Office 365 profile picture – a way for others to see that they are champions. Other rewards such as great headsets or other peripherals are also great to give to your champions.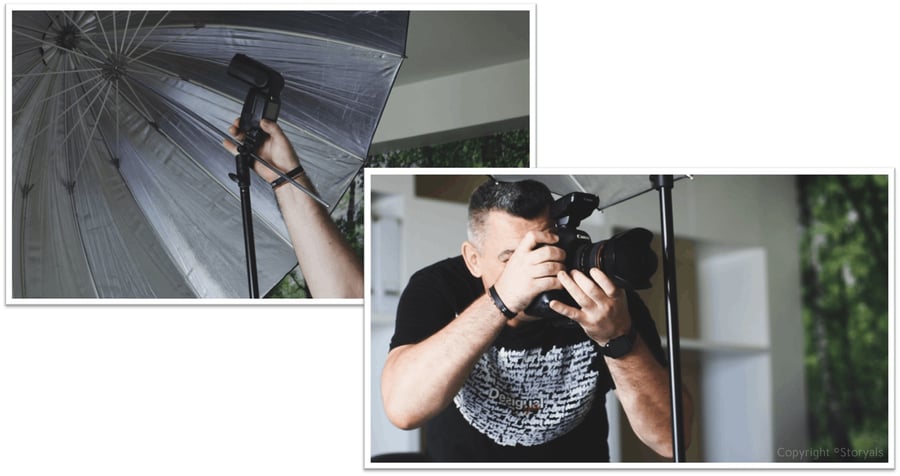 Give end-users access to digital training
Now that you have all this in place, it is time to provide your end-users with digital- the Office 365 Community Gym. This is all done digitally. Before users are invited to Microsoft Teams, they will receive an email with a welcome message where they get an introduction to the coach and the learning platform. It can look something like this:
Following the welcome video, end-users are assigned the various Storyals Office 365 learning topics. The stakeholders are provided with continuous updates of end-user progress via the "Gym management" channel.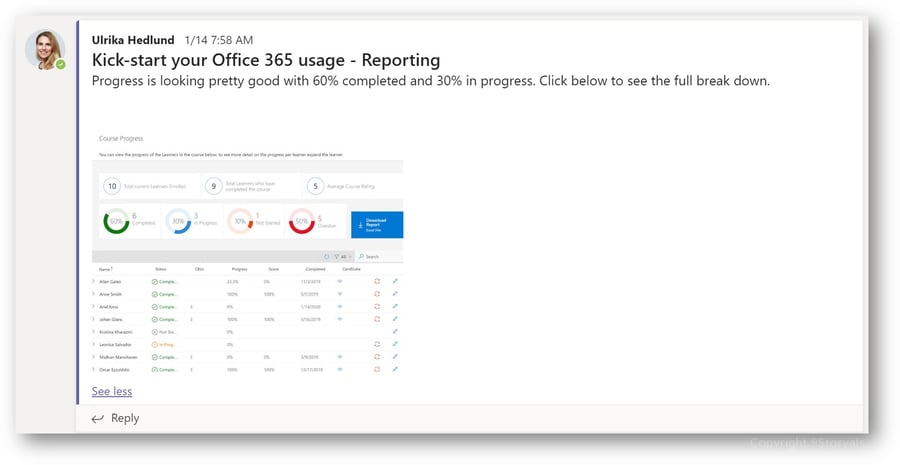 Continuously engage and support your users
After your end users have gone through the mandatory Storyals topics, and have been introduced to the voluntary ones, they probably have lots of questions. Luckily, they have the "Office 365 Community Gym" channel, where they can go to get their questions answered. Here, they also get continuous tips and recommendations on how to work smarter using Office 365.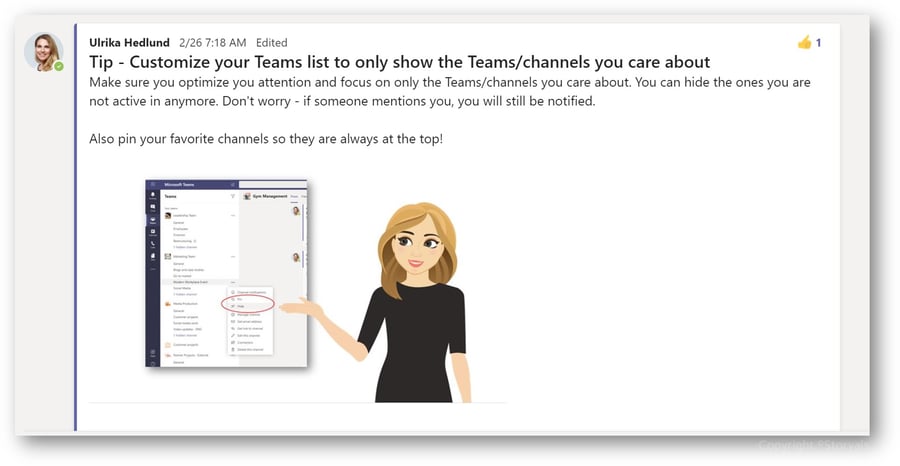 Learn more
Do you want to know more about how you can quickly mobilize your workforce? Please feel free to reach out to us and we can get on an online meeting. Or click on the "Book a demo" button below if you are interested to see Storyals in action! If you are an organization with more than 1000 users, you can also request for us to conduct a Teams Assessment Workshop for you, funded by Microsoft. This can be conducted via Microsoft Teams with participants anywhere in the world.