Have you ever heard of a story-based tutorial? Most probably not, as it's not a word you would find in the dictionary.
A story-based tutorial is what we call the videos we produce that combine storytelling with instructional training to create a captivating learning experience. It is well known that storytelling activates both sides of the human brain helping us remember better.
The following are key characteristics of a story-based tutorial:
Focus on real-life scenarios helping viewers to put the learning in context
Mix live video footage with screen captures to create an optimal viewing experience
Short (about 10 minutes) and high-paced to keep viewers' attention
Best practices are combined with effective use of technology
Showcase "what you need to know" for viewers to optimize the time they invest
How to create a story-based tutorial in 10 steps?
Why, might you ask, would we share our "secret recipe" of creating story-based tutorials? The reason is that we so strongly believe in this type of learning and we would love to see more people benefit from it by having story-based tutorials available across all industries, for numerous applications and various scenarios. Below you can find the steps on how to create a story-based tutorial:
1. Brainstorm
The first part is to do research on the topic. Let's take our story-based tutorial "Declutter your life using a digital notebook" as an example. This is about Microsoft OneNote. First, we brainstorm and write down all the things that you can do in OneNote. This is, of course, a long list of various features – create notebooks, organize pages, take notes, insert tags, draw, insert file printouts, and so on. At this stage, we make sure not to leave anything out.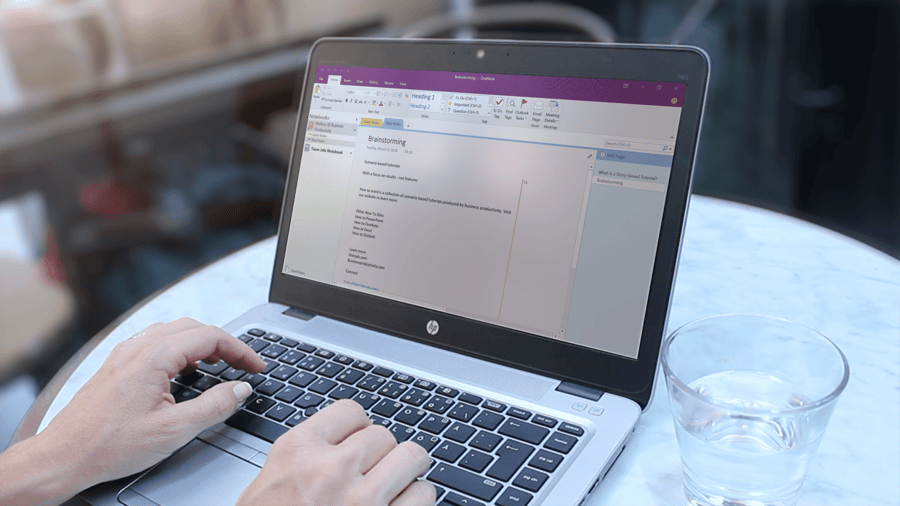 We use OneNote to jot down notes during the brainstorm session
2. Create an outline
The next step is to create an outline. At this stage, we need to prioritize heavily. We have set a 10-minute threshold for our story-based tutorials, so the things we decide to include are the things that provide the most value to the user. We group all the various features together in scenarios and start drawing up our storyboard. How would these features typically be used in a day? Who would be involved? Where would the various features be used? What would the benefits be? When we have the storyline in place we write a rough draft of the script.
3. Capture screen recordings
When we know the storyline, we start preparing our demo environment. Usually, this is a replica of a real-world setup but staged in a separate environment. We now "role-play" the various scenarios and capture all the steps using a screen recording tool – either on a computer using Camtasia or a mobile device using iOS or Android's built-in screen capturing tools.
4. Finalize the script
Once we have the screen captures, we go back and finalize the script word by word. Based on the word count we can see how long the video will be, 1600 words is typically about 10 minutes long which is the limit we set for our story-based tutorials. Here we typically need to cut down considerably and remove any unnecessary words and sentences. Our focus is to select the scenarios that carry the highest return on investment (ROI) and omit the rest that carries little to no importance to the tutorials. We use a free, online "text-to-speech" tool to have a rough audio file to use as a temporary placeholder. We go through the script and mark the sections where we will have live video footage.
5. Film live scenes
Ready for action! Now it's time for the video shoot. Whether it's in the office, in the metro or out on the town, the production team brings cameras, lights and other equipment for the filming. Our film team uses a Canon 80D camera, with a choice of three lenses for various scenarios including Tamron 24-70mm, Sigma 18-35mm and Canon 50mm. For lighting up our studio, we use LightStation by Senna. We walk through the script and film each scenario from various angles. Here we also film us using various devices with empty screens so that we can "inset" whatever frame we might need later in the video production. We also film certain scenes in our studio with a green screen so that we can replace the background of the scene if needed.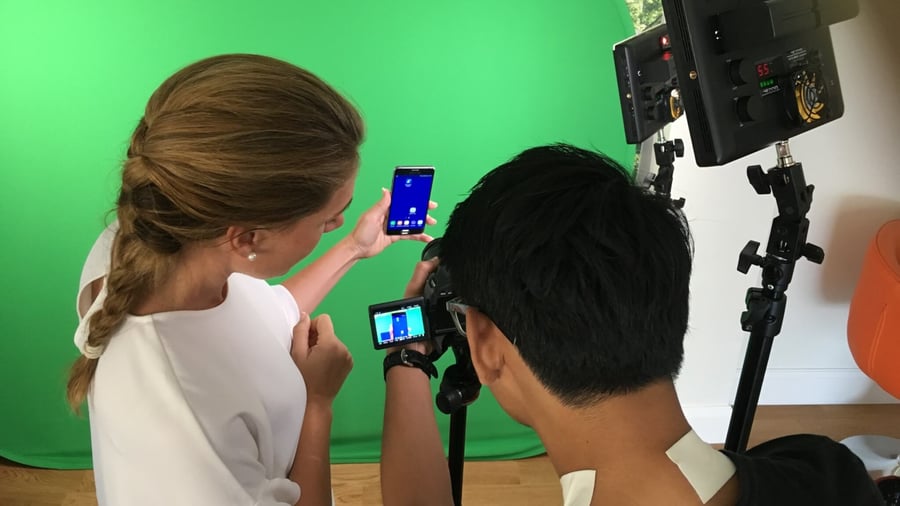 Filming a scene with a green screen
6. Select music
Now it's time to select music. There are numerous music providers online that sell music including Premium Beat. We go through and listen to a wide selection of songs and then purchase the melody that suits the topic of the story-based tutorial and gives the viewer "the right feeling".
7. Record voice-over
After we've selected music, it's time to do the recording of the voice-over. We record the script, following the beat of the selected music to make sure it is in sync. After that, our editing team uses Adobe Audition to optimize the recorded voice-over audio, which includes removing distortions, background noises and leveling the volume. The audio file is exported and used as a time reference.
8. Create animations
If there is something in the script that can better be explained using animation or infographic, our video production team uses Adobe After Effects.
Our Lead Artist in the process of creating a cool animation with Adobe After Effects
9. Edit the video
Now it's time for video editing. The final audio file is imported into Camtasia Studio and used to time the screen recordings, certain clips are sped up and others are prolonged. We use the tools available in Camtasia to add interactive callouts, simple animations and highlights to ensure an optimal learning experience. Once finalized, the screen captures are exported into an mp4 video file and imported into Adobe Premiere. Here the screen recordings are combined with the live video footage and animations. All clips are organized, and times and transitions are put in place. Once the story-based tutorial is completed in terms of content, it's time to add effects! Here, our amazing Flame artist adds the "magic" by applying various visual effects, color corrections, frame insets, text pop-ups, and much more. Finally, the music is adjusted and added to the intro and ending.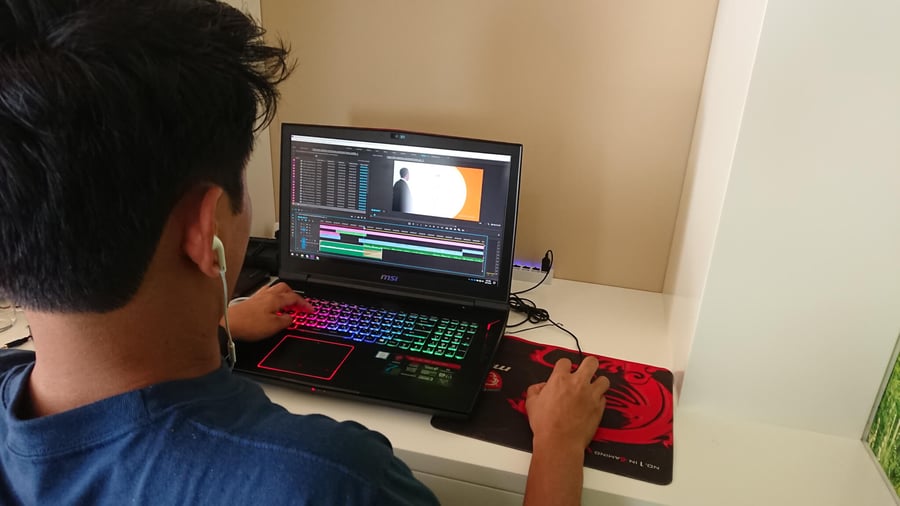 Our Video Editor using Adobe Premiere for editing our story-based tutorials
10. Final review
Once the video production is completed we upload the video to Vimeo. Here the review team goes through the video and adds notes on the Vimeo review page. Is the music too loud, too low, is the timing of the clips just right? The video is walked through meticulously to make sure every second is perfect!
Would you like to know more about Storyals and what we do, then reach out to us on hello@storyals.com, or book a demo to see Storyals in action.