On March 27, 2023, Microsoft introduced the "New Microsoft Teams". The new Microsoft Teams Windows application has been redesigned from the ground up to address performance issues and cross-organizational collaboration challenges that the current version of Microsoft Teams struggles with. At Storyals we have tested the New Teams and here are some of our first impressions.
Most users have gotten used to frequent updates of Microsoft Teams, but this time we are talking about more than just an update. Microsoft has re-engineered Microsoft Teams, its very popular product, that now has more than 300 million daily active users worldwide, from the ground up. We've tested the new Microsoft Teams application, and even though we love the enhanced performance, the current improvements when it comes to usability and productivity are limited, so we advise customers to limit the preview only to tech enthusiasts that love kicking the tires on everything new! To save you from the trouble of switching, here is a summary of our first impressions.
1. Noticeably faster!
The new Microsoft Teams really is noticeably faster! Since many of us use Microsoft Teams for just about everything in our daily work - meetings, chats, channel conversations and collaboration, every second saved is meaningful, and during the day it adds up. Also, it is just so much more satisfying using the app when you can quickly navigate between your different views. Below is an animation displaying how quickly we can navigate between chats and channels in the new Teams (the animation is not sped up). In addition to being faster, it consumes much less memory and disk space on your computer, which is a great improvement for those who don't have the best of hardware.
These are some of the findings on new Teams' speed and performance improvements as published on the Microsoft Tech Community.
Install app up to 3X faster
Launch app up to 2X faster
Join meetings up to 2X faster
Switch chats/channels up to 1.7X faster
Consume up to 50% less memory
Consume up to 70% less disk space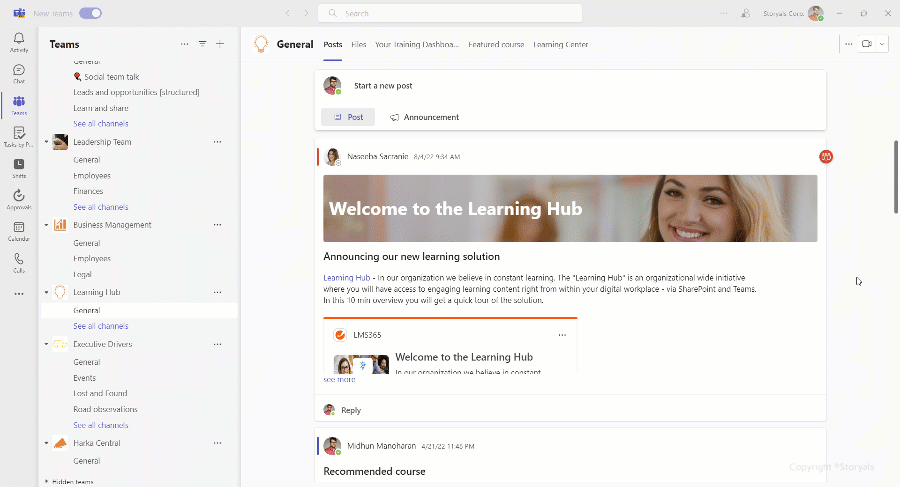 Microsoft claims the new Teams to be twice as fast in newer and older Windows machines with tests run by an independent benchmarking firm.
2. More seamless collaboration with external people
Up until now, it's been rather clunky - or to be honest very frustrating - to use Microsoft Teams to collaborate with external business partners. With the new Microsoft Teams, it is much easier to switch between teams that belong to different organizations (so-called "tenants"). You will be notified when there is any activity in other teams, regardless of which organization they belong to. Also, if you have multiple work accounts (perhaps you work as a consultant in different organizations), you will be able to easily switch between these accounts without having to sign in and sign out every time.

3. More visible channel posts
Like most other communication apps, new posts in a channel are featured on top. Instead of scrolling to the end of the channel to read the latest post, or to start a new post, simply click "Start a new post" at the top of the channel. You can also pop out channel conversations to focus on the conversation in a separate window, just like you can do today with chats.
One would have wished (and assumed) that Microsoft would have also turned the chat around, making new chat messages appear on top and align with the new design of the channel posts. But, new chats are still displayed at the bottom. We definitely hope Microsoft streamlines the messaging experience in Teams in future updates.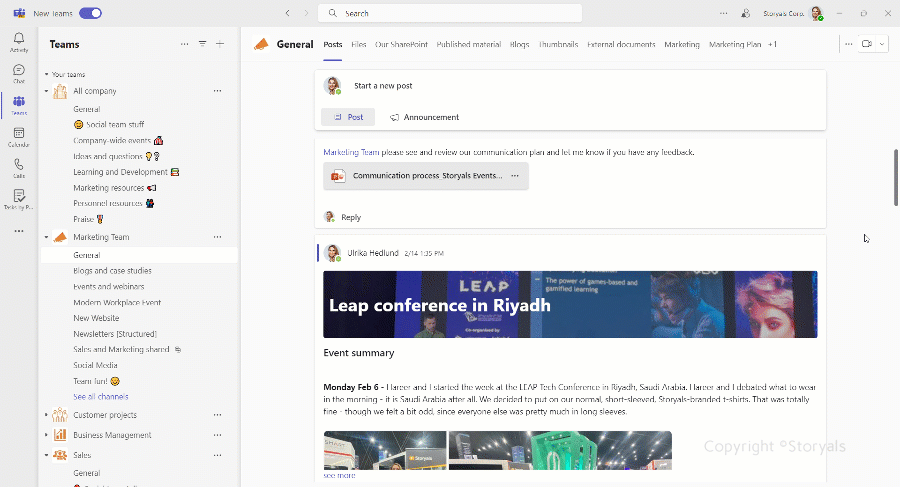 A great improvement is the enhanced channel post compose box. For years, we have been nagging people to press the "Format"-button and enter a subject line to their posts for better visibility. Now, when creating a new post, the subject line is visible by default. Finally! 🥰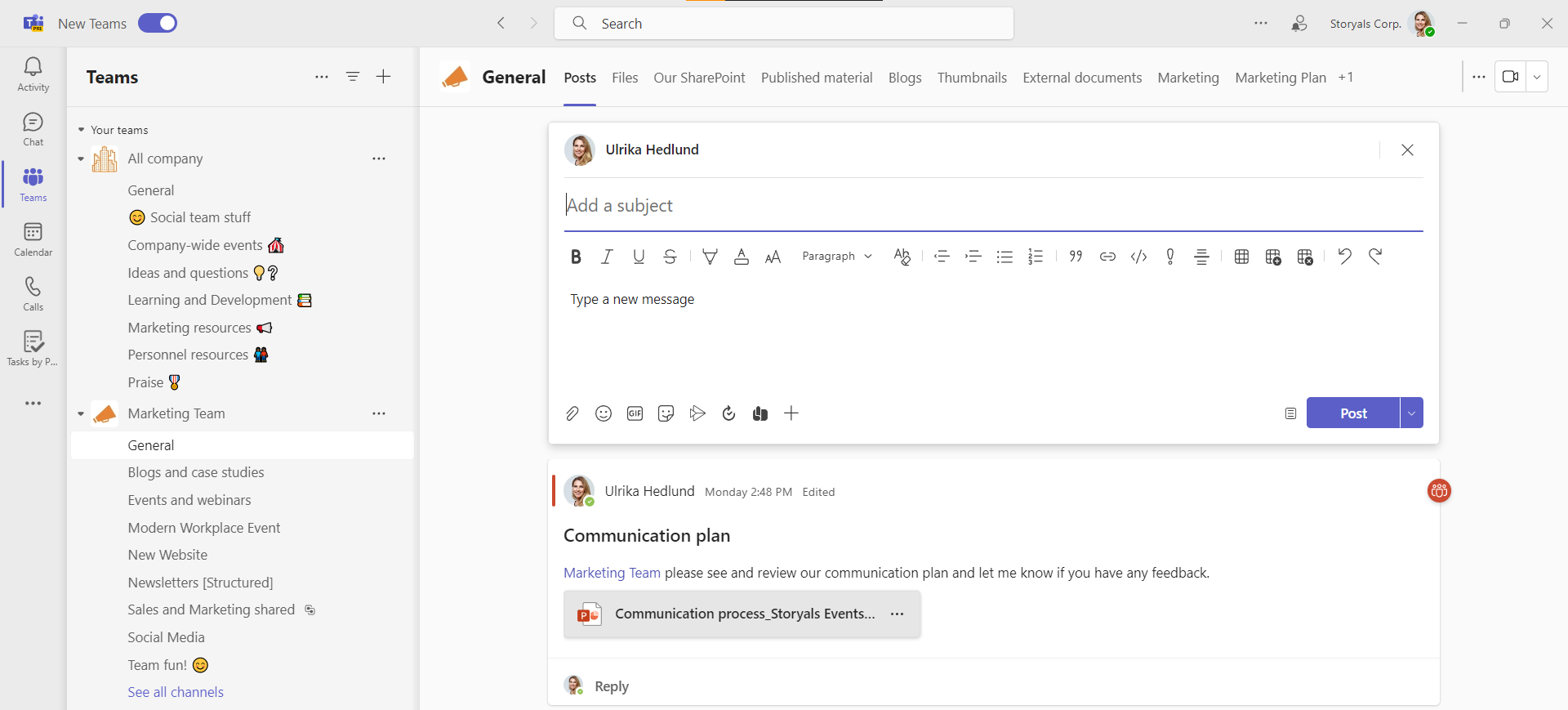 There are some other changes, like integrated Windows notifications and minor user interface design changes, but overall, these are the major things to be aware of. There are still many things that are not supported in the new Teams, like support for 3rd party Teams apps, avatars, etc. (see the full list here) so for your day-to-day work, we would not recommend the preview.
With that said, once the new Microsoft Teams gets on par with the functionality of the current version, the above improvements will be very welcomed! And you can count on Storyals to be at the absolute forefront in updating our story-based courses when the new Microsoft Teams is generally available later this year along with Microsoft 365 Copilot – that you can read more about in our blog on Copilot.