Finally, Viva Learning is here! The application we have been waiting for in anticipation for so long! Many of you have reached out to us at Storyals with a lot of questions – so we thought we would summarize our key takeaways in this blog post.
What should you know about Viva Learning?
Viva Learning is a learning application developed by Microsoft, included in the Microsoft Viva employee experience platform. The general availability of Viva Learning was officially announced on November 2nd, 2021. Viva Learning enables organizations to provide their users access to learning content from within the Microsoft 365 platform – primarily via Microsoft Teams. Users can access learning from a wide range of different course providers, from a single, easy-to-use interface.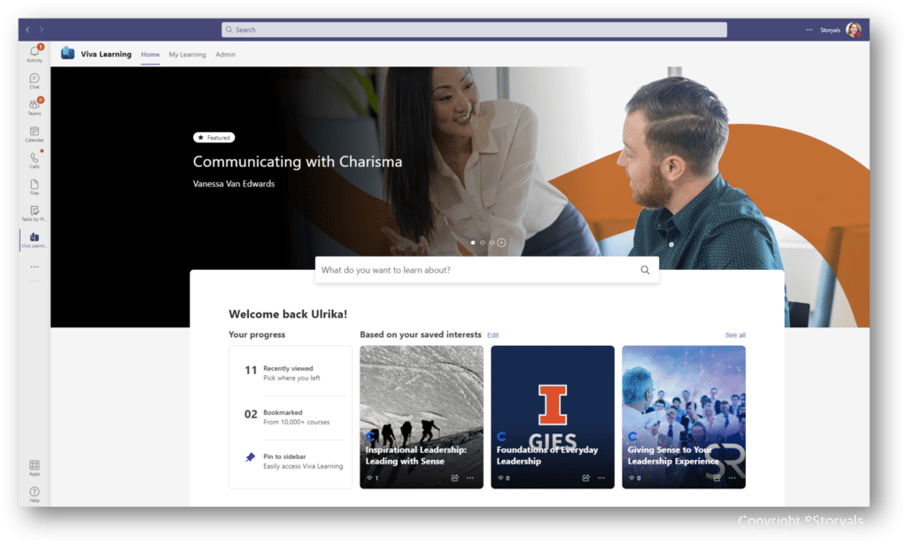 Content providers include, besides Microsoft themselves, LinkedIn Learning, Microsoft Learn and Microsoft 365 Training, as well as third-party content providers, such as Coursera, Cornerstone OnDemand, SAP SuccessFactors, Saba, Skillsoft, Pluralsight, edX, Go1, Josh Bersin Academy, Infosec and Udemy Business. Additional content providers and more integrations with additional Learning Management Systems (LMS) are on the roadmap – including integration with Microsoft's own solution Microsoft Learning Pathways.
How do users access Viva Learning?
Users access Viva Learning via Microsoft Teams. If the Viva Learning app has been enabled by your organization's Teams Administrator, users can find the Viva Learning app among the Teams Apps. Users can "pin it" to the left-hand navigation to always have it show, or your organization can create a policy to pin the app there for all users by default.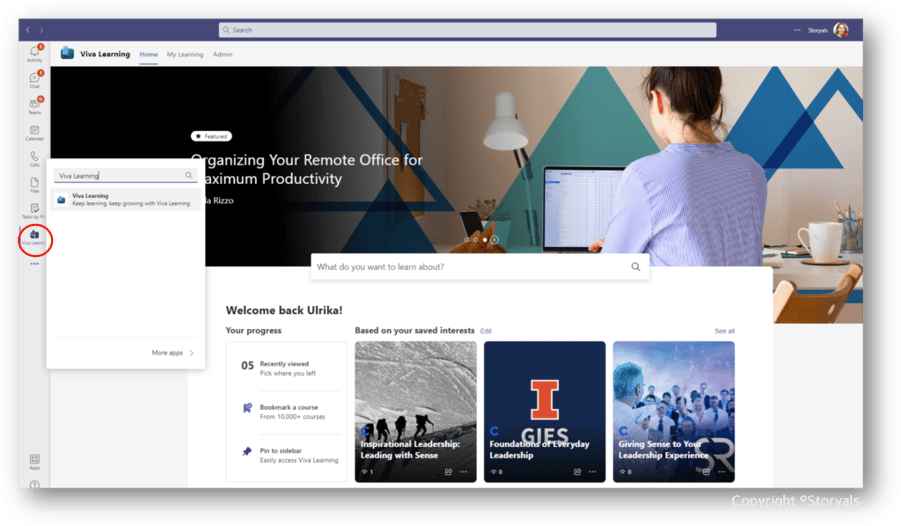 Users can also add individual courses from Viva Learning as a tab in a channel in a team.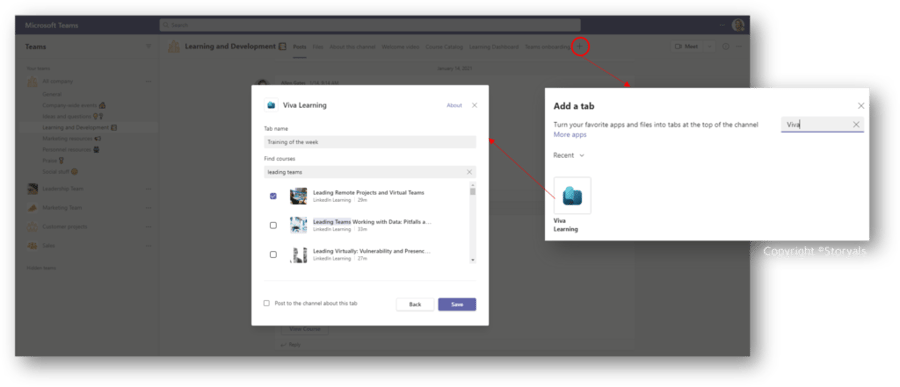 Users can easily search for learning and play it right from within Microsoft Teams –providing users instant learning in the flow of their work.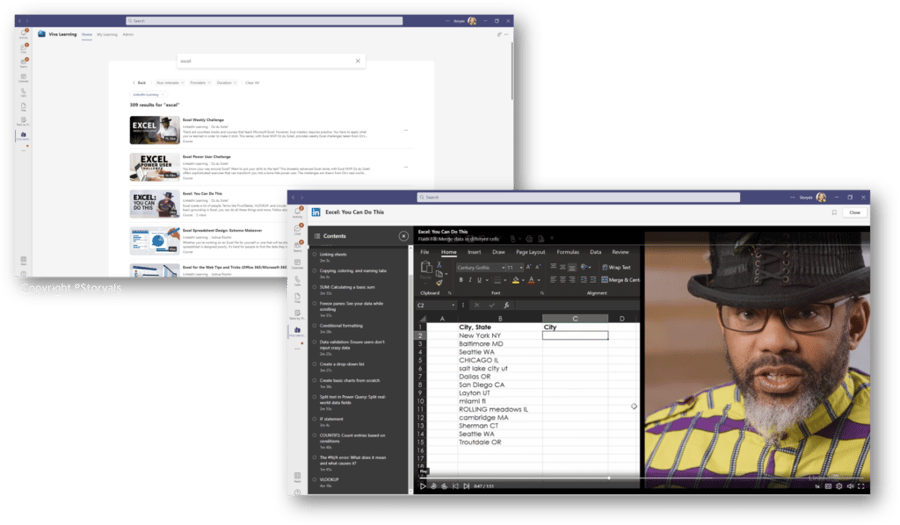 Users can track their learning in a "My Learning" tab and easily share courses with others via chat messages or channel posts.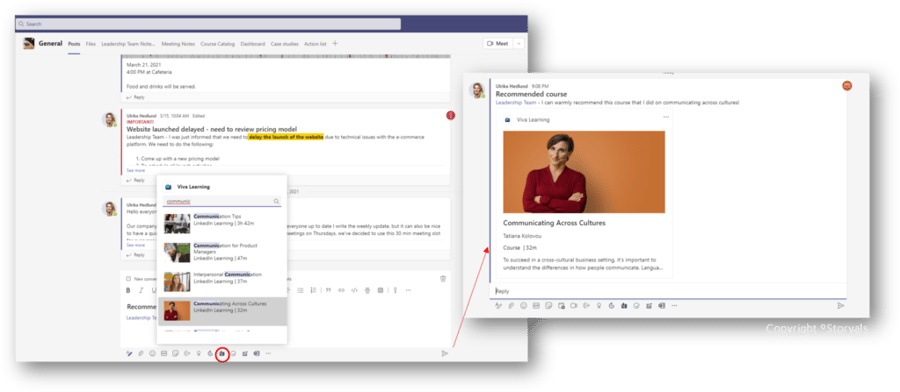 How much does it cost?
There are different versions of Viva Learning. The most basic version of Viva Learning is included at no additional cost in the Microsoft 365 F1/F3/E3/A3/E5/A5 and the Office 365 F3/E1/A1/E3/A3/E5/A5 subscription plans. This version gives users access to 125 courses from LinkedIn Learning, Microsoft Learn and Microsoft 365 Training. You can also add custom training content by adding files to a SharePoint library (this custom learning support however is very rudimentary – more on that later in the blog post). In this basic version of Viva Learning, you are not able to recommend learning to users or integrate content from licensed 3rd party course providers.
To get the full functionality of the Viva Learning app there is an additional license fee of USD 4/user/month. You can also get Viva Learning as part of the overall Microsoft Viva Suite that also includes Viva Insights, Viva Topics and Viva Connections. The regular (non-discounted) price for the full Viva Suite is USD 12/user/month

Please note, that this license gives you the full functionality of the Viva Learning app itself, it does not give you access to all the courses provided by 3rd party content providers. To enable access to that learning for your users, you need to license the content with the various course providers separately.
First impressions of Viva Learning
As a learning content and training services provider, we at Storyals are ecstatic about this big push for learning from Microsoft. For organizations to provide users with continuous learning right from within Microsoft Teams is something we have been promoting for years.
Viva Learning is easy to use, and it makes learning more fun and social. It brings together learning content from various sources into one single, easy-to-use interface enabling users to find, consume and share learning with others.
We have tested the ability to provide users with custom learning content from a SharePoint library via Viva Learning, and even though it sounds good in theory – the reality leaves more to desire. The whole experience is currently quite poor (to say the least). But again, in the coming updates of Viva Learning, out-of-the-box integration with Microsoft Learning Pathways will be supported and this can definitely be a game-changer for supporting custom content (especially for Storyals Lite customers who will then be able to access Storyals learning content via Viva Learning).
Even though Viva Learning provides users with the ability to track their learning, it's important to point out that Viva Learning is NOT a learning management system.
If you are looking for a system for your organization to manage end-to-end learning, with the ability to create your own learning content, or leverage third-party content, assign, track, assess and follow up on course progress across the organization – Viva Learning is not the answer. (For that, we would recommend you have a look at LMS365 instead. We'd be happy to support you through a trial).
In summary, Viva Learning addresses a very important issue – the need for organizations to continuously upskill their workforce. It provides users with a modern, social and fluent way of learning – right from within their everyday work tools. Even though there are a few things that we are missing in Viva Learning today, Microsoft is investing heavily into this learning app, so we will continue to follow the development closely and share our findings with you!