There is a lot of buzz about Chat GPT, Open AI and Microsoft 365 Copilot. A lot of people are excited, many are oblivious, and some are uncomfortable with the fast developments. As a leader, it is important that you are prepared and that you have proper insights so you can make better decisions. Here we have summarized what you need to know, as well as recommendations we think will be useful to all digital leaders out there!
1. Make sure you understand what Microsoft 365 Copilot is!
You can think of Microsoft 365 Copilot as having a super smart "copilot" by your side. Someone who reads all your emails, attends all your meetings (even the ones you have been invited to but can't attend), knows all your numbers inside out, your customer data, etc. You will be able to ask your Copilot to draft replies to email for you in Outlook, draft presentations in PowerPoint, make an outline for an article in Word, take meetings notes in OneNote, summarize actions discussed during a Teams meeting – and write a thank you note to your boss! Microsoft started the testing of Microsoft 365 Copilot with 20 customers and will be rolling this out to more organizations in the coming months.
If you want to hear more about the background and see demos of what this will look like in action, you can watch the live stream recording from March 16th, 2023, The Future of Work: Reinventing Productivity with AI by Microsoft CEO Satya Nadella and the Modern Work team. Another good source if you prefer reading about it instead, is the official blog post by Jared Spataro Introducing Microsoft 365 Copilot – your copilot for work.
2. Grasp the bigger picture
In this blog post, we are focusing on Microsoft 365 Copilot, but to understand the magnitude of this transformational shift in digital work, it's important that you grasp the bigger picture. In 2019, Microsoft and Open AI announced their partnership. Under the partnership, Microsoft invested one billion dollars in Open AI, with Microsoft becoming the preferred partner for commercializing the technology.
The article The Age of AI has begun written by Bill Gates is great and helps put it all in perspective. In this article, Gates shares how he has followed the Open AI team for years, and how impressed he was in midst-2022 when he gave them a challenge to create an AI data model that could pass an Advanced Placement biology exam (apparently this is very difficult since you need to think critically about biology, not just learn the facts). In just a few months, they presented their AI-model GPT, that managed to score 59 out of 60 on the exam! Bill continues to talk about how AI will revolutionize productivity and how it can be used to address major global challenges.
3. Start using AI-tools in in your own work
There are already several tools out there which have incorporated AI-powered technology. Using AI as an aid in your day-to-day work takes some getting used to. But it's a little bit like driving a car, once you get the hang of it, it becomes second nature. For now, you can sign up for a free account to Chat GPT or you can use the Open AI technology through the Microsoft search engine Bing. If you are using Microsoft Edge as a browser, you find the Bing icon in the top right corner. Here you can ask questions using the "Chat" tab, compose text under the "Compose" tab or use "Insights" to learn more about the web page you are currently visiting.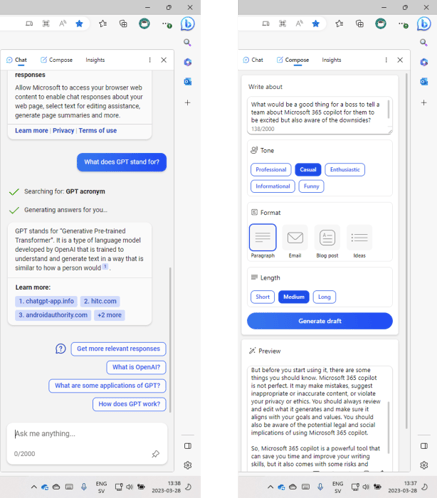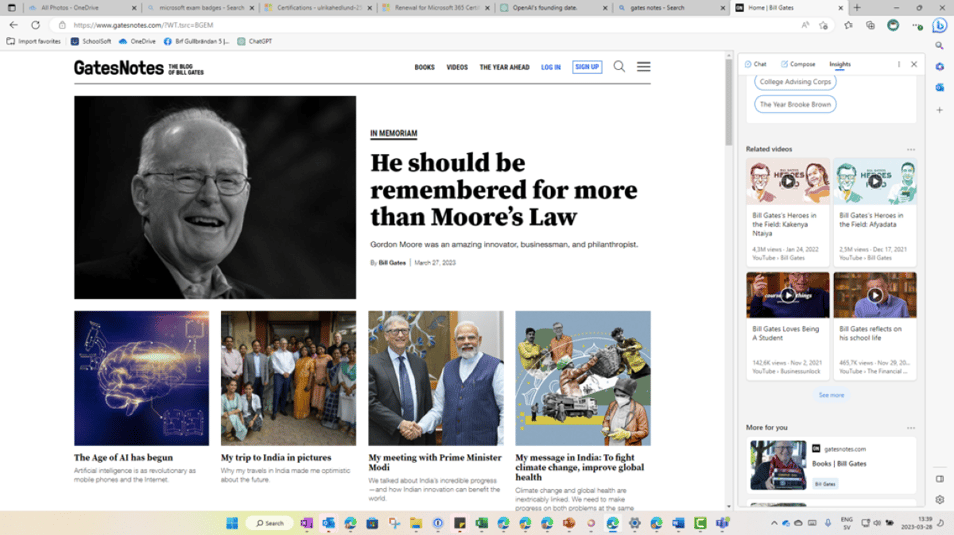 Start using it throughout your day and challenge it (and yourself)! What would you ask someone who had read (and understood) all books, articles, and web pages in the public domain, that understands humor, and knows how to articulate information based on who the message is for? Talk about a super-power! Good to know is that as of now, the Chat GPT only knows about events and information that happened before mid-2021.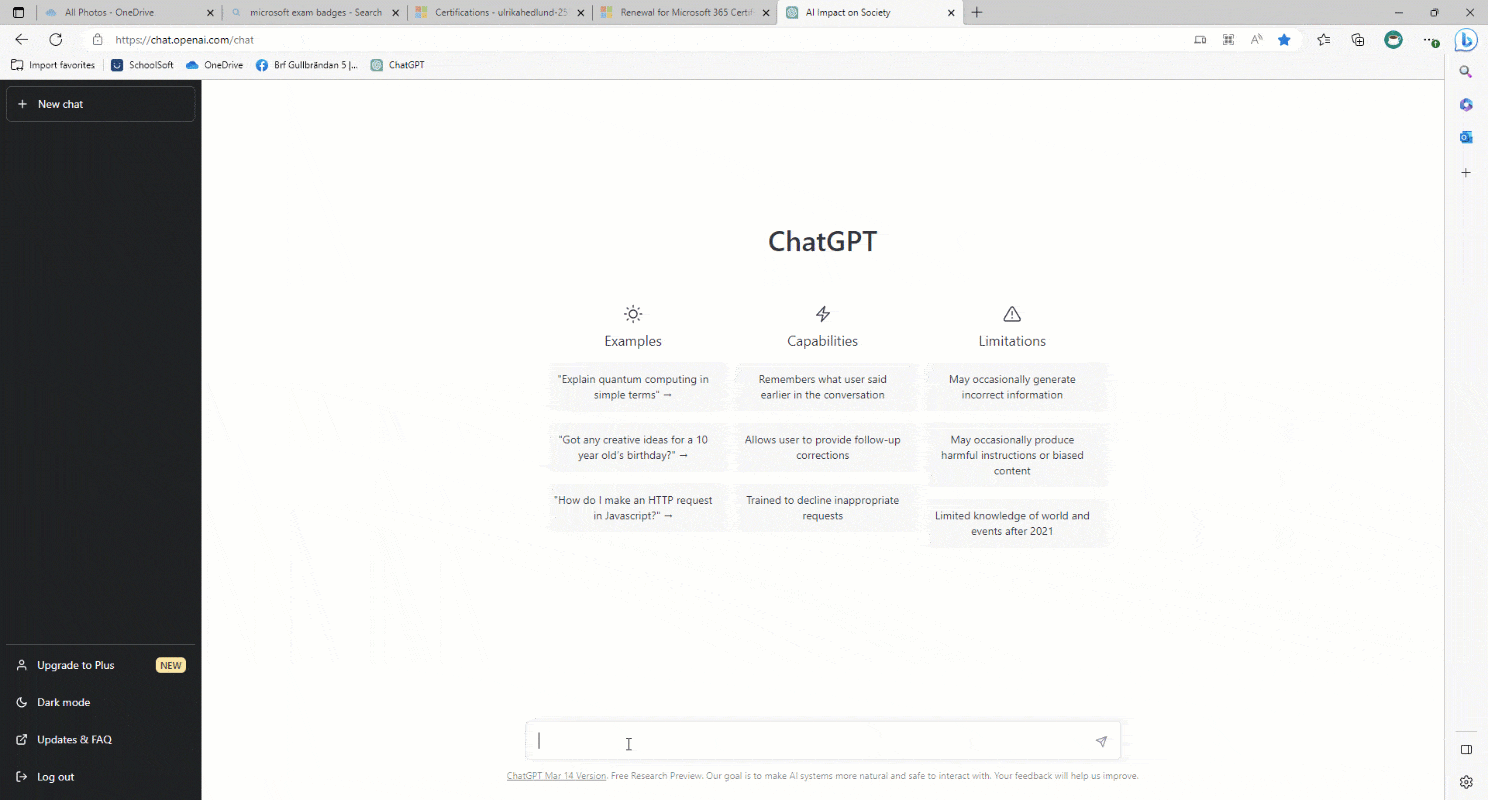 4. Talk about it with your team and employees.
It's important that you openly discuss the impact this technology will have on your day-to-day work with your team. This is not just for the ones working in the IT department. This is something that will impact all of us, both at work, as well as in our personal lives. Talk about the benefits - and the downsides - with your team. Even if you don't have the answers yet, ask questions and highlight challenges that might come with this new technology. How can we ensure these tools are used responsibly? Can we really trust the answers we are provided with? How can we use them in our day-to-day work to be more productive? It is only natural that some might feel wary, perhaps even frightened, about losing their job, or stressed about not being able to keep up with technology. Here is a team "pep-talk" (generated by Bing using AI) that you can use in your next all-company or team meeting: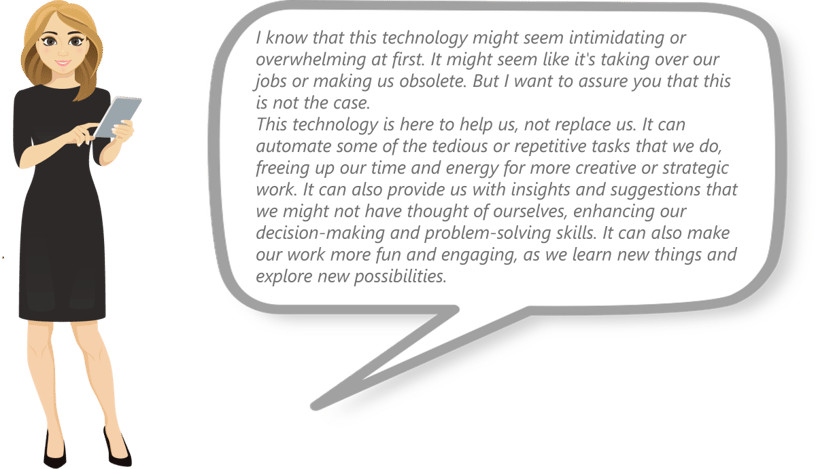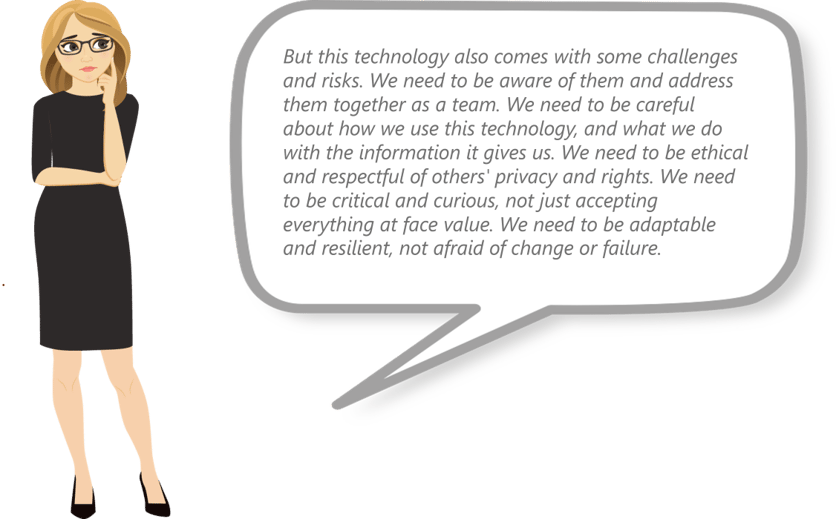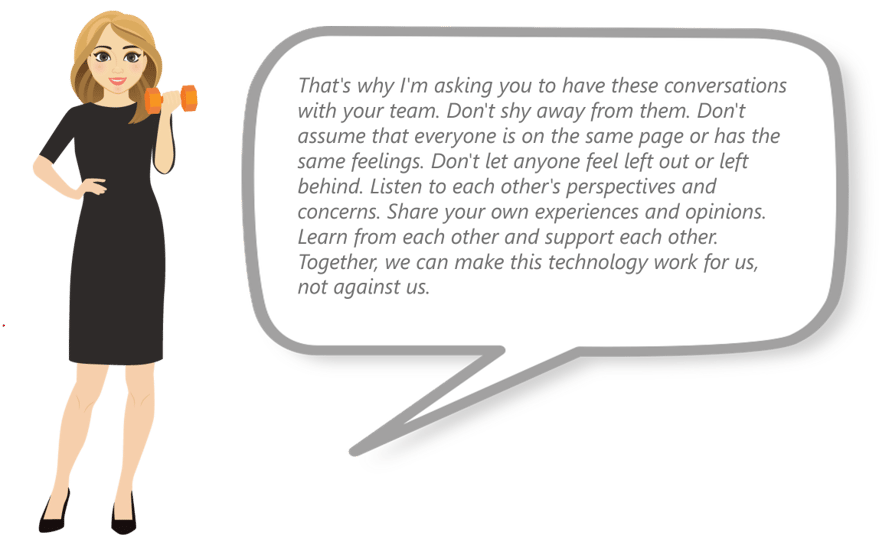 5. Prepare and put guidance in place.
What does your organization need to do to prepare? If you think about Microsoft 365 Copilot, this will be a tool that is used within your corporate space – your digital workplace. Your Copilot will have the same access to information (email, documents, meeting recordings, etc) as you do. Your employees' Copilots will have access to the information that each employee has access to. It is therefore more important than ever for people to know where to save what.
Imagine what would happen if an unhappy employee asked his or her copilot about the salaries of everyone else in the company?
If you work in a transparent organization where everyone's salaries are published on the Intranet for everyone to see, this isn't a problem, but in most organizations it could be. Typically, this information is only available to a limited set of people in HR. But if someone within HR accidentally puts a document with confidential information in a folder that is shared, the unhappy employee's copilot will provide the answer.
Here, general best practices when it comes to identity, security and information governance come into play. But also - as always - end users need guidance, training and coaching to manage new technology and new ways of working. Where do we store our files? Who should have access to what? Take the app Delve as a comparison. The app brings documents to the surface that you might not be aware of. It's a great tool for finding stuff, but some organizations chose to shut it off because users don't know where to save and share files properly. Sure, organizations can opt-out and just never enable Microsoft 365 Copilot. But imagine the super-powers they miss out on! A better way forward is to be pro-active, prepare and put guidance and training in place.
At Storyals, we as always keep a close eye on the developments and update our training and recommendations to customers accordingly. You don't have to jump on the bandwagon and be early adopters, but you also don't want to be left behind and lose out to your competitors.
If you would like to talk to us about what this means for your organization, you can simply get in touch here and we will help you out.