In today's society, where communication and collaboration are mainly done via digital work tools, across ALL workgroups (both office workers and frontline workers) change is a constant – and it needs to be managed if you want to maximize your business outcomes. Whether you call it Digital Workplace Manager, Digital Workplace Lead or Digital Employee Experience Lead, or something else, it is vital that your organization appoints someone to be responsible for providing your employees with a thriving digital work environment! And pointing to your CIO, IT Manager or HR Manager just isn't good enough. Here's what you need to do instead.
The past decade a wide range of new roles related to digital transformation have emerged across organizations globally – Chief Digital Officer (CDO), Digital Transformation Officer, Head of Digital Strategy and Head of Business Transformation to name a few. In many organizations these C-level executives report directly to the CEO. More specifically, new roles that focus more closely on the digital work that is carried out by employees is becoming more and more common - Digital Workplace (or Modern Workplace) Manager, Architect, Business Analyst and job titles like, Digital Employee Experience Lead, are now filling up the job ads.
Responsibilities of the Digital Workplace Manager
The responsibilities of a Digital Workplace Manager are to oversee the design, implementation and continuous improvement of the digital workplace strategy. Depending on the size of the organization, there might be an entire team of Digital Workplace Architects/Service Managers/Business Analysts/Support Specialists reporting to the Digital Workplace Lead.
It is the responsibility of the Digital Workplace Manager to ensure that the organization has the optimal business outcome (increased employee productivity and satisfaction), in relation to the investments your company makes in digital workplace technologies and resources.
The goal is to make sure you maximize the business return of your overall digital workplace budget. Let's take an example. If you invest in the latest and coolest hardware and Microsoft 365 E5 licenses for all employees with all the add-ons, high-end meeting room conferencing equipment and a wide range of consultants to help you with implementation, you better be able to show how this benefits the bottom line. To be successful in your role as the Digital Workplace Manager, you need to strike the right balance between the investments you make, and the business return you get.
Success criteria for the Digital Workplace Manager
Here are our recommendations for how to succeed as a Digital Workplace Manager.
1. Align with key business stakeholders
For you to succeed in designing the optimal digital workplace, you need to be closely aligned with the business leaders of your organization. Understand the goals and key strategic initiatives, both short term and long term. Often, there is an uneven power balance between business leaders who want to get the job done in the most effective way, and IT security experts who want to safeguard the organization from cyberattacks, and legal advisors who want to avoid regulatory violations. We often meet organizations where digital workplace services are disabled, where employees instead find their own ways to get the job done, using tools that are not managed by the organization, leading to even bigger security threats. It is the Digital Workplace Manager's responsibility to continuously strive for an optimal balance and help bridge the gap between business and IT. Ensure you have a Governance team that put proper policies in place, based on requirements from the business, aligning with legal regulations, with proper IT safeguards. A walk in the park! 😊 (NOT!)
2. Stay up to date with technology enhancements
For you to succeed, you need to have a growth mindset and stay on top of the latest digital workplace technology developments. What technologies are emerging in the digital workplace that your organization can benefit from? What are other organizations in your industry doing? What are your competitors doing? Read articles and blogs, take online courses, attend events and reach out to people in your network and ask. Most vendors also publish their product roadmaps publicly which provides a good source to keep up to speed with the latest developments.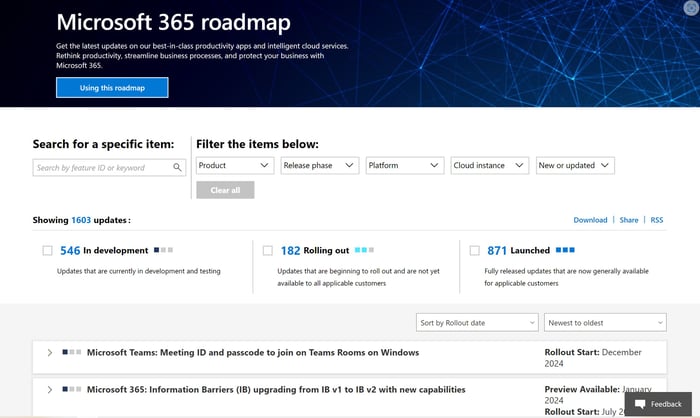 3. Keep your technology providers close – but not too close!
Most organizations have a few selected technology providers, the most common ones being Microsoft, Google, Zoom, Adobe, Slack, Box, Atlassian, Citrix, Asana and Meta (Facebook), Poly, Cisco, to name a few. As a Digital Workplace Manager, you need to be closely aligned with your technology providers so that you are aware of their product roadmaps, strengths and weaknesses. Even though it's easier to limit the number of different technology providers used in your digital workplace, don't always assume that new services launched by your existing technology providers are the best option for your organization. Put demands on your providers and don't be afraid to ask for things (pilots, workshops, previews, trials, etc.) Also remember, they will always want to upsell you to purchase more of their services, so make sure to have independent sources to guide you as well.
4. Drive awareness, upskilling and change
No matter how much money your organization invests in technology you will never reach your goals of increased productivity, digital wellbeing, and employer attractiveness, if employees don't embrace new digital ways of working. If they stick to their old way of working - unaware, unskilled, or unwilling to use the modern tools in the digital workplace, you're not getting anywhere. And unfortunately, it lies in human nature to resist change. If your employees don't embrace and adopt new digital ways of working, you will never get the business results you planned or hoped for.
An industry benchmark is to allocate a minimum of 10% of a license cost into training and adoption activities. In our experience, organizations often completely overlook this part.
They don't allocate budget or resources to training and adoption activities at all, or at least not nearly enough. There are a number of cost-effective training products and services to leverage. If your digital workplace is on Microsoft 365 then Storyals is your natural choice for cost-effective digital upskilling. Storyals story-based training methodology follows the Prosci, change management model, ADKAR which is based on driving awareness, desire, knowledge, ability and reinforcement.
5. Leverage data to drive change
At the end of the day, it's all about the numbers! What's the ROI (return on investment) in your digital workplace? That's of course a complex question since not everything is measurable, and there are a lot of other factors that influence employee productivity. With that said, it's important that you as a Digital Workplace Manager make the most of the numbers you do have. How much are you spending on each employee in hardware and software related to your digital workplace? How much are you investing in their training on digital skills? What does the employee usage look like? Here, more and more usage data are accessible through the digital tools themselves.
For instance, using the Adoption Score report in the Microsoft 365 Administration Portal, you can see reports of the usage of the various collaboration tools that are part of Microsoft 365 in your digital workplace.
Read our blog article 'How to use Microsoft Adoption Score' to understand how to best use the data as a baseline, along with other metrics related to employee wellbeing and engagement to drive continuous and ongoing change.