For the past couple of weeks, the number of people doing online meetings has skyrocketed! Images of people with funny hats or weird looking faces have flooded in social media. This has really been a welcome relief in the otherwise so serious information flow following the pandemic. I mean who can refrain from smiling when you read about a boss getting stuck as a potato during a video meeting? Funny hats and potatoes aside, the question many people ask is, how do you run efficient meetings online? So I thought I would share what I believe to be 5 best practices for an efficient online meeting using Microsoft Teams.
5 best practices for an efficient online meeting
Define the four W's – Why, What, Who and When
Optimize the online experience
Moderate the meeting
Take meeting notes
Agree on how to follow up
1. Define the four W's – Why, What, Who and When
As with any meeting (online or in-person meeting) you first have to define why you are meeting, what the outcome of the meeting should be, who should attend and when the meeting should be. When you have online meetings, you can all of a sudden meet with people all over the world, so you need to take time zones and workdays into account. When you are scheduling meetings within your own organization you can use the "Scheduling Assistant" in Outlook to see when others are available for a Teams meeting. If you are booking meetings with people outside your own organization, you can use the free plug-in from Microsoft called FindTime app to create a Meeting Poll. There are also a number of great scheduling services you can use. We use Bookings in Microsoft 365 for most of our "official" types of meetings, I also use Appointlet, to provide external people an easy way to book a number of different types of meetings with me.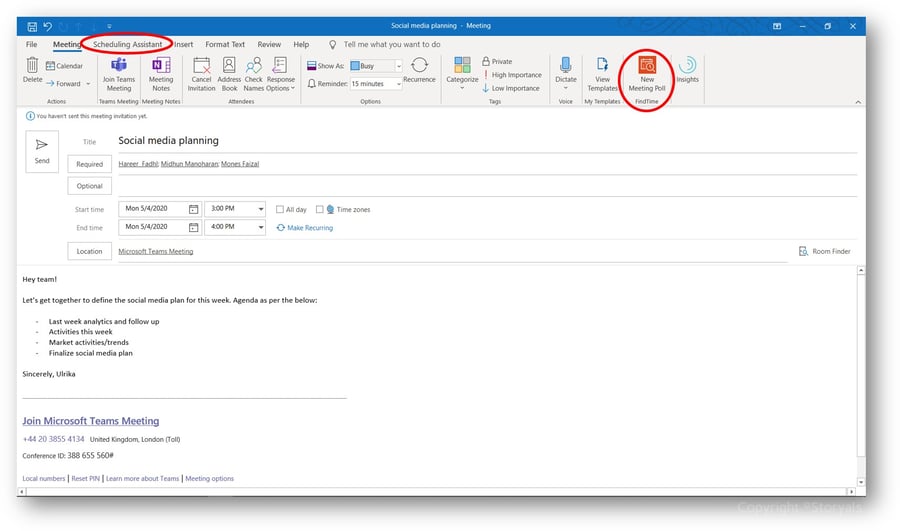 When you have found the time for the meeting, make sure you put a proper agenda so that everyone knows why you are meeting and what the planned outcome is.
2. Optimize the online experience
Technology is so advanced today that you can really have a rich meeting experience online. But there are a few things to consider for an optimized online meeting experience:
a. Find a good spot – Ideally, you should sit or stand in a quiet place where you are not disturbed, with a good desk/chair or standing table and good lighting. I know this might be hard if you are working from home and you have a crowded living space. But try to be creative. Who knows? The laundry room and the ironing board might work great!
b. Switch on your camera – Research shows that as much as 60-65% of our communication is non-verbal. So in order to understand each other properly, it's important to see each other's body language and facial expressions – so cameras on! If your "quiet" spot is in fact the laundry room, and you don't want to show your background, you can select one of the many available backgrounds in Microsoft Teams.
Another option is to upload your own. Click "Upload image" when you're in a video call to upload a custom image background from your computer.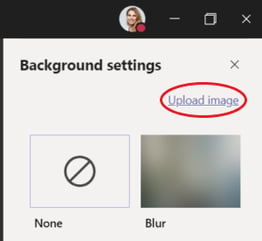 Once you've uploaded an image, you will find it as one of the available backgrounds in Teams. Upload a picture of your office (or your dream office) and use that. Microsoft has created a few attractive custom backgrounds to use during your meetings, you can find them here.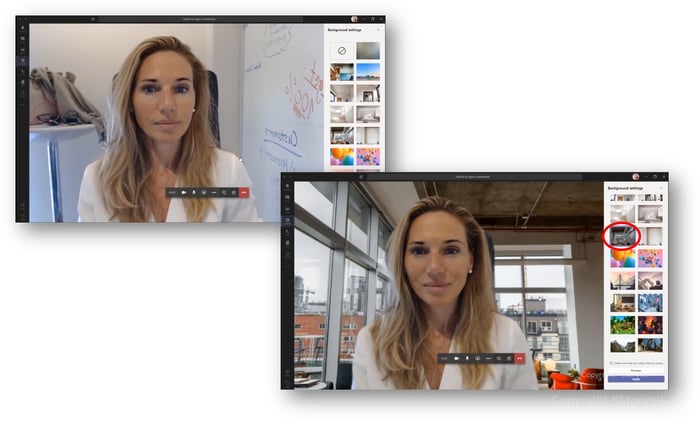 What about a bad hair day, or if you ran late to the meeting and didn't have time to shower after your workout? It happens! I feel people are a lot more "forgiving" these days and understand that you are not all "geared" up in your work suit for an online meeting. With that said, sometimes you really don't feel like showing yourself. Unfortunately, there aren't any built-in filters in Teams, but there are workarounds. For example, you can download an app called Snap Camera and use the filters there in your Teams meetings. I used the "make-up" filter once when I didn't have time to do my makeup (not the face-painting as below – just a nice makeup filter). But I turned the filter off when the woman I was meeting hadn't gotten fixed up either, so it just felt wrong. The Snap Camera is fun, but I wouldn't recommend it if you (like me) are strained on time, because it doesn't work seamlessly with Microsoft Teams – and you don't want to get stuck as a potato for an important meeting…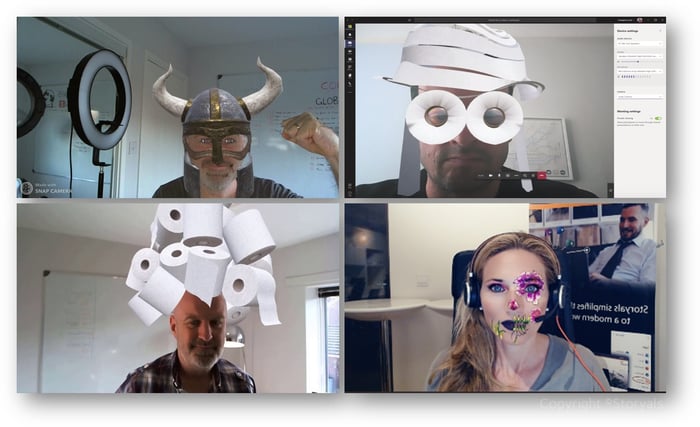 c. Use a proper audio device – I have to admit that I was pretty late in understanding the importance of this. Until my colleague who sits in an open office switched to a Teams certified headset. The difference was so evident. Gone was all the background noise of other people talking, traffic outside, air conditioning or airplanes flying by. Everyone should have a good audio device – it's not as fun if half of the people in the meeting are on mute due to annoying background noise.
3. Moderate the meeting
You always need someone to "run" a meeting. Someone to make sure you stick to the agenda, that you "park" things you don't have time for, that you gather everyone's input and so on. In a digital meeting, it is even more important that you have a moderator that ensures everyone is heard. In Microsoft Teams you only see the video of the people that are currently active. So, if someone is on mute, or not talking, it is very easy that they are "forgotten". As a moderator, make sure to call people by name, ask questions and ask for feedback. If there are many meeting participants, you can ask attendees to use the meeting chat to ask questions. You can also create a poll (before the meeting) in, for example, Microsoft Forms where you ask attendees to fill out during the meeting to gather input quickly and efficiently. It's also useful to use a whiteboard to visualize what you are talking about or get people engaged to work together. There are so many apps you can use for online brainstorming and planning – Microsoft Whiteboard, Miro, FunRetro, Google Jamboard, Parabol, Retrotool, to name a few. Personally, I mostly use Microsoft Whiteboard (because it's part of Microsoft 365 and integrated into Microsoft Teams). I use the pen on my iPad Pro to jot down things we discuss while I share the same whiteboard on my computer so that the meeting participants can see what I write. A huge downside with Microsoft Whiteboard is that you currently can't invite external meeting participants to collaborate on the whiteboard with you… hopefully that will change soon.
4. Take meeting notes
I know it sounds "old-school", but meeting notes are a must! If you don't document what you agreed on, and who should do what after the meeting, you are not optimizing the outcome. I am not saying that you have to write a formal minutes of meeting document. But you have to capture the outcomes of the meeting. If I am moderating or leading the meeting, I usually ask someone else to take notes. When you have a meeting in Microsoft Teams, there is an option to "Show meeting notes". A Wiki-page opens where you can write down meeting notes. The notes are then forever linked to the meeting in the meeting chat.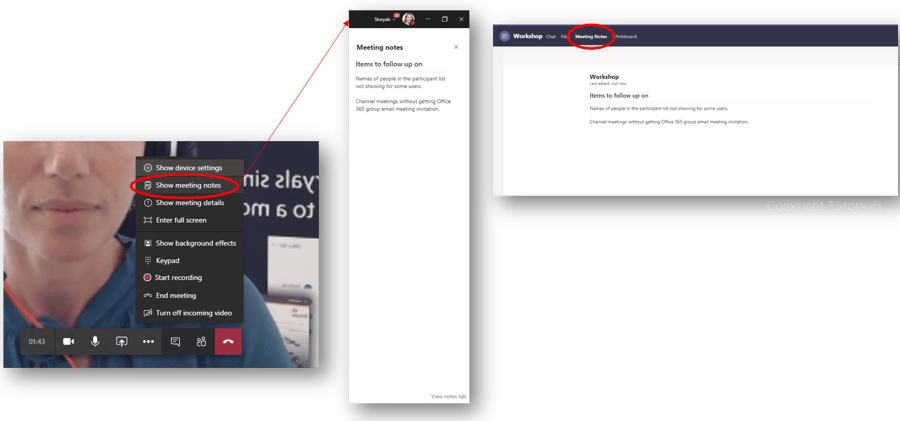 That's one way. Personally, I prefer to use OneNote for taking meeting notes. You can easily create a meeting notes page linked to any meeting you have booked. Either I type notes (if I am sharing my screen and the meeting participants can see what I am typing), or I take handwritten notes if I am talking to people on the webcam and want to capture what they are saying.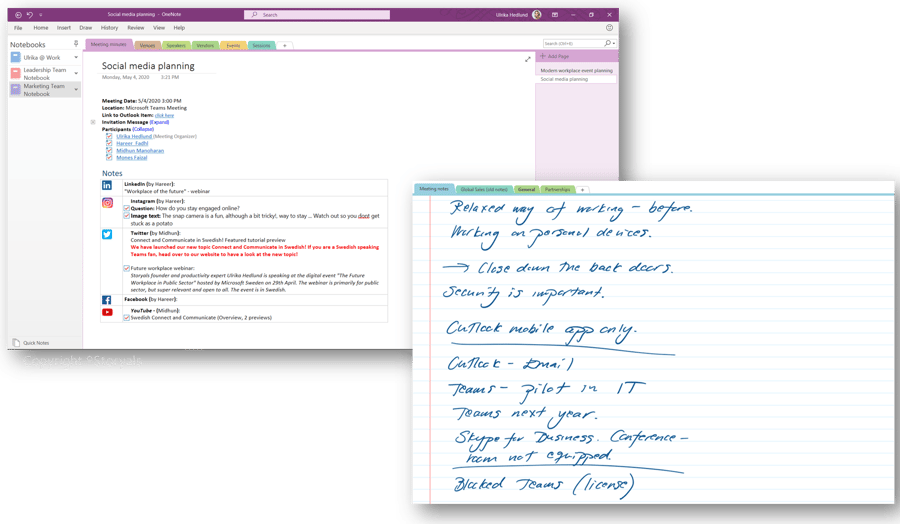 After the meeting you can easily share your notes in OneNote with the other meeting participants. If I have a meeting with people in my own organization, I just share the link to the page in our shared OneNote notebook. If I have meetings with external meeting participants I like to "clean up" my notes a bit and then share them via email. You can easily "Email a page" in OneNote and just send the page with your meeting notes to the ones who were in the meeting.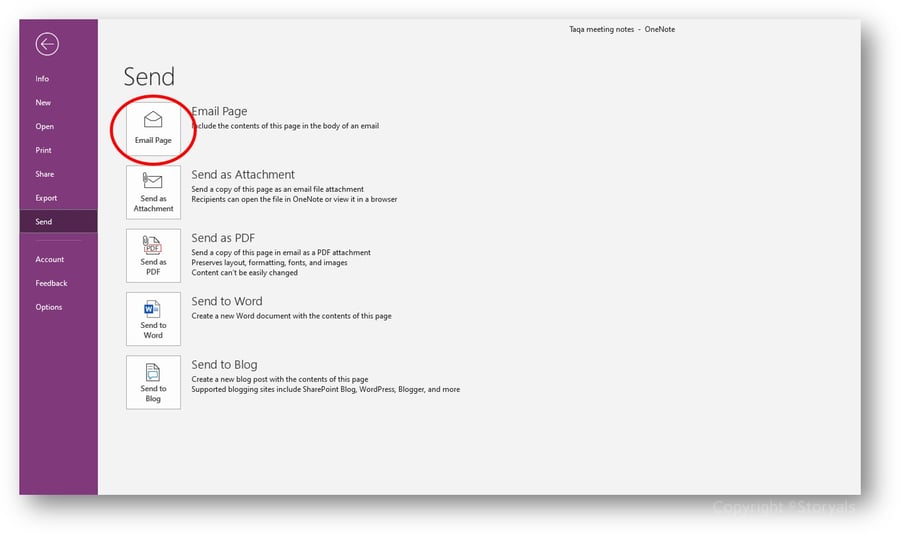 5. Agree on how to follow up
Before you end your meeting, you need to agree on how to follow up. How do you track action item progress? Do you need to have a new meeting to align on status updates? How do you communicate with each other? When you have a meeting in Microsoft Teams the meeting chat remains even after the meeting. Is that to be used for a meeting follow up?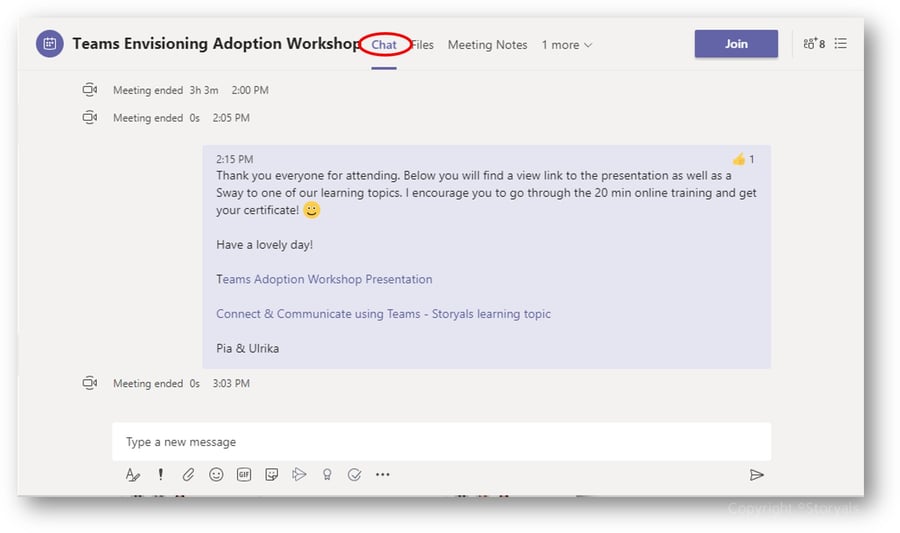 My personal experience is that the meeting chat is mainly for when the meeting is happening or shortly after to share meeting notes or answer a follow-up question. After the meeting, it is usually better to revert to other communication channels since you don't want to end up with too many chat groups.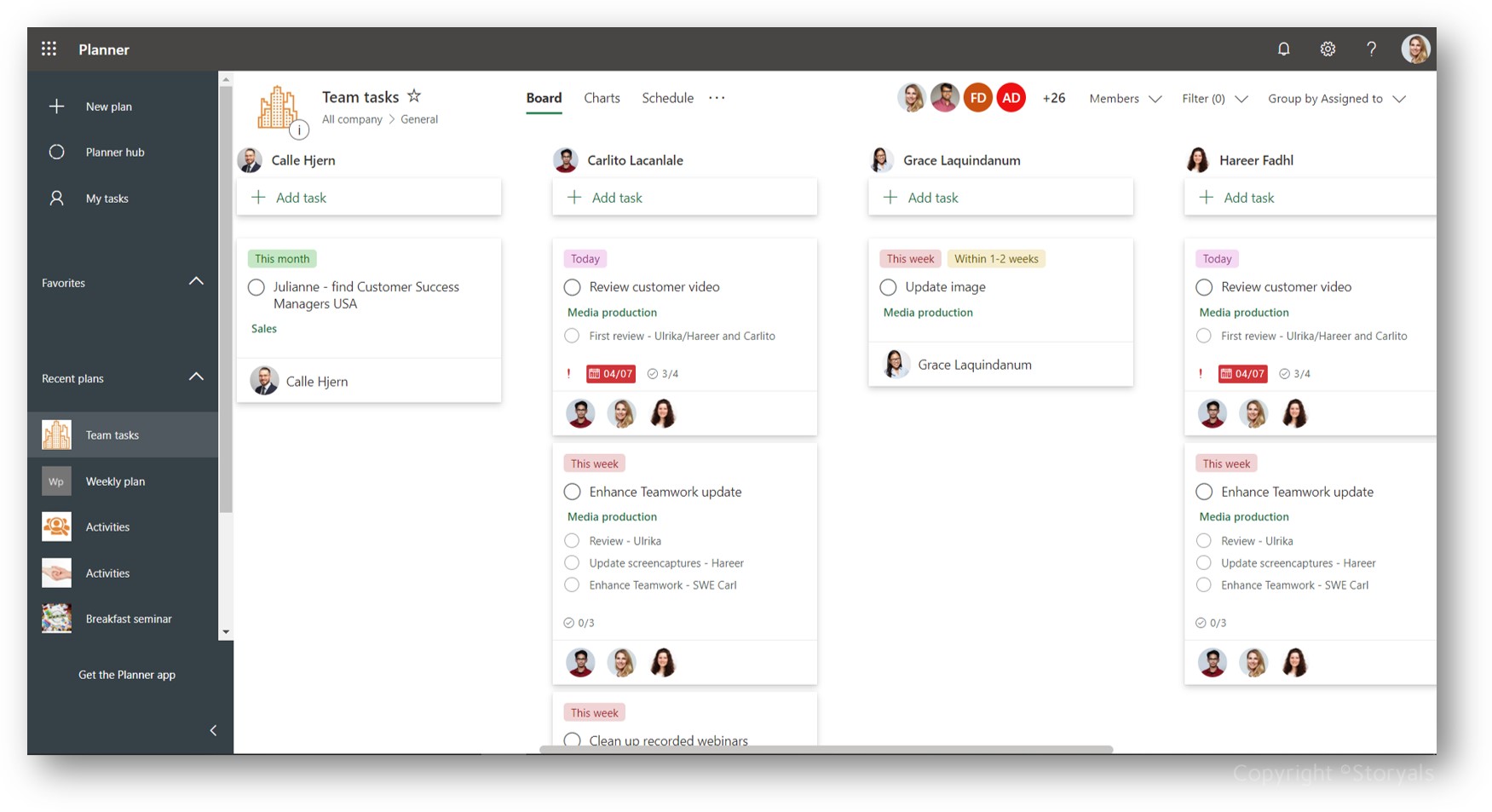 If you have meetings with team members and you want to track progress of action items, it is very beneficial to capture them in a tool. We use Planner to make sure everyone knows what is expected of them. Assigned tasks can be synchronized with everyone's To Do app so that you can have a one-stop-shop for all your tasks.
Could your organization benefit from some digital coaching? Then please reach out to us! We work with companies of all sizes all over the world to help them work smarter using Microsoft 365 and Microsoft Teams in particular.