In the digitization era that is currently underway in the vast majority of organizations – and societies at large for that matter – it is also required that competence and continuous learning within the organization increase at the same pace. Change is happening fast and the demands for competence development among employees are growing rapidly. Therefore, it's important to build a learning organization, where learning and development become a bit of a self-playing piano.
Many leaders and managers claim to have created a Learning Organization. That there is a culture within the company that promotes continuous learning, where employees curiously and on their own seek new knowledge and keep up to date with the latest developments just out of interest.
But can you really put all responsibility on the employees, and expect them to keep up to date themselves when transformation and change happen so quickly? The short answer is simply – no. We meet many companies and organizations that (somewhat arbitrarily) rely on the employees' own drive and interest to both stay up to date on new knowledge in their field, as well as learn new tools and ways of working.
In a report from LinkedIn, 94 % of employees say they would stay at a company longer if it invested in their learning and development.
To build a sustainable organization, where learning is truly part of the company culture, certain prerequisites must be in place – organization, processes and tools. It requires a conscious decision from top management, which must be implemented by managers and leaders on all levels to support and monitor learning and skill development throughout the organization. In order to keep core competence and experience within the organization, learning can no longer be handled as the responsibility of the individual employee, or you risk losing key people who simply move on.
What does it take to succeed?
Many organizations have invested in Microsoft 365, which includes most of the tools required to create a learning organization. However, there's a lack of tools for managing and tracking the learning. This is essential for succeeding with a sustainable and successful learning organization. You need a system that enable you to assign, personalize and follow-up on learning within the entire organization, as well as receive reports and key indicators to measure results. A very cost-effective way to do all of this is to invest in the learning management system LMS365.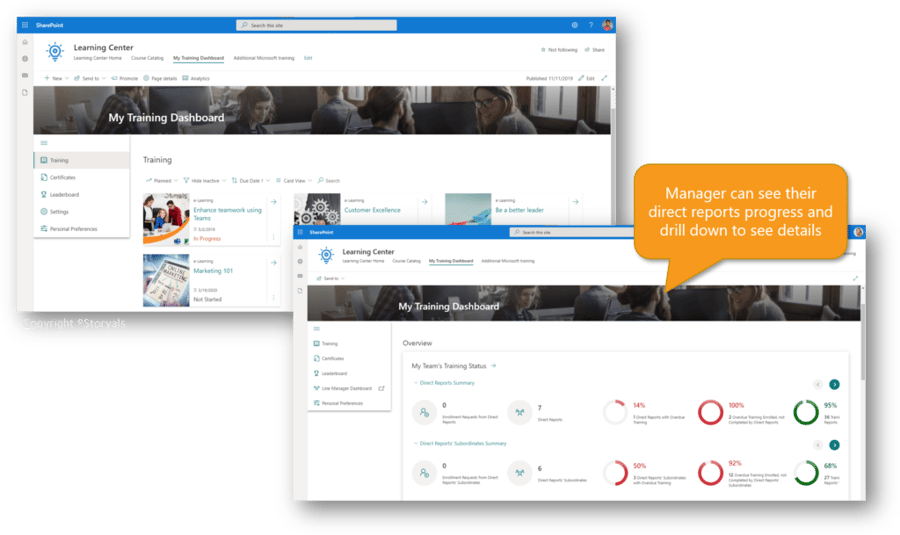 A survey by PwC, shows that 86 % of top-performing companies reported digital training programs boosted employee engagement and performance.
With a Learning Management System such as the LMS365, organizations can monitor learning on an overall level, departmental and an individual level. As soon as these key indicators become available new questions quickly arise – How many hours are spent on learning? How many completed courses do we have? When does the learning take place? The recommendation here is to start simple and measure a few parameters to begin with. This, so that it can take place in an efficient manner without taking up too much admin time. After that, you can gradually expand the reporting and add more aspects to the learning. On an individual level, the follow-up is best done together with the closest manager. The analyzing functionality in LMS365 provides a good basis for such a dialogue. It's also possible to use Microsoft PowerBi for a more advanced follow-up.
3 steps to get started:
1. Assess the need for training
A recommendation here is to use Microsoft Forms and ask questions about upcoming training needs. Let respondents prioritize between:
Must have
Should have
Desire to have
The result provides you with a better understanding for what need for the coming six months to a year. This also allows you to find synergies and similarities between different departments and units, which again helps you define the need for training.
2. Quality assure the training
Define what education is for you. For example, does it include manuals and instructions? Set up a training policy stating that training must be decided upon and approved at management level. In this way, all educational content is quality assured and you avoid training content being of poor quality, or even contain incorrect information.
3. Development & training procurement
You can add training to your learning management system using your own material – courses produced internally – as well as buying courses produced by external experts, such as Storyals 😉! When you buy ready-made training courses, make sure that they are made with SCORM or AICC. That way you can easily import them directly into the LMS and it literally only takes a minute.
The sky is the limit when it comes to what training courses you can produce using Microsoft 365. Use the apps at hand, which offers endless possibilities. Just let your creativity flow!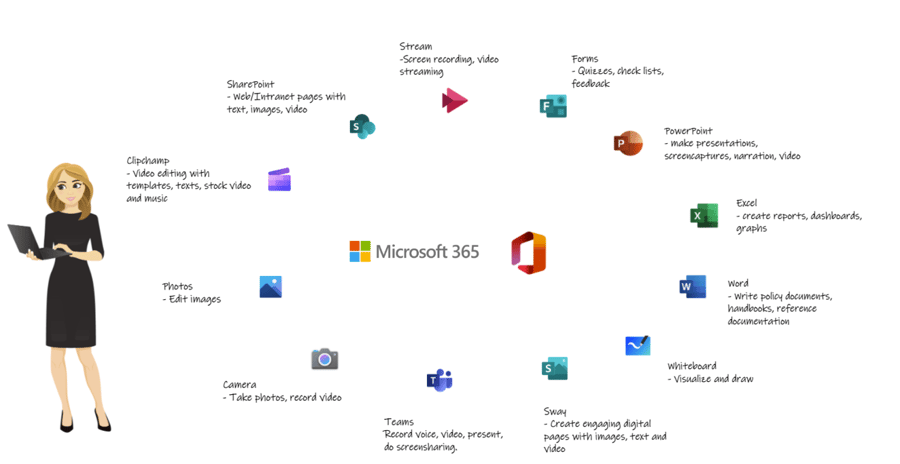 In part 2 of this blog article, we will go through which steps and specific tools you can work with to strengthen the learning development within the organization.
In the meantime, you can read more about LMS365 here or contact us and we'll tell you more!